* This might become a bit touchy…
ANNAPOLIS, Md. - Gov. Martin O'Malley is scheduled to attend a campaign event this week for Barack Obama.

The event is set for Friday in Chicago. Other Democratic governors have been invited to attend to talk about economic issues.
I don't know anything about O'Malley, but I do wonder whether our own governor will be attending. I have a call in to the Blagojevich campaign, but I also have a feeling (call me crazy) that the guv will be "too busy" touring flooded areas to attend.
* While we await a response, the Illinois Republican Party just sent out a press release posing the following questions to Obama…
1.) Does Rod Blagojevich still have a role with your campaign?

2.) If so, what role is Rod Blagojevich playing in your campaign?

3.) Do you welcome Rod Blagojevich being a part of your campaign?

4.) You returned all of Tony Rezko's dirty money, will you call on Rod Blagojevich to return the $1.4 million he received from Tony Rezko, as well?

5.) A recent poll of Illinois voters found that 59% support beginning impeachment proceedings against Rod Blagojevich, do you share the same view with the majority of your constituents?
They seem like valid questions.
* Meanwhile, perhaps the IL GOP should be asking the Tribune Co. some questions. Check out this story…
The deal is, if you sign up for the Chicago Tribune at one dollar a week, you can get one of the hats or teeshirts for free.

And what's on the teeshirt?

Why "Obama" of course. It wasn't the official campaign logo but it was his name splashed across the white cotton fabric. The only reason I noticed is because the woman called out to everyone entering the store saying they could get a free "Obama" teeshirt if they signed up for the Tribune.
* Wait 'til the National Review sees this pic…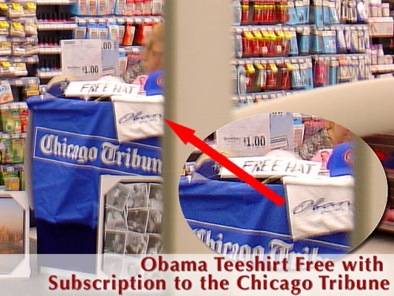 That sound you hear is Colonel McCormick breaking the sound barrier as he spins madly in his grave.
33 Comments


































































































Sorry, comments for this post are now closed.