* 12:17 pm - TPM quotes Rep. Elga Jefferies, who voted "Present" today…
"I voted Present because I did not completely agree on a Yes vote, and I didn't agree on a No vote," Jefferies said. "I felt that the reason all this had come about has been blown out of context."

Jefferies said that she felt that the investigation against Blagojevich had become personal, with the legislators digging in on hirings that went back years. "I think there's a lot of things that he could have done differently," said Jefferies. "I'm not saying he's been 100% right. And he'll have his day in court."

Jefferies concluded: "I voted my conscience."
Yeah. Right.
* 12:08 pm - Illinois Public Radio is doing a live broadcast that's definitely worth a listen. Click here.
* 11:46 am - Today is Richard Nixon's birthday…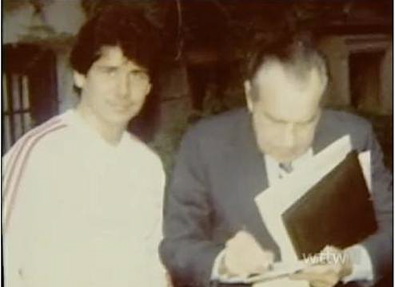 * 11:43 am - Rollcall video…
* 11:32 am - More on Rep. Patterson, the lone "No" vote…
[Patterson] says he read the impeachment committee's report but wasn't comfortable voting against the governor because he has "no first-hand knowledge of any of the evidence."

Patterson says he went by his own "gut feeling." He says he isn't defending Blagojevich. But he says it's up to prosecutors — not him — to indict the governor.
* 11:01 am - Where to now? The Senate will return next week to take up the impeachment issue. As I've told you before, the Senate will begin taking pleadings and other motions from the various parties on January 14th. The Senate trial is scheduled to start January 26th and is expected to last about nine days or so.
The House will likely pass a resolution on the 14th, when the new General Assembly is sworn in, to apply the impeachment resolution to the new GA. That's standard procedure.
Removal by the Senate will require at least 40 votes, meaning that Gov. Blagojevich will have to find 20 votes to avoid removal. Impossible.
* 10:57 am - Via Progress Illinois, House Majority Leader and impeachment committee Chair Barbara Flynn Currie's closing statement…
*10:54 am - A few new stories…
* Sun-Times: Illinois House votes to impeach Gov. Blagojevich

* Tribune: House votes to impeach Blagojevich

* CBS2: Angry Lawmakers Say 'Plague' Has Been Lifted

* Lee: House votes to impeach governor, 114-1
* 10:48 am - More drama ahead…
Governor Rod Blagojevich may have another appointment to make in the near future. Patricia Young resigned her seat on the Metropolitan Water Reclamation District's Board of Commissioners to return to her former position in the public affairs division of the district.

Under Illinois law, the governor appoints a replacement.
* 10:36 am - Tribune…
Rep. Milt Patterson (D-Chicago) was the lone vote against impeaching the governor. Patterson, from Chicago's Southwest Side, said after the roll call that he didn't feel it was his job to vote to impeach the governor. He declined comment on whether he approved of the job Blagojevich is doing.

A Blagojevich spokesman said the governor will not resign. A 2 p.m. news conference with the governor is scheduled for the James R. Thompson Center in downtown Chicago.
We'll live blog that as well.
* 10:44 am - Rep. Patterson, who has been quite ill, is still obviously bitter about being elbowed out of running for reelection by the political powers that be in his area last year. Jefferies is desperately seeking employment. That may not totally explain things, but it's a start.
* 10:40 am - For archival purposes…
* House impeachment committee report
* 10:35 am - Rep. Elga Jefferies (D-Chicago) voted "Present." FYI, Jefferies lost her primary last year and has been seeking employment.
* 10:31 am - Rep. Milt Patterson (D-Chicago) was the lone "No" vote.
* 10:27 am - 114 Yes, 1 No. Governor Blagojevich is hereby impeached.
Adjourned
* 10:25 am - Speaker Madigan just said that there are no other people seeking recognition. Rep. Currie is now closing.
* 10:24 am - With a hat tip to a commenter, this is from the Tribune's live blog…
Where, you might ask, is Gov. Rod Blagojevich as the Illinois House debates his impeachment?

A Tribune photographer took pictures of Blagojevich going jogging in his Ravenswood Manor neighborhood at about 10 a.m.
* 10:21 am - Rep. Julie Hamos, a possible statewide candidate: The impeachment power of the Legislature should be used in only the rarest of circumstances and for the most egregious acts… That's why I have been uncomfortable from the beginning about the vagueness in the Illinois Constitution's cause for impeachment… I wrote to 11,000 people on my e-mail list [about this topic] and I received hundreds of replies…. the vagueness of the Constitution is actually its strength.
* 10:07 am - I posted this in comments, but figured I'd front-page it as well. From CBS2…
A survey reported in Rich Miller's "Capitol Fax" newsletter shows Illinois voters have had it up to here with Blagojevich, who is the focus of impeachment proceedings in Springfield.

When asked "Should the General Assembly remove Gov. Blagojevich?" – 78 percent said "yes"; 12 percent said "no." Ten percent said they didn't know or were not sure.
* 9:53 pm - If you're having trouble with the state's audio/video feeds, click here for the Tribune feed, or search around for others.
* 9:49 am - Rep. Jack Franks just said that the government under Blagojevich has become a "freak show."
Franks: "The only way we hear from Rod Blagojevich is when he communicates through his criminal attorneys."
* 9:42 am - Rep. Sara Feigenholtz is the other missing member. She's reportedly on her way to the chamber, but I'm not sure when she'll get there. I tried contacting her but have not yet heard back. Feigenholtz is running for Congress, so missing part of the debate is not a good thing.
*** UPDATE *** Feigenholtz reportedly had a medical emergency yesterday and is now on a plane on her way to Springfield.
The other hole in the rollcall for attendance is the late Rep. Wyvetter Younge, who has not yet been replaced. As I told you earlier, Blagojevich lieutenant Ken Dunkin is absent. That was by design, I'm told.
* 9:34 am - Rep. Lou Lang: The governor received an unprecedent level of due process at this committee. Bill Clinton's lawyers were not allowed into the US House's impeachment process, they couldn't question witnesses, etc. "We asked many times to have the governor of the state of Illinois appear personally."
"Cause," Lang said about the reasoning for impeachment, "is up to you to decide."
Lang quoted Richard Nixon saying: "'When the president does it, it is not illegal.' That's Rod Blagojevich."
Lang: "He has violated that oath, not only once or twice, but repeatedly. A pattern of abuse of power that I never thought we'd ever see in the state of Illinois and I hope we never see again."
* 9:30 am - Rep. John Fritchey: This House is united to right the wrong that has been done to the state of Illinois.
* 9:26 am - Committee GOP Spokesman Jim Durkin: Our constitution doesn't state that the attorney for the governor is allowed in the hearings… allowed to question witnesses… rebut evidence… allow him to call witnesses, but we did. We were thorough and fair. The governor's attorney failed to rebut any of the evidence… The evidence was overwhelming.
* 9:13 am - House GOP Leader Tom Cross is now speaking. Cross thanked everyone involved in the process. He said committee members handled themselves in a professional, exemplary way. "[They] were able to find that fine line between fairness and due process."
Cross: "He's failed in his responsibility as governor. You will see a pattern that he repeatedly and systematically violated that oath of office."
Cross: "We have no choice today but to vote 'Yes' on this resolution."
* 9:06 am - Rep. Currie: We stand here today becase of the perfidy of one man. Rod Blagojevich.
Currie defended the impeachment process, pointing to the weeks of hearings and investigation, and noting that if this was truly a "vigilante" action then Blagojevich would have been impeached within days of his arrest.
The Speaker has just scolded the House for talking and walking around the House floor during this historic debate. That's the usual House way, but it's not exactly dignified during an impeachment vote.
Currie: "The governor has failed to uphold his oath of office… he is no longer capable of defending our liberty…. Gov. Blagojevich has forfeited his right to hold office."
* 9:04 am - Rep. Ken Dunkin (D-Chicago) is a staunch Blagojevich ally and he's absent today. How fitting. 115 of the 118 members answered the rollcall. Not sure yet who those other two are.
* 9:00 am - Here we go. Live blogs: Sun-Times, Tribune, SJ-R.
* Here's a roundup of impeachment stories. You know pretty much everything already. Updates will be placed at the top of this post. The House will convene at 9 o'clock this morning. Listen or watch here. I'll be live-blogging again.
144 Comments















































































































































































































































































































































































































































Sorry, comments for this post are now closed.