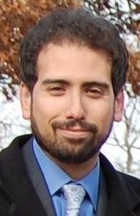 My good friend Carlos Hernandez Gomez is back in the hospital. Carlos, a top-notch reporter for CLTV, has cancer.
I talked to Carlos last night and he was in a bad place. He had some sort of reaction to his recent treatment and I'd say it was making him miserable, but that word is used so often that it doesn't even come close to how he sounded on the phone.
As I've told you before, Carlos is an avid reader of this blog, so let's all chip in today and wish him well. He badly needs to be cheered up, so let's please do our best.
Get well, buddy. I'll see you tomorrow. Remember, more people love you than you'll probably ever know. And we're gonna prove it to you today.
Get to it, people. Thanks.
*** UPDATE *** From Carlos' wife, Randi…
Your blog post and the comments amaze us. Thanks so much for your friendship. To see how many people are rooting for him certainly gives him strength in a weak hour.

He doesn't feel much like talking, but it's certainly drawn a smile and a thumbs-up!
Keep it coming, folks. You're doing some good here today.
234 Comments





























































































































































































































































































































































































































































































































































































































































































































Sorry, comments for this post are now closed.