* Let's have a look at the Tribune's Senate Democratic primary polls, shall we? The toplines and crosstabs are here. The news story is here.
Democratic matchup…
Giannoulias 31
Jackson 17
Hoffman 9
Boyd 2
Meister 1
Marshall 1
Dabney 1
Other cand. (Vol.) 3
Undecided 35
Progress Illinois compares those numbers with previous candidate polling…
Meister Poll (December 3)
Giannoulias: 33%
Jackson: 10%
Hoffman: 7%
Meister: 1%
Uncommitted 49%

Jackson poll (November 10)
Giannoulias: 31%
Jackson: 13%
Hoffman: 8%
Meister 2%
Undecided: 45%

Hoffman poll (October 13)
Giannoulias: 26%
Jackson: 12%
Hoffman: 7%
Meister N/A
Undecided: 55%
Jackson is doing significantly better in the Tribune poll than in any of the other surveys. Hoffman is about the same. After getting a bump in November, Giannoulias is about the same.
Tribune crosstabs…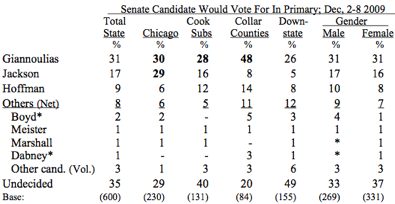 Also…
Among white primary voters, Giannoulias leads Jackson 38% to 6%. Among African-American voters, Jackson leads 45% to 13%
And…
Giannoulias' strongest geographic support came from collar-county primary voters, 48 percent of whom backed his bid compared with 14 percent for Hoffman and 8 percent for Jackson. Among Chicago voters, Giannoulias and Jackson were virtually tied at around 30 percent support, while the treasurer held a 28 percent to 16 percent edge over Jackson in the Cook County suburbs, where 40 percent of voters said they were undecided.
If Jackson has the money to compete, she'll likely come close to sweeping the African-American vote and may do significantly better with women. Whether that's enough to be victorious will depend on whether Hoffman can somehow jump-start his campaign and Meister can gain a little traction. Meister is focusing on the gay and gay friendly vote as his base, and that's not inconsequential. Still, Boyd was removed from the ballot, but still outpaced Meister, who has put serious money into his campaign.
Name rec…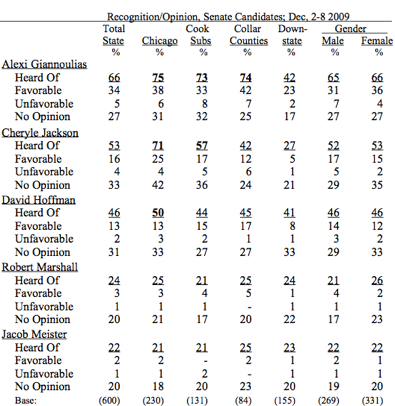 You can probably downplay the generic name rec numbers in these contests. It's probably better to focus on the percentage of people who know enough about the candidates to rate them. A good example of this is Robert Marshall, a radiologist who practices in Kankakee and Joliet. He's never run for office as a Democrat and has received almost zero coverage, yet 24 percent claimed to have heard of him. Only four percent knew enough about him to rate him, however, and that's probably too high.
If you look at the name rec numbers that way, you get this…
Giannoulias 39
Jackson 20
Hoffman 15
Marshall 4
Meister 3
Back to the story…
The survey found plenty of room for movement before the Feb. 2 primary elections, with 35 percent of Democratic voters saying they were undecided. The major contenders only recently have begun to roll out their campaigns on the TV airwaves.
Methodology…
This Chicago Tribune Poll is based on interviews of confirmed registered voters likely to vote in the February 2nd Democratic and Republican primaries. In 2008, Illinois primary elections were moved to the first Tuesday in February - for both presidential and off-year state office contests. Before then, primaries were held on the third Tuesday in March. Interviewing was conducted December 2nd to the 8th.

State samples of 600 were interviewed for each state primary. Potential margin of error for each sample is +/- 4.0% at the 95% confidence level. Likely voting was determined based on scale question response.
That last sentence apparently means they didn't use a voter file to determine likely voters in any of these polls. So, this survey probably captures a lot of low-information voters.
Thoughts?
25 Comments










































































Sorry, comments for this post are now closed.