* Congressman Bobby Rush will endorse Cook County Board President Todd Stroger today. According to a press release, Rush will be "surrounded by a dynamic coalition of clergy,
civic, elected officials, community leaders and the candidate."
Rush is infamous for his race-baiting ways, but he'll have a tough time topping a group called "Soldiers for Stroger," headed by Gator Bradley, which is distributing some pretty nasty fliers on behalf of the board president…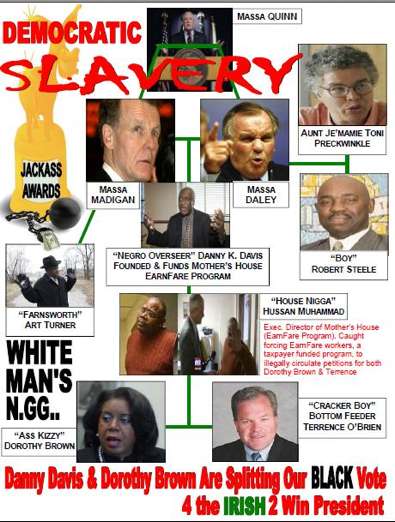 * Rep. Jan Schakowsky endorsed Toni Preckwinkle for county board president yesterday, calling the Alderman "the only progressive in this race." Have a look…
* The Cook County Board President candidates debated yesterday and threw a bit of mud…
Preckwinkle bashed Brown on several fronts, including the clerk's receipt of gifts from her employees and Earnfare workers passing her nominating petitions. Preckwinkle characterized the clerk as having "stumbled from one crisis to the next."

Brown said the incidents Preckwinkle cited "relate to others and not myself."

Brown said she got rid of the Earnfare campaign worker as soon as she learned of the problem.

As far as employees giving her gifts, Brown said: "I gave them gifts, too. That wasn't reported. We're like a family. We give each other gifts during the holiday time period."
And…
Terry O'Brien, head of the Metropolitan Water Reclamation District, asked incumbent Todd Stroger about a July 2009 Better Government Association study that found of 11 county service contracts only three went to the lowest bidder and all were tied to political donations.

"You claim to sponsor a number of reform initiatives, is that what you'd consider reform?," O'Brien asked.

Stroger responded during the City Club of Chicago-sponsored debate that he didn't know "exactly what contracts you are talking about."
And…
Brown asked Metropolitan Water Reclamation District President Terrence O'Brien how he got to be a millionaire on his $80,000 government salary, suggesting it was in doing consultant work for polluters. "I do not apologize for being a successful businessman," O'Brien said, adding, "Terry O'Brien does not protect polluters." He called those charges, previously leveled by Preckwinkle as well, "defamatory."
Progress Illinois has more.
* And Animal Farm has a brief post on Gary Skoien's challenger…
Meanwhile, it seems top Republican leaders are turning on Palatine Township GOP Committeeman Gary Skoien as he seeks re-election following a domestic incident involving his wife and two other women at his Inverness home.

Challenger Aaron Del Mar, a freshman Palatine councilman, says he has landed the backing of both Illinois Republican Party Chairman Pat Brady of St. Charles and Cook County GOP boss Lee Roupas. Roupas has the seat Skoien had from 2004 to 2007 when he famously put a bounty on Chicago Mayor Richard Daley's head for evidence that would lead to his conviction on corruption charges.

Meanwhile, Del Mar has never voted in a Republican primary. According to voter records, the 31-year-old has only voted in one primary - a Democratic one.

Del Mar tells Animal Farm that is because he is young. He hasn't had much time, he says, to cast primary ballots. He says he voted in the 2008 Democratic primary to help drag out that parties internal battles leading into the general election.
48 Comments















































































































































Sorry, comments for this post are now closed.