* I heard a Rickey Hendon for lt. governor radio ad while waiting on the WVON debate to start today and couldn't stop laughing. If you do nothing else tonight, you absolutely, positively must listen to this…
I'm speechless, but it's destined to be a classic.
* ABC7's Charles Thomas covered the WVON debate and this comment was right on the money…
Dan Hynes should get credit for showing up. The moderator, Cliff Kelly, is an unabashed supporter of Pat Quinn.
Hynes absolutely had to go to that debate. If he skipped out, he would've been universally bashed for not showing up. Hynes lost that round, but he didn't make any big mistakes which could hurt him in the closing days, so it wasn't disastrous. Quinn did a great job. If he governed and campaigned the last year as well as he performed today, he'd be 30 points ahead right now. I'm not saying it was too little, too late, but the the ticking by the countdown clock is deafening.
* I don't know if Mayor Daley was thinking about Dan Hynes' income tax proposal or not when he spoke to the press today, and I'm not gonna try to guess, but the mayor's statement was quite interesting…
Chicago has been playing defense lately because of the exodus of trade shows at McCormick Place. But it looks like Mayor Daley is preparing to make the switch to offense.

Daley said Thursday he's coming after businesses in the Pacific Northwest, emboldened by what he considers Oregon's head-scratching decision to approve higher taxes on big corporations and big wage-earners.

"What happened in Oregon is not good news for Oregon. They believe that anybody who makes $125,000 or more [annually] or businesses or anyone who makes $250,000 — they're gonna start taxing them. They call them 'rich people,' " the mayor said.

"I've always thought America stands for [rewarding success]. You finish high school. You work hard, go to college and you hope to succeed in life. I never knew it's a class war—that those who succeed in life are the ones that have to bear all the burden. I never realized that. It will be a whole change in America that those who succeed and work hard [that] we're gonna tax 'em more than anyone else."
Daley's words will come back to haunt the Statehouse if - if - Hynes wins the primary and tries to push through his constitutional amendment for a graduated income tax. The idea polled well here a couple of years ago (well over 70 percent support), but the political watchword for this year is: Terrified. Daley opposition would be disastrous. More on that another time.
More about the Oregon vote here.
* ABC7's report on Jim Ryan's morning presser on Andy McKenna and the GOP primary is here.
* Dorothy Brown is suing Terry O'Brien…
Cook County Board hopeful Dorothy Brown is fighting mad about a statement made in an opponent's campaign ad – and she's taking the matter to court.

Brown, who is running for board president, announced she's pressing a lawsuit that accuses Metropolitan Water Reclamation District President Terrence O'Brien of slanderering her in a campaign ad earlier this week.

The suit, filed today in Cook County circuit court, targets O'Brien, his campaign committee, and the committee's chairman Tom Caplice. It seeks $250,000 in actual damages and $1 million in punitive damages, says attorney Adam Lasker, who represents Brown.

The O'Brien campaign sought to center attention on reports of funny business at the clerk's office, saying in a statement, "Stories about Clerk Brown pocketing cash from her employees have been in the headlines for years now. Frankly voters are fed up with political corruption and they need to know that Clerk Brown cannot be trusted to clean up Todd Stroger's mess."
* As with Rasmussen's gubernatorial poll, I don't put a whole lot of stock in any survey with just 300 respondents, and you shouldn't either. It's OK for a tracking poll, but not a stand-alone. Anyway, here are Rasmussen's latest results, with PPP's results followed by the Tribune's results in parentheses…
Giannoulias 31 (32, 34)

Hoffman 23 (20, 16)

Jackson 23 (18, 19)

Some other candidate 9 (N/A)

Not sure 24 (27, 13)
Besides the low respondent numbers, it's the height of absurdity to ask about "some other candidate" at this point in the campaign. Just give respondents the names, for crying out loud. The "other" candidates were polling at one and two percent in the PPP and Trib polls. That questioning screws up the results. This poll is just not reliable.
* Media coverage of the Giannoulias bank troubles is starting to heat up a bit. AP…
Senate candidate Alexi Giannoulias (jeh-NOO'-lee-us) won't provide details about whether his decisions contributed to his family bank's financial problems.

The Chicago Democrat says there will be plenty of time for that conversation later, although the primary election is just five days away.
After today's news conference, a spokeswoman said that Giannoulias doesn't know which loans may have contributed to the bank's problems because he hasn't been involved in the bank's day-to-day operations since he left.

Giannoulias quickly organized the news conference to answer criticisms raised by U.S. Senate rival David Hoffman, who earlier highlighted the consent order Broadway reached with Federal Deposit Insurance Corp.

Hoffman said the consent order raises questions about Giannoulias' experience and what he described as Giannoulias' inability to accept responsibility for his actions.

"(Broadway Bank's) decisions, including the decisions at the time he was there as the chief loan officer, are the reason that the bank is in such trouble," Hoffman said.
Time's running out fast.
* Meanwhile…
Cheryle Jackson has spent months trying to appeal to women as the lone female candidate in the Democratic U.S. Senate race, and today she picked up a major endorsement that could help her along those lines if she can get the word out.

Jackson's campaign sent out a fundraising email to supporters authored by Lilly Ledbetter, the now-retired supervisor of a Georgia tire manufacturing plant who sued because her pay was not the same as male supervisors. Almost a year ago, Congress passed and President Barack Obama signed the Lilly Ledbetter Fair Pay Act.
No offense meant, but who? Yes, I know who Ms. Ledbetter is, but how many others do?
* CQ Rollcall covers the 10th GOP primary…
Even though several members of the Illinois GOP delegation are backing state Rep. Beth Coulson in the 10th district GOP primary, businessman and first-time candidate Bob Dold appears to have the momentum heading into Tuesday's balloting.

"I think it's between Bob Dold and Beth Coulson," said one well-placed Republican in Washington.

Coulson was the early favorite of national Republicans, who viewed her moderate-to-liberal political profile in the state Legislature as in the mold of Rep. Mark Steven Kirk. But poor fundraising has hampered expectations for Coulson, as she has been outraised and outshined by two businessmen in the race — Dold and Dick Green — who have amassed copious amounts of money.
* Adam Andrzejewski's closer…
* And, finally tonight (at least I hope so), Quinn's young video genius Simon Edelman is apparently more over-worked than even I thought…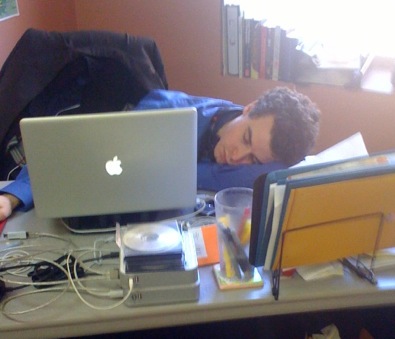 At least they didn't write something on his forehead.
59 Comments
















































































































































































Sorry, comments for this post are now closed.