* Polling charts can be very helpful in analyzing campaigns. These are from pollster.com. Their javascript is not working properly, so I'm using screen caps. Click the pics for larger images.
Let's start with the Democratic governor's race…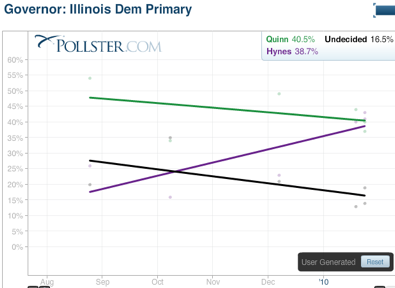 The trend is obviously not the governor's friend. The question now is whether he's stopped the bleeding. Still, his job performance numbers with undecideds are just awful. Very tough to overcome. And his campaign mechanism has imploded in recent days as Quinn has taken complete charge of his schedule and his message.
The Republicans…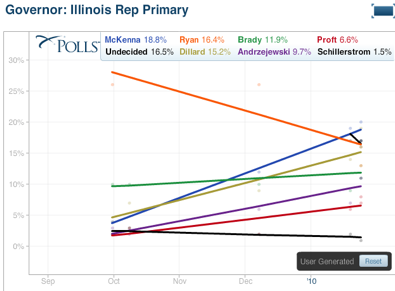 For me, the question here is whether McKenna can get himself over the top. He has the bucks and the message, but he's still a relatively unknown quantity to regular Repubs. Notice how everyone is moving up but Jim Ryan, who sat on his big lead, didn't raise enough money and could pay for those mistakes tomorrow.
Also, I just got a call from the Adam A campaign. Apparently Rush Limbaugh just called him "the Scott Brown of Illinois." He's been getting a ton of late help from conservative media the past few days, but, as I said, it's late. The Right was so outraged by Mark Kirk that they ignored a guy who had a shot.
…Adding… I just listened to the audio file of Rush's show. He didn't mention Adam A by name. Probably because he didn't know how to pronounce it.
* The Senate Democratic primary…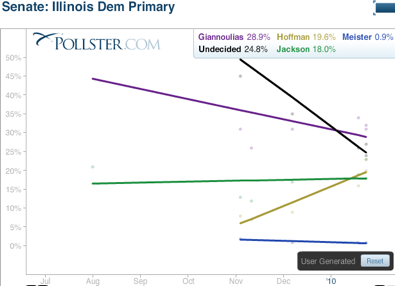 That downward trend line for Giannoulias and the steep upward line for Hoffman are what has the Giannoulias campaign more than a bit freaked right now. He's still got the lead, but it's dwindling and there are still lots of undecideds.
Nate Silver thinks it's a two-person race…
The race is for all intents and purposes between Giannoulias and Hoffman; Jackson, a former communications spokeswoman for Rod Blagojevich, will probably be limited to 15-20 percent of the vote, mostly coming from Chicago's predominately Afrian-American South Side. Hoffman, however, has gradually been creeping up on Giannoulias, the front-runner.
And the Republicans…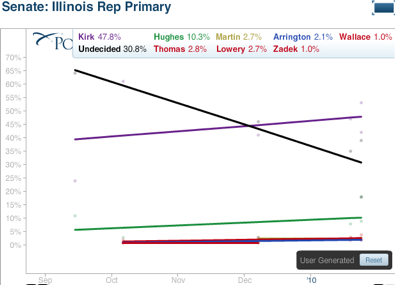 No analysis necessary.
* Oh, goodie. Exit polling. I'm not sure how scientific this will be, but I'll be watching tomorrow. From a press release…
The Chicago Current, Chicago's political journal, will conduct exit polling for the Feb. 2 Illinois primary election. Voting data from polling places across Cook County will be collected to provide media outlets and the public with accurate trends to gauge voters' preferences.

Analysis of the data will be available throughout Tuesday at www.chicagocurrent.com. Data will include trends for the Democratic Illinois Senate and gubernatorial races, as well as for the Cook County Board president's race.

"Our study will show which candidates are trending upward or downward throughout the day, while providing statistical analysis of which way voters are leaning," says Current editor Geoff Dougherty. […]

Current reporters will be following the race throughout the day, and reporting on Twitter, using the hashtag #ILVote.
Fun.
* Bernie Schoenburg has posted his statewide predictions, which were compiled by Eric Zorn…
* GOVERNOR: Hynes, Dillard
* U.S. SENATOR: Giannoulias, Kirk
* LT .GOV. Turner./ Murphy
* COMPTROLER . Miller/Topinka
* TREAS: Kelly (Dan Rutherford is running unopposed for the GOP)
Russ Stewart and Tom Roeser have also posted their predictions and my intern Dan Weber has compiled them for easy viewing…
* Russ Stewart:
Gov - Hynes, McKenna
Senate - Hoffman, Kirk
10th - Seals, Dold
Cook County Prez - Preckwinkle, Keats
DuPage County Chmn - Pankau
Lt Gov - Link, Murphy
Treasurer - Oberman
Comptroller - Topinka, Miller

* Tom Roeser:
Gov - Hynes, Dillard
Senate - Hoffman, Patrick Hughes
10th - Hamos, Friedman
Cook County Prez - Stroger, Garrido
DuPage County Chmn - Cronin
Lt Gov - Link, Plummer
Treasurer -Oberman
Comptroller - Dodge, Krislov
Your predictions?
* Zorn also has a long list of newspaper endorsements in the Democratic gubernatorial primary.
86 Comments

































































































































































































































































Sorry, comments for this post are now closed.