* Chicago Current's Cook County/Democratic-only exit polling isn't going well…
(I)t's clear that turnout so far at these four polling places is well below what we expected.

We based our turnout projections for today on vote counts from the 2006 Democratic primary, and in some cases we're seeing numbers that are 50-60% of what we expected. […]

If turnout is as low as I suspect, it'll have some implications for our exit poll results, too. We originally hoped to tally results from about 500 Dem voters, but we'll likely have far fewer than that, which will mean a wider margin of error for some calculations.
And, Mystery Pollster warns…
Beyond the Current write-up, I don't know anything about it. Potentially useful, but be very wary of "calling" anything w/it
Got all that? OK. Here's CC's update…
So far the survey count is low and confidence interval and margin of error aren't even worth talking about.

But the voters we've heard from so far seem to favor candidates who led most polls going into the election — Quinn, Giannoulias and Preckwinkle.

Not surprisingly, economic concerns rank high.
…Adding… Oy…
We'd originally planned to survey 25 precincts, but logistics are interfering, and we'll probably wind up with about half that. We'd targeted 600 voters, but low turnout will probably leave us with about half of that count.
"I have no freaking idea what's going to happen Tuesday," said Kitty Kurth, a Chicago-based Democratic consultant. "It's going to be an election that's going to have people scratching their heads for a week."
* Toni Preckwinkle's campaign manager Scott Cisek's latest Tweet…
just returned from the field and I saw some serious electioneering in the 8th ward [Stroger]. Complaints have been phoned in.
* A text message from the 42nd Ward…
True to form, [Rep. Ken Dunkin is]… walking into polling
places, electioneering next to polling booths, etc. Also found pre-marked Dunkin ballots…

Board of Elections and States Attys are currently investigating electioneering and ballot fraud
* An instant message from a good friend…
so one of my friends got called 10 min ago and begged to go in and do gotv calls for quinn today, they NEED people. really? hmm..nice gotv plan
GOTV has not been the strong suit of any statewide candidate this year. All their money is going into TV.
* Funniest Facebook item of the day from a politician…
Dan Proft became a fan of Jim Beam.
* Some of my recent Tweets and retweets…
# capitolfax Gov. Quinn casts his vote wearing his lucky tie http://www.kwqc.com/Global/story.asp?S=11920349

# jaymesiemer: Last primary, I was one of 2 Republican votes in my Chicago precinct. Now that I have a new precinct, I'm hoping for at least 3.

# Pantagraph: Midterm primary turnout historically low in McLean County http://bit.ly/ax5sRG

# thomascbowen: "Did I do everything I could have?" Is the most haunting feeling in the world.

# Brooke22: Lowest Illinois primary turnout was in 1978 when just 25% of registered voters voted. Wonder what today's will be?

# thomascbowen: Dear national media: I like Russ Stewart, but if he's the guy you're relying on for IL political analysis, you don't know what you're doing

# CrainsChicago: Voter turnout low, but campaign cash high http://ow.ly/134AV
* Adam Andrzejewski's supporters were all aflutter yesterday about a supposed endorsement by shock jock Glenn Beck. Beck disabused them of that notion today. A Dan Proft supporter gets in a dig…
Anyone who actually listens to the Glenn Beck Program would be mightily confused, as Beck didn't even mention his name, let alone talk about the GOP race for governor in Illinois. Put simply, it just didn't happen.
He has the audio so go listen.
* Zorn's predictions…
1. Gov. Pat Quinn will edge Comptroller Dan Hynes in the Democratic gubernatorial primary. People know Quinn better than they know Hynes and, despite his flaws and missteps, they like him.

2. Kirk Dillard will win the Republican gubernatorial primary. GOP voters will see in his comparative moderation their best chance at regaining the governor's mansion. He will not beat the combined vote totals of Adam Andrzejewski and Dan Proft, who will split the substantial yet ill-focused Earl Grey vote with Bill Brady, but he'll handily beat former party chairman Andy McKenna ,who will do worse than expected.

3. I can see Cook County Board President Todd Stroger pulling a Dick Devine-like upset surprise tonight, but in the end I expect Ald. Toni Preckwinkle will narrowly edge him out for the Democratic nomination for Stroger's job, and that Terry O'Brien and Dorothy Brown will lend up far behind.

4. Former Chicago inspector general David Hoffman will run strong in Chicago and the suburbs but Treasurer Alexi Giannoulias will beat him on the strength of the downstate vote.
Any last-minute changes of heart in your predictions?
* Man, does Alexi looked tired in this pic of him at Manny's Deli or what?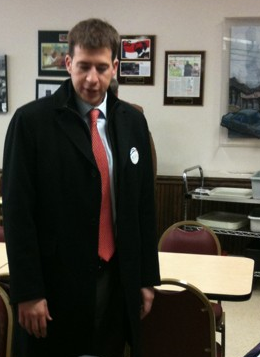 Other pols have visited the deli this morning. Its Twitter feed lists, Giannoulias, Dorothy Brown and Scott Lee Cohen. Terry O'Brien stopped by yesterday. Dan Hynes was there a few days ago.
* What's going on in your precinct?
86 Comments

































































































































































































































































Sorry, comments for this post are now closed.