* For the past few decades, Illinois' unemployment rate has tended to track with the national rate, but just a bit higher. The bad news in the newly released unemployment numbers is that we're now diverging from the national trend, and not in a good way…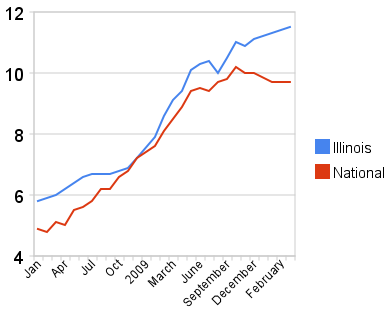 Ouch. [Via: Progress Illinois.]
From the AP…
The jobless rate in Illinois rose slightly to 11.5 percent in March and the state was ranked 9th nationally for its foreclosure rate in the first three months of the year, according to data released Thursday that economists say indicate the state's recovery is sluggish at best.

But state officials say there are signs the economy is improving.

The Illinois Department of Employment Security said the state added 3,000 jobs in March, the third consecutive month that Illinois saw job growth. However there still were 765,000 people out of work.

The 11.5 percent seasonally adjusted unemployment rate in Illinois was a tenth of a percentage point higher than in February, but 2.3 percentage points higher than March 2009. The seasonally adjusted national unemployment rate for March was 9.7 percent.
More…
The latest numbers show that 148,500 fewer people were employed in Illinois in March than in March 2009.
* The state's foreclosure rate - which is in the nation's top ten - is at least partially a reflection of those numbers…
Illinois home foreclosure activity during the first quarter of 2010 fell 4.6 percent from the previous quarter, but was still higher than the first quarter of 2009.

A report released Thursday by Irvine, Calif.-based RealtyTrac shows Illinois with 45,780 foreclosure filings in the first quarter of 2010. Filings include default notices, auction-sale notices and bank repossessions.

The filings represent one in every 115 housing units in the state. That rate is nearly 17.5 percent higher than in the first quarter of last year and 9th-highest nationally.
RealtyTrac's statewide foreclosure map is below. The redder the county, the higher the rate…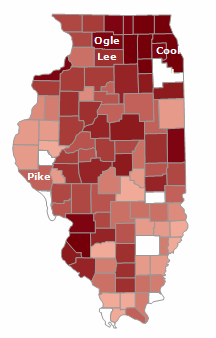 * Related…
* Daley: Banks should foot bill for foreclosure crisis: Chicago taxpayers spent $7 million last year to board up and secure abandoned properties, Mayor Daley said today, demanding that banks foot the bill for the foreclosure crisis. Daley wants the General Assembly to approve Chicago-only legislation putting banks on the hook for board-up and security costs. He also wants state lawmakers to sharpen the definition of "abandoned" properties to let banks take possession sooner so they can secure buildings sooner.

* Wal-Mart clears Plan Commission in quest to add Chicago store

* New Wal-Mart gets OK by Chicago Plan Commission

* Illinois' report card: We're No. 44: The state ranks 44th in federal spending, totaling $14.84 per person, on projects deemed "pork" by Citizens Against Government Waste, a non-profit that describes itself as "America's No. 1 taxpayer watchdog." Illinois ranked 45th last year. Hawaii ranked first in the current report, at $251.78 per person.

* Homes, businesses for former South Side steel mill site get thumbs up

* Will board approves fee waiver: The board approved a resolution allowing municipalities — meaning townships, villages or cities — to skip paying the zoning application fee when seeking a zoning change on a piece of unincorporated property. The waiver will be capped at $2,500.

* [Des Plaines] Casino to break ground Friday

* 2011 to be state's biggest road-building year

* Big year ahead for state road construction

* More road work coming, courtesy of IDOT's 2016 plan

* Construction projects ready to hit the road

* Illinois rolls out $5B road improvement plan

* Budget includes $409 million for new river bridge, billions for other road work throughout state
18 Comments





















































Sorry, comments for this post are now closed.