* The last Research 2000 poll conducted in February for Daily Kos didn't even come close to matching up with anybody else. R2K had Mark Kirk and Bill Brady both trailing. They're somewhat more in line now.
One reason may be that their sample of senior citizens is larger than before, which they've taken heat for in the recent past. They had their 60+ at 16 percent before, when the 2006 gubernatorial exit polling had that number at 29 percent. This time, their sample size is up to 20. That's still not good enough, so adjust for the Republicans accordingly.
The number in parentheses is R2K's February result. The numbers in brackets are other recent polls, which can be found here…
Alexi Giannoulias (D) 38 (43) [38, 33, 37, 44]
Mark Kirk (R) 41 (36) [46, 37, 41, 41]
* And why they would put Scott Lee Cohen into a question and not Rich Whitney, who, unlike Cohen, is actually on the ballot, is totally beyond me. Anyway, they now have Quinn trailing Brady by a few points rather than leading Brady by eleven, which was completely blown away by other polling. Same thing goes for the parentheses and brackets. Results from those other polls are here…
Pat Quinn (D) 36 (46) [38, 33, 38, 37]
Bill Brady (R) 39 (35) [45, 43, 45, 47]

Pat Quinn (D) 35
Bill Brady (R) 39
Scott Lee Cohen (I) 3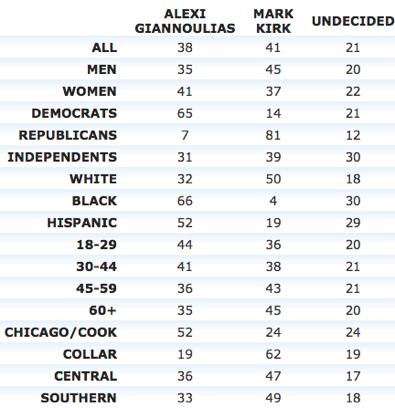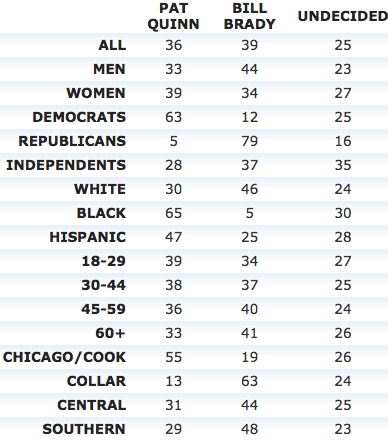 * Trendlines…
* Methodology…
The Research 2000 Illinois Poll was conducted from May 3 through May 5, 2010. A total of 600 likely voters who vote regularly in state elections were interviewed statewide by telephone. Those interviewed were selected by the random variation of the last four digits of telephone numbers. A cross-section of exchanges was utilized in order to ensure an accurate reflection of the state. Quotas were assigned to reflect the voter registration of distribution by county.

The margin for error, according to standards customarily used by statisticians, is no more than plus or minus 4% percentage points. This means that there is a 95 percent probability that the "true" figure would fall within that range if the entire population were sampled. The margin for error is higher for any subgroup, such as for gender or party affiliation.


Click here to help buy presents for LSSI foster kids!
22 Comments

































































Sorry, comments for this post are now closed.