* I actually agree with some of what you all are trying to do here. And as a red-blooded, First Amendment-loving American, I love to see citizen engagement and would fight to the death to preserve your right to say whatever you want.
But it's really difficult to take you seriously when you show up to protests, like you did yesterday, carrying signs like this…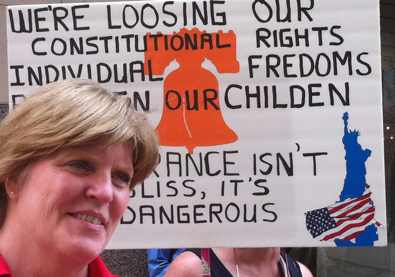 The tagline on this sign is "Ignorance isn't bliss, it's dangerous." Yet, "Freedoms," "Children" and "Losing" are all misspelled. "Loosing" is a common, though grating, misspelling, so I'll give you that. But "fredoms" and "childen"?
Oh, the irony.
If a friend had some mustard on his chin, I'm sure you would tell him. So, if a friend brings a ridiculously misspelled sign to a protest, you should probably help her out.
…Adding… Some of you more strident types are missing the humor in this post. If the sign didn't include the tagline "Ignorance isn't bliss, it's dangerous," I never would've used this pic. It's irony, people.
…Adding More… The sign in that John V. Moore photo above wasn't a quick, hurry-up-we're-late-finish-the-thing one-off. It's been around since at least early July. And, yet, the owner didn't notice the irony.
* And way to scare the heck outta people with this t-shirt…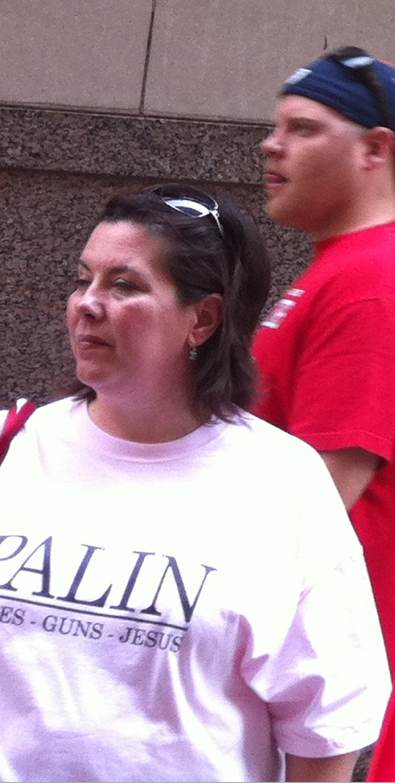 "Babies - Guns - Jesus"?
I wonder how Senate Republican Leader Christine Radogno and House Republican Leader Tom Cross feel about this sentiment, since they're both co-hosting the big national tea party rally next month.
* News roundup from yesterday's presidential visit…
157 Comments






















































































































































































































































































































































































































































































Sorry, comments for this post are now closed.