* Alexi Giannoulias' campaign has released its head-to-head topline from its latest tracking poll. Read the full, but quite brief memo by clicking here…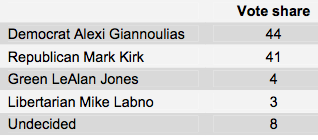 …Adding… Kirk's campaign claims that Giannoulias released these numbers to boost what they claim to be lagging fundraising. They also claim that all of their internals have shown a Kirk lead since the summer.
600 likely voters conducted Oct. 10-12, with a +/-4 percent margin of error. Rasmussen had Mark Kirk trailing Giannoulias 44-43 [Corrected. Sorry.], but they didn't include all the candidates. Just stupid. And this is one reason why…
Democratic operatives have apparently begun "push polling" in Illinois, trying to drive a wedge between conservative voters and Rep. Mark Kirk, the centrist Republican seeking the Senate seat once held by President Barack Obama.

According to people who have heard it, the call talks up Libertarian candidate Mike Labno as the only true "pro-life" candidate in a race that also includes Democratic State Treasurer Alexi Giannoulias and Green Party candidate LeAlan Jones. It also referred to Kirk's vote last year for Obama-backed legislation capping carbon emissions and setting up a system for polluters to trade greenhouse gas emissions credits.

The poll "asked how likely are you to vote…for governor, if today who…for Senate, if today who… (and mispronounced Giannoulias)…gave some negatives for Kirk including cap-and-trade… and listed Labno positions," wrote a commenter on the website of the West Suburban Patriots, a Chicago-area Tea Party group. The poster said the poll concluded with a disclaimer that it was sponsored by the Democratic National Committee.
…Adding… Here's the thing, a relative handful of Illinois voters watched last weekend's debate, and this reporter is reading way too much into what went on…
And the fact that Kirk pressed Giannoulias on the loans during last Sunday's "Meet the Press", while Giannoulias opted not to directly challenge Kirk on his exaggerations shows the Republican line of attack is more damaging.
Yeah. OK. That's why Giannoulias is using the line of attack in all his ads.
* The Tribune, by the way, fronted a big Bright Start story today. Most of the new stuff was tick-tock and the piece seemed to exonerate Giannoulias on several fronts. The tone, however, probably wasn't so great for the treasurer, and a front-page story with a big photo of Giannoulias emerging from behind a curtain wasn't so hot, either. I'm not really sure what to think about this piece. Go read it and report back.
* Rasmussen has a new poll out and while they finally included Scott Lee Cohen in the question, they didn't include Libertarian Lex Green. Instead, they gave voters an option for "some other candidate." That's just goofy. Why ask about "other" when they could've just asked about Green? Anyway, Raz has Bill Brady leading Quinn by six points, 46-40, but not including all candidates is a huge mistake and bad polling practices and that's all I'm going to say about this head-to-head result.
Here are a couple of interesting toplines, however…
* Who has been a better manager of the state's finances as governor - Pat Quinn or Rod Blagojevich?

55% Quinn
18% Blagojevich
28% Not sure
That puts Brady out of step. The other day, Brady said there was "no question" that Quinn was "far worse" than Blagojevich.
And…
* Which candidate for governor has a better plan for creating jobs in Illinois….Bill Brady or Pat Quinn?

43% Brady
30% Quinn
27% not sure
I didn't know that either one of them had a real plan. Either way, that's not good news at all for Gov. Quinn. Not at all. He's just not seen as a good governor. Better than Blagojevich, sure, but that's setting the bar pretty darned low.
* I have never seen a candidate crow about being 18 points behind before. But here's the press release…
The Pollak for Congress campaign has released poll data showing that Democrat incumbent Jan Schakowsky has fallen to 48%, while Republican challenger Joel Pollak is gaining ground at 30%.
OK, so Schakowsky is under 50, but the guy is at 30 with less than three weeks to go. That's a long way to move, baby.
54 Comments

































































































































































Sorry, comments for this post are now closed.