* Public Policy Polling has just released its latest Illinois survey and finds Mark Kirk ahead of Alexi Giannoulias by two points 42-40. PPP's last poll three weeks ago had Kirk ahead by four. From the pollster…
You would assume that for Mark Kirk to be running ahead as Republican in Illinois that he would be winning a good amount of crossover support from Democrats and that he would have a massive lead with independents. In reality he is doing neither of those things. He's only getting 10% of the Democratic vote, about average for GOP candidates across the country this year. And he has just a 9 point advantage with independents, below average for what Republican Senate candidates across the country are getting. To put it into perspective when the GOP won another Senate seat this year in a state Obama won by 25 points- Massachusetts- their nominee took independent voters by a 32 point margin.

So how is Kirk ahead if he's not doing those things? The final outcome in Illinois, perhaps more so than any other state in the country, is going to be determined by the ability of Democrats to mobilize their base in these final two weeks. We find that likely voters there only voted for Barack Obama by a 9 point margin in 2008, compared to his actual 25 point victory in the state. If what Democrats are dealing with on a national basis is an enthusiasm gap then what they're facing in Illinois could perhaps be better described as an enthusiasm canyon. The only state where we see a bigger disparity between who voted in 2008 and who's planning to vote this year is Obama's native Hawaii.

The competitiveness of this race is completely predicated on paltry Democratic turnout. If that proves to be the case it's about 50-50 as to who will win on election day with perhaps a small advantage for Kirk. If Democratic turnout exceeds current expectations there's almost no doubt Giannoulias ends up as the winner.
Crosstabs are here. This is a relatively "old" poll since it was conducted Oct. 14-16, so some of these numbers are almost a week old.
Green Party nominee LeAlan Jones has 4 percent and Libertarian Mike Labno has 3 percent. 10 percent are undecided.
* Voters don't like either of these guys…
Do you have a favorable or unfavorable opinion of Alexi Giannoulias?
35% Favorable
47% Unfavorable
18% Not sure

Do you have a favorable or unfavorable opinion of Mark Kirk?
35% Favorable
46% Unfavorable
19% Not sure
* And this is bad, bad news for Democrats…
Would you rather Democrats or Republicans held the majority in the next US Senate?
45% Democrats
46% Republicans
9% Not sure

Do you approve or disapprove of Barack Obama's job performance?
45% Approve
51% Disapprove
4% Not sure
* Lots of undecided females…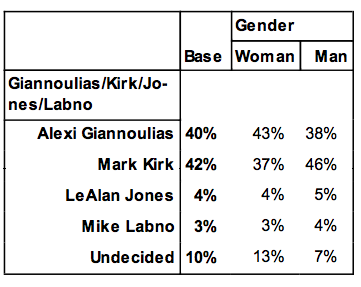 * And LeAlan Jones is taking Democratic and black votes away from Giannoulias…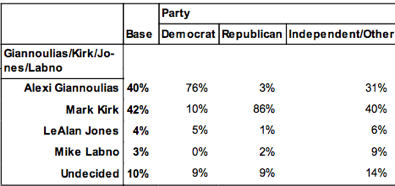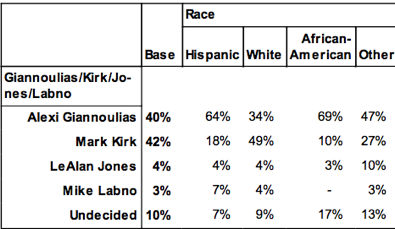 * The DSSC leaked a topline to Lynn Sweet yesterday showing Giannoulias leading Kirk 41-36. The pollster who shall not be named once again screwed up his numbers by using "some other candidate" instead of Libertarian Labno. Stupidity.
17 Comments


















































Sorry, comments for this post are now closed.