* 7:00 pm - And here we go.
Election results can be found here. Exit polling can be found here.
* CNN has the gubernatorial exit polls up…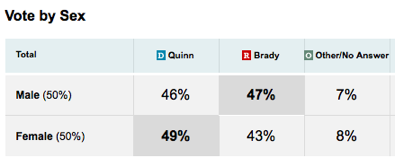 Since they're evenly divided between the genders, those numbers mean Pat Quinn is up by 2.5 points over Bill Brady. Wow. [Corrected stupid math error]
* On to the Senate…

That would mean Kirk up by half a point, but there's rounding in there, so it's essentially tied. [Corrected stupid math error]
* Vote by region, governor…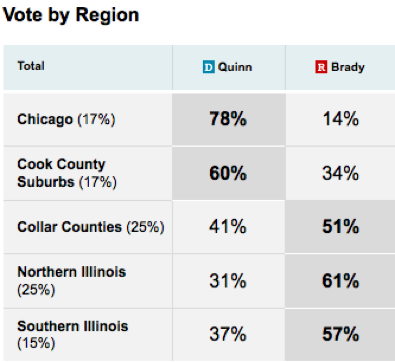 Looks like Quinn just barely hit his targets.
* Vote by region, Senate…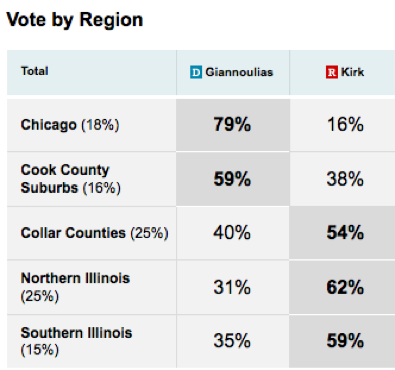 * Keep in mind that this is a poll. It's a big poll, but it's still a poll. So both election results are well within the margin of error. There's no guarantee of a Quinn win just yet.
*** 8:04 pm *** From the Chicago elections board…
We're seeing 50.36% turnout in the City of Chicago from the first 919 precincts of the City's 2,570 precincts that now have unofficial totals.

The unofficial totals we report tonight represent Election Day voting, Early Voting, Grace Period Voting and Absentee ballots received through Saturday. Absentee ballots received more recently (Monday, Tuesday, etc.) will be added in supplemental counts to be conducted later this week.

By the time later-arriving absentee ballots, provisionals and other ballots arrive and are counted, the City turnout number is likely to move closer to 51-52%.
*** 8:16 pm *** With slightly over half the precincts reporting, Tony Peraica is losing badly…
Tony Peraica (REP) 39.38% 12,153
Jeffrey R. Tobolski (DEM) 53.11% 16,389
Alejandro Reyes (GRN) 7.51% 2,318
There's only one precinct in the city and it hasn't reported yet.
*** 8:19 pm *** With over half the vote counted, Joe Berrios has the lead…

*** 8:24 pm *** With half the vote in, Republican Bob Dold is leading Dan Seals…

* Let's take a look at some congressional races. Congressman Phil Hare is behind…
55% of precincts reporting
Updated 9:02 p.m.
Schilling (R) 51,212 53.0%
Hare (D) 41,093 42.5%
Davis (G) 4,363 4.5%
Dold is ahead…
81% of precincts reporting
Updated 9:02 p.m.
Dold (R) 76,481 51.6%
Seals (D) 71,595 48.4%
As is Bean…
66% of precincts reporting
Updated 9:02 p.m.
Bean (D) 54,600 50.3%
Walsh (R) 50,732 46.7%
Scheurer (G) 3,273 3.0%
Lots of votes left to count…
31% of precincts reporting
Updated 9:02 p.m.
Hultgren (R) 41,522 52.0%
Foster (D) 35,454 44.4%
Kairis (G) 2,804 3.5%
76 Comments



































































































































































































































Sorry, comments for this post are now closed.