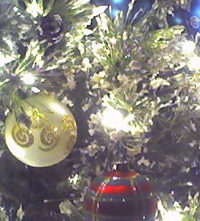 I'll be avoiding work as much as possible in the coming week, so this blog will not be updated (unless there's a big story) until sometime after the new year begins. Hopefully, there's a full lid on anything major because my brain is fried.
The comments will be are closed later tonight, but the news feeds will remain operative, so check back for those.
I assume that some of the Illinoize bloggers will take a break as well, but others will continue posting. You can head on over there for your political fix whilst I'm away.
Have a great one and I'll see you next year!
UPDATE: Comments are now closed. They're still posting at Illinoize .
Say something postive about Illinois before I shut down the blog for the year.
I received this e-mail from Republican lieutenant governor candidate Steve Rauschenberger's campaign yesterday:
Happy Holidays!!

On behalf of everyone on the campaign, we would like to wish all of our friends a very happy holiday season.
Hmm… Apparently, Stevo didn't get the memo.
I also received this e-mail from GOPer Tony Peraica's campaign:
Happy Holidays!!

On behalf of everyone on the campaign, we would like to wish all of our friends a very happy holiday season.
Cut and paste job? Never.
On the other hand, Jim Oberweis' campaign got the memo:
Merry Christmas and Happy New Year from Team Oberweis

As the Christmas holiday approaches and the promise of the New Year dawns, all of us on the campaign wanted to send you a message of thanks.
Some spam e-mailer got the memos from both sides
Merry Christmas and Happy Holidays from AHL Wholesale!
And, finally, this was going around the Bloggernet late yesterday:
While Santa Claus lives it up with Rudolph at the North Pole, his elves have relocated to southern China's towns and villages.

Some 70% of the world's Christmas ornaments and other paraphernalia now originate in officially atheist mainland China. Tinsel, Santas, mistletoe and artificial trees of every shape and hue are churned out at a relentless pace by thousands of factory workers in Guangdong, Zhejiang and Jiangsu provinces.

According to the China General Administration of customs, Guangdong on its own exported more than US$620 million worth of Christmas products in 2004. For the country as a whole, the figure was over $1 billion.

Even the White House now celebrates a "Made in China" Christmas. In 2003, seven of the trees adorning the US president's residence were manufactured in China. In fact more than two-thirds of the world's artificial Christmas trees are made in the single city of Shenzhen.
Memos? We ain't got no memos. We don't need no memos. We don't have to show you any stinking memos!
As might be expected, the BlogAds people have done quite a bit of research on what sort of folks are reading blogs. The Daily Kos readership survey results from last year might surprise most of the "old media" types who tend to dismiss blogs as a teenager phenomenon. Kos is a liberal blog that gets hundreds of comments every day and hundreds of thousands of visitors. It's usually thought of as a "young person's" site.
The grownups, the people with money, read blogs. The grownups comment on blogs, although, I freely admit, you might not know it by reading some of the posts.
ANINE: (with a definitive Queens accent)

You're very handy, I can tell. I bet you like to read a lot, too.

SPENGLER (looks up):

Print is dead.
That was 1989.
(Updated to clarify that the numbers were for Kos' site. I knew it, I just typed it too fast.)