First, read this:
A tollway reform lawmaker wants to turn the suburban system over to a private company, a deal that would likely lead to less public control and higher tolls but also a windfall of billions of dollars.

At least one watchdog group jumped on the idea Tuesday, calling it a disservice to commuters. But several transportation gurus and suburban lawmakers endorsed the concept. […]

The amount of cash the state could nab from leasing the tollway will clearly reach into the billions, a prospect that dazzles lawmakers searching for money to fund needed transportation upgrades and state employee pensions.

Chicago raked in $1.8 billion upfront for the Skyway bridge over its east side. But drivers will gradually pay more before reaching $5 in 2017 — double the current $2.50.

In Indiana, lawmakers are working on a deal to lease a 157-mile stretch of I-90 along Lake Michigan for $3.8 billion.
You might also want to browse through this series about the Indiana tollway.
Now, what do you think of the idea?
- Posted by Rich Miller 26 Comments


I was going to do this in the Capitol Fax today, but decided this would be the better place.
I went over the transcript of last night's debate and pulled out a few Jim Oberweis items in need of fact-checking. Oberweis' comments are italicized.
I'm not a politician…
Yeah, right, except for all those other failed statewide runs.
…and have no ties with any prior administration here in Illinois.
His deputy campaign manager is Brad Roseberry.
Also testifying today was Brad Roseberry, a former Ryan political operative and supervisor in the Secretary of State's office.

Testifying under immunity from prosecution, Roseberry told jurors that he routinely did political work on state time.
Oberweis also met twice with George Ryan and on at least one occasion is reported to have asked the ex-governor for campaign help.
I have taken a pledge as governor of Illinois that I will not accept campaign contributions from companies doing business with the state of Illinois. By doing that, we can break that flow of cash and we can end the corruption tax we're all being asked to pay today. And I believe with that, we can save in excess of $1 billion, that's 2 to 3 percent in our state budget.
He then spent that billion dollars several times.
I believe we can roll back many of the 280 Blagojevich tax and fee increases that have been put into place over the last three years. We can do that, again, being helped by ending the corruption tax we're paying and eliminating some of the waste and fraud that are going on in the government. […]

I am absolutely pledged to go back on the schedule that will refund the pension plan, to make that billion dollar contribution that we omitted. And I believe we can do that, we can fund that, by ending the corruption tax that we're all paying without seeing it […]

[On finding funding for more transportation projects, including mass transit] And the answer is, as I talked about a little bit earlier, we need to end the culture of corruption in this state.
The construction trade unions won't like this next one.
In addition to that, I think it's critical that we end the governor's executive order which has put into place significant costs that don't need to be there by providing a contractual agreement that bars many competitive bidders from construction projects in the states – both for building schools, for building roads, and for other types of capital projects.
What he talked about there are project labor agreements, which ensure that only union contractors can bid on major projects.
We have only 39 ice cream stores today. We would like to have had 100 by now, but we have been held back by the Blagojevich policies in the state
I can hardly believe that the reason there aren't 61 more Oberweis stores is because of the governor's economic policies.
He also got in the best zinger of the night.
Here in this state, we've had four former governors during my lifetime who have either been indicted or served time. Two Republicans and two Democrats, and I think Mr. Blagojevich is out to break the tie, by the way.
Add your own fact-checking of other candidates below (for instance, a good one would be Topinka's routine dodging of the questions).
Oh, and in case some non-subscribers think I am picking on Oberweis, here is a little of what I wrote about him in today's Capitol Fax.
On style points, I think Jim Oberweis won big. His performance was positively Reaganesque… Like Reagan in the early campaign days, Oberweis' main goal was to show that he is an empathetic leader and not that wacko media caricature. He succeeded.
- Posted by Rich Miller 30 Comments


I think I've noticed the same thing here on occasion.
Democrats and Republicans alike are adept at making decisions without letting the facts get in the way, a new study shows.

And they get quite a rush from ignoring information that's contrary to their point of view.

Researchers asked staunch party members from both sides to evaluate information that threatened their preferred candidate prior to the 2004 Presidential election. The subjects' brains were monitored while they pondered. […]

The test subjects on both sides of the political aisle reached totally biased conclusions by ignoring information that could not rationally be discounted, Westen and his colleagues say.

Then, with their minds made up, brain activity ceased in the areas that deal with negative emotions such as disgust. But activity spiked in the circuits involved in reward, a response similar to what addicts experience when they get a fix, Westen explained.

The study points to a total lack of reason in political decision-making. […]

Both Republicans and Democrats consistently denied obvious contradictions for their own candidate but detected contradictions in the opposing candidate.

"The result is that partisan beliefs are calcified, and the person can learn very little from new data," Westen said.
How encouraging. But it may help explain the phenomenal success of extremely partisan blogs. Their readers are essentially addicts looking for a fix.
- Posted by Rich Miller 3 Comments


The good folks at CBS-2 Chicago were kind enough to supply us with a direct link to tonight's Republican gubernatorial debate. The festivities begin at 6pm. Consider this a debate open thread.
Live video of Republican debate from cbs2chicago.com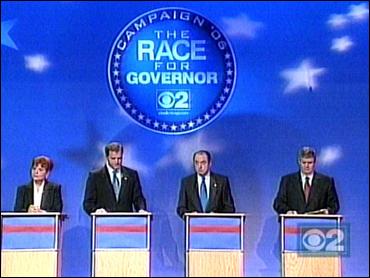 UPDATE: While you're waiting, you can check out this pre-debate story in the Tribune.
UPDATE 2: CBS-2 also has a story and candidate bios.
UPDATE 3: Good news. I was just informed that WCFN (cable channel 19 in Springfield) will be carrying the debate live tonight.
UPDATE 4: Too cool for words. CBS-2's website (which is already by far the best in the TV news business) will have a ton of stuff related to the debate, including the transcript, stories, photos, etc. Since I'm partnering with the site on this thing, I've been giving permission to post pretty much whatever I want here. Check back later for more.
UPDATE 5: I wish he told me he was doing this before it happened, but Bill Baar liveblogged the debate.
UPDATE 6: Looks like the Tribune's prediction that Topinka's rivals would "target" her during the debate turned out not to be the case. A Republican who isn't connected to any of the four candidates just told me that it probably wouldn't be wise for three men to all be seen attacking a woman. Your thoughts?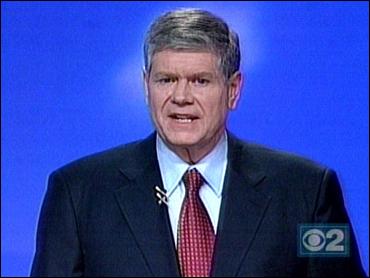 UPDATE 7: I thought Oberweis did very well, by the way. Better style than all of them. I'll explain why in tomorrow's Capitol Fax, but I'll also poke a few holes in the substance of his claims.
UPDATE 8: Apparently, the earlier debate between Brady and Oberweis generated a lot more heat.
UPDATE 9: Let's see your rankings. Who won? Who lost? Best and worst lines? Details.
UPDATE 10: Download a podcast of the CBS-2 debate here.
UPDATE 11: CBS-2 has its post-debate story online now.
UPDATE 12: Scroll way down on this page and you'll see video links by question and a link to the entire video broadcast.
UPDATE 13: Man, that was fast. Here's the transcript.
UPDATE 14: The Daily Herald's story is already online.
UPDATE 15: CBS-2's 10pm broadcast report of the debate is here.
- Posted by Rich Miller 83 Comments


As I reminded Capitol Fax readers this morning, last fall Governor Blagojevich said any ICC commissioner who voted for ComEd's controversial power auction plan (which could raise electric rates by at least 20 percent) would be guilty of "either a serious neglect of duty or gross incompetence by the ICC."
Both of those charges, serious neglect of duty and gross incompetence, are legal grounds for dismissal. In essence, he was threatening to fire them.
Now that all five commissioners, including newly appointed but not yet confirmed chairman Charles Box, have voted to approve the plan, do you think the governor ought to make good on his threat to boot them all, or do you think he ought to let this fight die out and choose to forget it? Why or why not?
- Posted by Rich Miller 19 Comments


From an Edwin Eisendrath press release.
Today, Democratic candidate for Governor Edwin Eisendrath announced that he has accepted four invitations to debate Governor Rod Blagojevich. Blagojevich has either declined or not responded to all four invitations, which have come from:

* League of Women Voters/WLS Channel 7
* Chicago City Club
* WBBM, CBS Channel 2
* WILL Champaign Urbana

"I believe the people of Illinois should hear from both of us," said Eisendrath. "Unfortunately, the Governor is acting like a typical politician-raising money like crazy and flying all over the state for campaign events while trying to say with a straight face that he's not an announced candidate."
Maybe if Esquared put together a campaign that actually threatened Blagojevich's existence, he'd get an offer to debate. Until then, it will be empty seat time.
- Posted by Rich Miller 29 Comments


I'm not sure if this is the right message, considering who put Mangieri on the ballot in the first place.
Paul Mangieri, the Democrats' endorsed candidate for state treasurer, pledged Tuesday during a campaign stop in Decatur to aggressively act to protect state pension funds if he wins the office. […]

Speaking in the Macon County Board room, the Knox County state's attorney said Time magazine stated in October that Illinois ranked last among the states in fully funding its public pensions with a $43 billion deficit.

Part of the unfunded liability could be traced to the de­cline in the stock market, which no one can control, Man­gieri said. But corporate greed, incompetence and dishonesty also have eroded Illinois pensions, he said.

Neither at a Springfield news conference Wednesday nor at his Decatur appearance was Mangieri willing to discuss any action he might take if the governor and the legislature continue to underfund state pensions. Gov. Rod Blagojevich won legislative approval last year to divert $1.2 billion from state pensions in order to provide money for other programs.
- Posted by Rich Miller 13 Comments


Sorry if this appears a little jumbled and crammed together, but here are the missing results from the Post-Dispatch poll, via the Hotline and courtesty of Archpundit.
A Research 2000 poll; conducted 1/16-18 for St. Louis Post-Dispatch/KMOV-TV; surveyed 800 likely voters; margin of error +/- 3.5% (release, 1/22). Tested: Gov. Rod Blagojevich (D), Treas. Judy Baar Topinka (R, '02/'04 SEN candidate Jim Oberweis (R) and businessman Ron Gidwitz (R).

General Election Matchups
All Dem GOP Ind Cook Collar Cent Sth
Blagojevich 45% 77% 6% 45% 55% 32% 44% 46%
Topinka 37 5 74 40 27 50 37 36
Undec/Oth 18 18 20 15 18 18 19 18

All Dem GOP Ind Cook Collar Cent Sth
Blagojevich 52% 84% 7% 56% 62% 37% 51% 52%
Oberweis 33 5 71 23 22 49 32 33
Undec/Oth 15 11 22 21 16 14 17 15

All Dem GOP Ind Cook Collar Cent Sth
Blagojevich 57% 88% 9% 67% 67% 40% 57% 56%
Gidwitz 22 4 56 13 14 44 19 21
Undec/Oth 21 8 35 20 19 16 24 23

Fav/Unfav
Blagojevich 47%/43%
Topinka 45 /31
Oberweis 28 /35
Gidwitz 9 / 8
Bush 36 /59
Cheney 33 /61
Obama 62 /30
- Posted by Rich Miller 6 Comments