Warning: Both of these polls were taken before or right around the time of the Tony Rezko indictment, so they're outdated and almost useless. Keep that in mind, please, when reading what follows. Rasmussen has indicated to subscribers that it will do another poll soon. Events like the Rezko indictment take a few days to "gel" in the public's mind.
As of early Saturday afternoon, Rasmussen's numbers are still behind a firewall, but subscribers say they have Blagojevich leading Topinka and Whitney 49-43-3, with 5 percent undecided. The September Rasmussen poll had Blagojevich ahead 48-36.
Interestingly, 53 percent told Rasmussen they could still change their mind before election day.
The Tribune poll was also released last night. The Trib's poll was taken over four days, with the last one being the day Rezko was indicted, so a small portion of respondents had probably heard of the events, but not enough to make a huge difference.
The Trib has Blagojevich ahead 43-29-9, with 19 percent saying "other" or undecided. September's Tribune poll had Blagojevich ahead 45-33.
According to the Trib, 51 percent are dissatisfied with their choice for governor, while 48 percent are satisfied.
Topinka has managed to move Blagojevich's favorables, however. The Trib's September poll had 43 percent of respondents with a favorable opinion of him and 38 percent with an unfavorable opinion. Those numbers are now 35 favorable and 43 unfavorable. Topinka's are even worse, however - 25 percent favorable and 49 percent unfavorable, compared to 29 and 40 back in September.
Click the image for a better view.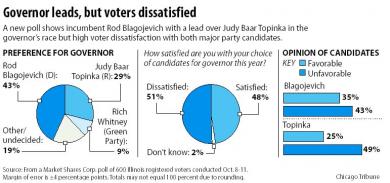 * From the Trib story, published late last night:

Among Republicans, fewer than half—47 percent—say they have a favorable view of Topinka, who has held statewide office for a dozen years and was a state legislator from suburban Cook County before that.

Only 63 percent of Republicans said they would vote for Topinka, compared with 80 percent of Democrats backing Blagojevich, and 65 percent of GOP voters expressed dissatisfaction with the choices for governor on the ballot. […]

Blagojevich is viewed unfavorably by 56 percent of independent voters, an increase of 15 percentage points from a similar survey a month ago. While Blagojevich saw a drop in support among independents, Topinka did as well, and third-party candidate Whitney was the beneficiary.

The poll found only about one-third of the voters had heard of Whitney, a Carbondale attorney who is running under the Green Party banner, and 25 percent said they had no opinion upon which to judge him.
* Real Clear Politics charts all of the polls in this race dating back to June of last year. Click for a larger image. [Real Clear claims the Rasmussen poll was taken on the 12th, but according to people who have seen it, the survey was actually taken Tuesday night, which is before the Rezko indictment.]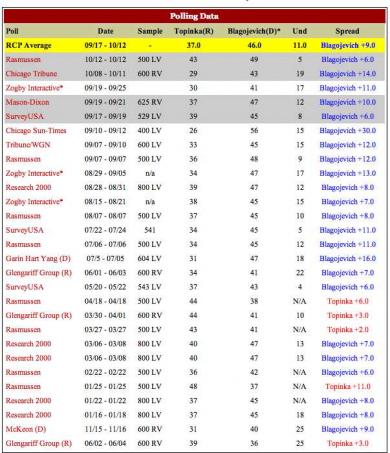 * You can find this blog's statewide poll stories by clicking here.
* Meanwhile, Green Party candidate Rich Whitney continues to make a splash. ABC7 had a big story yesterday. The story is worth a look.
57 Comments










































































































































































Sorry, comments for this post are now closed.