Finally, a candidate for Illinois governor I can believe in…
He won't jump into bed with the special interests or organized crime…
Your hero and mine…
With a running mate who believes in the power of facial hair…
Heck, even Honest Abe is backing Tim Nieukirk for governor of Illinois…
How could you possibly not vote for a guy who puts John L. Lewis on his MySpace page? Hey, Henry, are you out there? Maybe AFSCME can finally endorse somebody in this race.
Part-time customer service work at Best Buy and CVS Pharmacy helped Tim develop the personal skills that will help him navigate through the political bickering of Springfield. […]

Tim believes strongly in education, particularly in higher education. Thus he has attended three such state institutes. He started at Illinois Central College, achieved his Associate's Degree, transfered to Western Illinois University, and transferred again to Illinois State University to really round out the experience. He currently majors in Safety Sciences. What could say 'responsible leadership' better than Safety Sciences?

Tim is a Leo, his favorite color is red, his lucky number is 21. Amongst his proudest accomplishments are being named Senior Patrol Leader (Head of Troop) of Troop 163, being elected Student Council Rep. for Pep Club in high school, and receiving the Antoine de Beauterne Award for Excellence in Werewolf Hunting from the American Lycanthropist Society of America in 2003. His karoake performances of "Blame It on the Rain" frequently reduce men to tears…
Illinois, I think it's time to "Get Nieuked."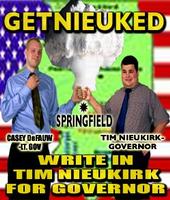 [And, by the way, if you do nothing else today, watch those first two videos. Brilliant.]
*** UPDATE *** Oh, my goodness. They really have filed the paperwork.
27 Comments
















































































Sorry, comments for this post are now closed.