* The Daily Herald now has a story up about Rep. Paul Froehlich (R-Schaumburg) switching parties. He'll make the announcement Wednesday, when he moves to the Democratic side of the aisle. I'm keeping the Capitol Fax story, posted earlier this afternoon, hidden for subscribers only, but here's part of the Daily Herald piece that just went online…
Republican state Rep. Paul Froehlich is switching political parties, becoming a Democrat and leaving behind the Schaumburg Township GOP organization he controlled for nearly a decade. […]

Froehlich, who represents the 56th House District, watched last fall as longtime Republican Rep. Terry Parke of Hoffman Estates lost his seat to Democrat Fred Crespo, who himself had defected from Froehlich's GOP group.

Froehlich also had told allies he feared House GOP leader Tom Cross would back a primary challenge against him next February.

Froehlich had been mulling the move for months. He was unopposed last year in the General Election and won by about a 2-to-1 margin in the primary. But Froehlich watched Schaumburg Township vote for Democrat Melissa Bean over Republican David McSweeney last fall. (Bean scored 58.4 percent and McSweeney 37.6 percent.) President Bush also lost Schaumburg Township to Democrat John Kerry in 2004 by about four percentage points.

Froehlich was a conservative Republican who swept longtime township committeeman Don Totten out of power in March 1998. Froehlich was known for trying to exert tight control in his organization.
* I've moved this item from a previous post…
Paul Froehlich isn't the only one playing footsy with the Democrats. Sen. Kirk Dillard, who until recently was chairman of the DuPage County Republican Party, has just cut a TV ad for Barack Obama.
Dillard: "Sen. Obama worked on some of the deepest issues we had and he was successful in a bipartisan way."
"Republican legislators respected Sen. Obama. His negotiation skills and an ability to understand both sides would serve the country very well."
You can click the pic to go straight to the video…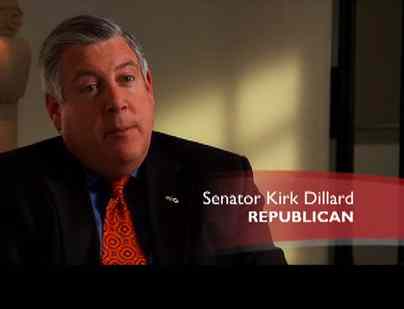 *** UPDATE - 3:23 pm ***
Statement from House GOP Leader Tom Cross' spokesman David Dring
If the reports are true it is disappointing that Representative Froehlich has decided to switch parties. Our caucus has always encouraged members to vote their district's best interest and Paul was no different. The House Republican caucus does not have a litmus test for our members. This seems to be a move made more for personal political gain than any belief on issues.
*** UPDATE 2 - 4:12 pm *** From Jack Darin, Director of the Sierra Club, Illinois Chapter on the Froehlich move…
We were with Froehlich in his primary last year. He has been a very solid vote on the environment, and not just a vote. He has been a real leader on some tough issues with a lot of business opposition.
*** UPDATE 3 *** I gave ArchPundit permission to reprint this paragraph from my subscriber-only story, so I figured I ought to post it here as well…
The state's newest Democrat said his dissatisfaction with the Bush administration also played a role in his decision. Froehlich claims to have been against the Iraq War since before it began, said he is horrified at President Bush's abuse of Habeus Corpus (which Froehlich claimed is the thing that "separates a free system from an unfree system"), has been very bothered by the national party's "harsh rhetoric" on immigration issues and has disagreed with his fellow Republicans on environmental issues.
68 Comments











































































































































































































Sorry, comments for this post are now closed.