Note: The links today are by no means comprehensive. But, I wanted to be sure to provide some assistance in getting everyone's morning off on the right foot. Even if it means dropping a few points on my LSAT score, I'm here to serve my faithful Cap Fax Blog reading friends. :-) - Paul
* Miller: Judge dimisses Blago lawsuit, derides atmosphere
Even when a judge asks Gov. Rod Blagojevich to sit down and negotiate in good faith, he can't bring himself to do it.

As you by now may know, Sangamon County Circuit Judge Patrick Kelley dismissed Blagojevich's lawsuit against the House Clerk last Thursday….

Also, the Senate met last week and didn't enter any of the governor's veto messages into its own journal. The governor's claim that he is simply attempting to uphold his Constitutional right to a speedy hearing on his vetoes would have been strengthened if he had added the Senate to his lawsuit after Monday's Senate session.

Instead, by failing to include the Senate, the governor's case was exposed for what it really was: a bogus judicial extension of his intense political fight with the House Speaker.
* Statehouse Insider: On Blago lawsuit mess
There's still one more of Blagojevich's lawsuits pending. This is the one in which Blagojevich wants the courts to say he gets to set both the date and time of special sessions. Madigan thinks otherwise, which is what got him sued by the governor.

Last week, House Minority Leader TOM CROSS, R-Oswego, quietly filed papers to get involved in the lawsuit as an ally of Madigan. Cross argued that any decision made affecting Madigan also affects the Republicans…

Cross is being represented by former Republican Rep. JOHN COUNTRYMAN. Cross spokesman DAVID DRING said Countryman is doing the work for free. Dring added that Cross wants to see Madigan win so that when Republicans win control of the House and Cross is elected speaker, he will not have to face similar questions about special sessions.
* Bernie Schoenburg: Becky Carroll, Poshard, Topinka
* Jones may back tax hike to fund CTA
* Gambling's future brighter in IL
Supporters hope careful negotiations produce an expansion plan that can pick up enough votes to pass after years of false starts.

"There is a gaming bill that can be crafted that can be passed," said Rep. Lou Lang (D-Skokie). "There's a lot of questions to be asked."

Talk of expanding gambling has become as inevitable as death and taxes at the Illinois statehouse. But in the past, gambling measures usually died because they got so loaded up with goodies that legislators backed away.

This year could be different, though, because circumstances behind the gambling push are different.

It's being offered as the answer to two specific problems - repairing roads and bridges and bailing out Chicago's aging mass transit system- instead of as a source of money for state programs in general.

The deadly collapse of a Minneapolis bridge has driven home the need for Illinois to repair its transportation infrastructure, and the financial problems with Chicago's mass transit are scaring the area's lawmakers.
* Editorial: Time to consider a capital plan, casinos and all
We are lukewarm on the expansion of gambling in Illinois and suspicious of rosy revenue projections for three proposed casinos, but the need for local capital projects that are part of this deal make it tempting to support.

Mostly we just want to scream: Do something! If not this, what?

The state hasn't had a capital plan since Gov. Rod Blagojevich took office. How long can the state's roads, bridges and school buildings be ignored?

The Senate unanimously passed a six-year, $25.4 billion capital plan last week that includes such local public works projects including road improvements and money for the MetroCentre and the University of Illinois College of Medicine at Rockford's rural health initiative.
* Casino poised to expand if state allows it
* A look at the state's gambling for construction package
* Editorial: Compromise and OK the capital proposal
- Posted by Paul Richardson Comments Off


* Peoria Dems hoping to regain ground w/ Schock's departure
* Editorial: Weller's departure will benefit 11th district
* Flannery files complaint after Weller scuffle
"I began to throw out a number of questions regarding his controversial Latin American land deals," and asked if there should be a House Ethics committee investigation, Flannery said.

Weller did not speak, but instead went back down the stairs, still surrounded by a phalanx of aides, Flannery said. At that point, the scene began to turn ugly.

"There's a large man, who begins shoving reporters around, including yours truly. He shoves me one way, then he goes after another reporter with CLTV.… There's an opening in the doorway, and I begin moving through that doorway, and he shoves me down the stairs; he shoves me into a railing on the staircase and also into a woman in on the staircase who was traveling with Weller," Flannery said.
* Roeper: Weller shove looks like old-school roughhousing
* Slain Marine's father to mount challenge against Rep. Melissa Bean
- Posted by Paul Richardson Comments Off


* Seatbelt use hasn't quite clicked survey shows
Illinois Gov. Rod Blagojevich signed that state's primary seat belt law in 2003. Since then, seat belt use has jumped by 14 percent. The most recent statewide survey of safety belt use, released in July, showed 90 percent of Illinois drivers and front-seat passengers now wear seat belts.
* Blago cuts in half grants to QC Arts program
* Police cruisers in Northern Illinois going high tech; more here
* State can help fight global warming, says expert panel
* U.S. Courts back state ban on horse-slaughtering for human food
* SIU plagiarism charge could bolster Poshard defense
* SIU report on plagiarism says it can be unintended, insignificant
The panel's chairman on Friday called the 17-page report's release coincidental and unrelated to the unfolding flap over whether Glenn Poshard plagiarized parts of his 1974 master's thesis and 1984 doctoral dissertation at the university's flagship Carbondale campus.

"The guts of the report were really done much earlier" than when Poshard's troubles first surfaced late last month, said Lain Adkins, director of the University Press at the Carbondale school.

The panel of employees at the university's Carbondale and Edwardsville campuses was created in the wake of claims that Walter Wendler, then chancellor at the Carbondale school, lifted sections from a strategic plan for a Texas school where he worked, then used them in SIU's long-range plan.
* Editorial: Seek a balance of nurturing, testing
- Posted by Paul Richardson Comments Off


* How the museum fight got ugly
* Neighbors bristle at Daley's comments
* Laura Washington: Daley's museum gambit aimed at Olympics
As the summer legislative debacle dragged on in Springfield, Daley laid low. In September, while the clock was ticking down to midnight of the CTA's doomsday scenario, he was tooling around Paris on a bicycle.

Mr. Gets Things Done is dawdling over a decision on a new police superintendent while schoolchildren are being shot down on the streets, and his administration remains recalcitrant about slamming down hard on police brutality and corruption.

Why? Because right now, Daley has only one agenda. Anyone who has been around him for more than 10 seconds lately knows he has caught a bad case of Olympic fever. Real bad. Snaring Chicago as the site for the 2016 Olympics will forever seal his legacy as the Mayor Who Made Chicago a World Class City. Forever.
* Freshman alderman Reilly tries to hold his own
Aside from the mayor's blow up at him, the toll on Reilly is not unexpected given that he is the local elected representative of the city's marquee ward.

It's a ward brimming with high-stakes development, from Trump Tower on the Chicago River to the 2,000-foot Chicago Spire planned for the lakefront.

Reilly has already put the brakes on Northwestern University's plans to sell the historic Lake Shore Athletic Club to a developer who intended to tear it down.

He's also dealing with Streeterville residents' concerns about traffic congestion, inadequate parking and a proposed helipad with Children's Memorial Hospital's $850 million plan to relocate to Streeterville.

Reilly sought to dispel any notion that he's against development, stressing that he has already given the green light to a number of projects.
* Zorn: If alderman is in 'prerogatory,' where is Daley?
"There's aldermanic prerogative," conceded Chicago Mayor Richard M. Daley last week, during feisty remarks in support of the effort to move the Chicago Children's Museum to a new home in Grant Park. "But when it comes to a statement that kids are not welcome to Grant Park, that's not an aldermanic prerogatory."

It sounded to me as though Daley inadvertently came up with a very useful new word.

Prerogatory — a state of suffering and repentance in which an alderman must abide until he gets right with the mayor and has his building and zoning motions approved.
* Tom McNamee: Daley likes easy fights
* Mayor's nephew to make millions from city-connected pension funds
* Taxpayers on hook for city employee pension
- Posted by Paul Richardson Comments Off


I'm outta here for a few days. I want to take some time to fully recharge before the October veto session nightmare begins. I'll post again Wednesday. Paul is studying for his LSAT, so I doubt he'll fill in. If he doesn't have time, Illinoize is in charge…
See if you can guess where I'm going…



- Posted by Rich Miller Comments Off


Allegedly shoving a reporter down a stairwell [update: and manhandling another reporter] is never a bright idea.
Flannery plans to file charges, I'm told.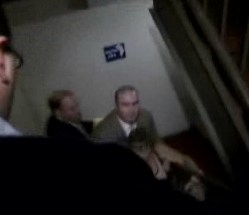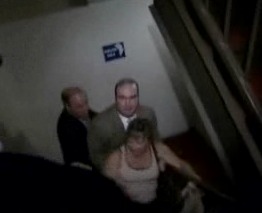 *** UPDATE *** The story is up now…
CBS 2 Political Editor Mike Flannery plans to press criminal charges after he was shoved and sent down a flight of stairs while questioning a congressman Friday, knocking him into a woman who also fell.

The incident happened at a news conference in Joliet, where Rep. Jerry Weller (R-Ill.) was announcing his intention not to run for reelection. […]

There's a large man, who begins shoving reporters around, including yours truly. He shoves me one way, then he goes after another reporter with CLTV.… There's an opening in the doorway, and I begin moving through that doorway, and he shoves me down the stairs; he shoves me into a railing on the staircase and also into a woman in on the staircase who was traveling with Weller," Flannery said. […]

"I realized that I need to ask the police to look into this, and I indicated to them that we get roughed up like this from time to time, but I don't recall ever being treated his violently; shoved around this violently, to the point where a woman gets knocked down," Flannery said.

Flannery said he later learned an arrest had been made by police officers from Joliet Junior College.

He said the man who shoved him was identified by others as a Weller staffer, but, "He never said a word to me before during or after his violent actions, nor did he say a word to my colleagues who were similarly mistreated."
*** UPDATE 2 *** There's apparently much better video of this thug pushing both CLTV reporter Carlos Hernandez Gomez and Flannery. It should be posted soon.
*** UPDATE 3 *** This isn't the first time that somebody has been dealt with harshly by the Weller people. Remember this one?
*** UPDATE 4 *** The CLTV video is now posted. It gives you a different angle and shows how the CLTV reporter was pushed by the Weller guy, who is now reported to be in custody.
*** UPDATE 5 *** From the CLTV video it looks as if the Weller guy leaned hard against Carlos Hernandez Gomez's throat or upper chest. You can hear Carlos grunt in the video. Here's a screen cap, which shows Carlos putting his hand on the other guy's hand, but go watch the video…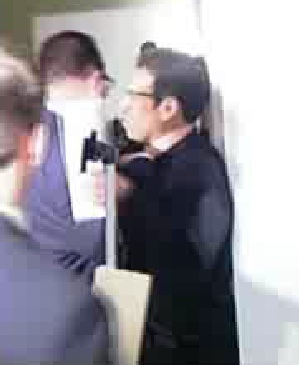 *** UPDATE 6 *** This appears to be the guy…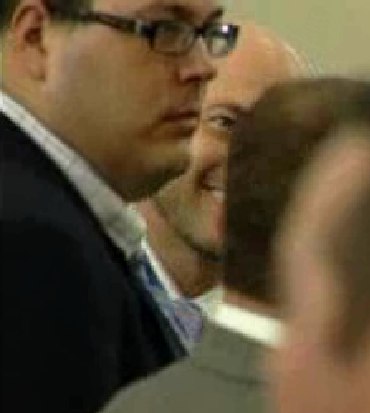 - Posted by Rich Miller 27 Comments


"Treasurer Alexi Giannoulias is to _____ as Gov. Rod Blagojevich is to _____."
Keep it clean.
- Posted by Rich Miller 38 Comments


* Residents of Cook County have been getting a major taste lately of what us Statehouse types have been dealing with all year. First, it was the CTA/RTA fight that featured hot-dogging by the governor, intransigence by Mayor Daley, intense battles between the two legislative chamber leaders and partisan gridlock. Now it's the property tax assessment cap…
Now, Cook County homeowners may be the ones caught in the middle of the intensifying political feud between Gov. Blagojevich and House Speaker Michael Madigan.
The Democratic governor used his veto pen Thursday to rewrite Cook County property-tax relief legislation, radically reworking plans by Madigan (D-Chicago) to phase out property tax assessment caps in three years. […]

But the move and likely House rejection of it leave in question whether any property tax relief will come from Springfield this year and whether the flow of taxes to school districts and local governments could be disrupted.

Less than an hour after the governor took action, the House appeared poised to block Blagojevich's move amid questions the governor may have overstepped his legal authority in changing the intent of legislation that passed the General Assembly overwhelmingly.
* And…
Illinois Senate President Emil Jones, however, supports the changes, a signal that his chamber will likely approve them.

If the two chambers split, the bill will die altogether, leaving no tax relief whatsoever for Cook County residents.
Oy.
* As usual, the TV news led with the happy stuff, which only serves to get everybody's hopes up…
Homeowners in Cook County could be in line for some property tax relief. Governor Rod Blagojevich's plan would give individual homeowners a break, and cost big business big bucks.
* And…
There's good news for homeowners in Cook County who could be getting some property tax relief. Governor Rod Blagojevich announced he's making a current property tax cap permanent.
* The Tribune did a good job of looking at the impact of what is really at stake…
In taking action, the governor stood in front of a bungalow in Lincoln Square that saw its property value increase 75 percent between 2002 and 2006. But as a result of the 7 percent cap, the house's tax bills between 2002 and 2005 have increased less than 1 percent, or $27.

Blagojevich pointed out that under the Madigan version the 2006 tax bill due this fall would have increased 4.8 percent, and an additional 22 percent over the following two years.

Under the governor's version, that house's taxes will drop 1.8 percent this fall and increase 9 percent over the next two years.

Business groups, say the 7 percent legislation has gone far beyond its original intent of acting as a shock absorber against rapid assessment increases and instead has unfairly shifted burden away from homeowners who are benefiting from rising values.
* By the way, yesterday's veto also imperils a wind farm assessment proposal.
* Meanwhile, the Tribune editorial board pierces the governor's spin on mass transit today…
Gov. Rod Blagojevich rode up on his white horse last week with a $91 million loan to postpone mass transit cuts and a promise to work hard to solve the funding crisis before that loan was spent. Since he also repeated his promise to veto a very good bill already on the table, you might be tempted to assume he had a germ of a reasonable alternative up his sleeve.

Dream on. […]

Blagojevich says the $200 million will "buy some time," but what it would really do is buy more trouble. […]

If Blagojevich or Jones has an actual idea to fix the transit system, let's hear it. If not, they should get out of the way.
- Posted by Rich Miller 22 Comments


* The Sun-Times looks at the field if Jerry Weller does, indeed, announce today that he is retiring…
State Senate Majority Leader Debbie DeFrancesco Halvorson (D-Crete) is one of the more well-known Democrats considering a bid. She has already been contacted by the Democratic Congressional Campaign Committee and Rep. Jan Schakowsky (D-Ill.) about getting in the race.

Jerry Weber, president of Kankakee Community College, has indicated he will run for the Democratic nomination.

On the GOP side, state Sen. Christine Radogno — the GOP nominee for state treasurer last year — said she was considering entering the 11th District race. Radogno now lives outside the district in Lemont but said she would move into it if she decides to run and wins.

"It's an opportunity that doesn't come along very often," Radogno said.
Weber has proved a more adept campaigner than just about anyone expected. Radogno is up for reelection next year, so she'd have to give up her Senate seat.
* More…
New Lenox Mayor Tim Baldermann confirmed Wednesday he had been approached by Republicans seeking a replacement for Weller. Baldermann said he was considering entering the race. […]

Former Will County Executive Joe Mikan said he would think about entering the race, but he'd have to move into the district to do so. Mikan lives about three miles north of the district's boundary.
The Green Party will also be competing in this district.
* The Tribune puts things into a larger perspective…
Analysts say at least one-third of the state's 18 [sic] House seats could be hotly contested next year, several of them due to Republican retirements. It's possible no other state will see as many competitive races.

"To say that Illinois will be a big battleground in the 2008 race for Congress would be a gross understatement," said David Wasserman, House editor of the nonpartisan Cook Political Report in Washington. "This is going to be ground zero in the battle for the House, no question about it."

Democrats and Republicans disagree on how likely it is that any Illinois seats will change parties in the election. But the map clearly puts the GOP on the defensive.

Six seats appear competitive already, five of them Republican-held. Three will be open due to the looming retirements of Republican Reps. Dennis Hastert, Ray LaHood and Jerry Weller. Three others feature incumbents in varying degrees of electoral consternation: Republicans Mark Kirk and Peter Roskam and Democrat Melissa Bean.
I agree with ArchPundit that Roskam won't get a major challenge. That's a stretch, added for dramatic effect. LaHood's seat may be in play, but there's only so much the Democrats can do. Still…
Former NBA and Bradley basketball coach Dick Versace hopes to add another win to his record with a bid for Congress.

"I'm all in," Versace, a Democrat, said Thursday.

His confirmation ends several weeks of speculation about whether he would seek election for the 18th Congressional District seat held by Ray LaHood, who is not seeking re-election.

He said he'll hold a news conference to officially announce his bid in the next couple weeks. After that, Versace will take off in a 38-foot motor home he will call "The Common Sense Express."
* More congressional stories, compiled by Paul, who is studying hard for the LSAT this weekend…
* Billy Dennis: Schock playing fast and loose with election rules?

* Normal man joins fray for Weller's Congressional seat

* Weller may state intention not to run
*** UPDATE 1 *** The Kankakee Daily Journal got an advance peek at Weller's speech…
"For the benefit of my family, I can no longer seek another term in the United States House of Representatives. At this time, my wife, my child, my family, must come first," Weller said.

He said the couple found it impossible to balance the demands of family life with both serving in their respective national legislatures. She was recently re-elected to a fourth four-year term, while at the same time caring for their daughter, Marizu Catherine Weller Rios. The couple, he said, decided this summer that he would leave the House when his term ends next year.

"When it was just the two of us, it was a lot easier, but, now we have a little one and we must balance family life even more. Frankly, it has been a difficult balance," Weller said, adding that he plans to be a "full-time father and husband" and that they may have a second child.
*** UPDATE 2 *** The congressman's complete speech can be viewed here.
- Posted by Rich Miller 31 Comments


* Tribune Editorial: Daley vs. the people
The voices we're especially eager to hear from the many aldermen who complain Daley is forever steering into downtown Chicago the city resources and people-magnets that should be spread to their neighborhoods too.
* Sun-Times Editorial: Say no to museum in the park
For them, nowhere is a place to walk their dogs under an archway of honey locust trees — not on sidewalks, but on dirt paths worn by footsteps. "Nowhere" is an antidote for downtown office workers seeking a breath of air and a quiet stroll. "Nowhere" is where people push baby strollers, where art students sit and sketch, where elders congregate on benches in the shade. To people who use this corner, Millennium Park's country cousin is truly "somewhere."
* Neil Steinberg: Laws of morality on museum spat
Has the mayor even been to the Children's Museum at Navy Pier? I used to go with the boys all the time, back when they were little. Fun, with lots of attractions — a water sluice to splash in and a ship's rigging to climb and a room that lets kids invent their own machines.

It doesn't have a lot of windows, however. Which is just as well because a 2-year-old playing in a ball pit doesn't need windows. That's why it is a travesty to suggest the museum must be moved to Grant Park. There is no reason to put it there, and suggestions to the contrary — such as Jean Pritzker's daft notion that the museum should be in Grant Park so kiddies can toddle over to the Art Institute and admire Goya after they're done finger painting — are ludicrous.
* AG Madigan seeks more open government; more here
Attorney General Lisa Madigan called Thursday for a united lobbying front to strengthen access to open government, which she says is improving in Illinois but still has a long way to go…

Madigan said she had no timetable for making the legislative push.

She rebuffed a question about whether she intended to run for governor in 2010, saying she's happy being attorney general. She also declined to answer when asked whether she had an opinion on the public access track record of Gov. Rod Blagojevich's administration.

"I don't, but thanks for asking," Madigan said.
* Rising costs may factor into FutureGen's future
* Dept. of Transportation, do-nothing worker or racist boss?
The nephew of a former Northwest Side congressman on Thursday emphatically denied making racist and sexist comments to co-workers at the city's Department of Transportation and said he was falsely accused — and fired — for cracking the whip against unproductive city inspectors.

Joseph Annunzio, a nephew of the late Rep. Frank Annunzio (D-Ill.), said the woman who filed the bogus complaint is the girlfriend of Cook County Commissioner William Beavers, a former alderman.
* One third of pharmacies overcharged customers in city investigation
* Opinion: Plagiarism scandal raises questions about SIU's long-term academic credibility
* SIU students speak out on Poshard
* Lawsuit claims village bias hurt her son; more here
A former Carpentersville woman filed a $30 million federal lawsuit Thursday, alleging that anti-immigrant sentiment in the village contributed to paramedics' failure to take her son to the hospital, causing him permanent brain damage.

Ted Karavidas, a lawyer for Gloria Lopez, said "virulent anti-immigrant and anti-Hispanic rhetoric" in the northwestern suburb led to an atmosphere where paramedics denied care for the boy, violating his civil rights.
* Evanston takes lead on green issues
* Daley mocks 'machoism' of GOP hopeful Thompson - Calls gun show appearance 'a political stunt'
* Friday Beer Blogging: Sin City edition
- Posted by Paul Richardson 8 Comments