* The governor will probably want to talk about how he's "saving" mass transit today, but reporters will probably want to ask him about this development as well…
A state employee fired for leaking an internal investigative report critical of Gov. Rod Blagojevich's administration testified Tuesday that he was recently interviewed by FBI agents.

Matthew Magalis, who is trying to win his job back through a civil service proceeding, did not say what federal agents had asked. But he said an FBI investigation is exactly what he was seeking when he decided to give a copy of the report in October 2006 to Christi Parsons of the Chicago Tribune. […]

Magalis said he gave the report to the press instead of the FBI because he feared for his job if it became known that he was cooperating with outside investigators.

"People are retaliated against in my department, so I didn't want to be part of whatever investigation there was going to be," said Magalis, who was fired in October from his $82,000-a-year job as an agency administrator after an investigation by the state's Office of the Executive Inspector General.
* The General Assembly could be in session two days this week. If that's the case, then reporters will likely press the governor tomorrow about a story which will appear at 10 o'clock tonight on CBS 2. Click the pic for the station's promo, which is running in heavy rotation…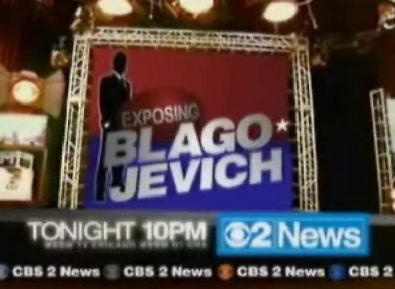 How would you like a job which pays you $155,000? You don't have to talk to co-workers, very much, or attend important meetings. And you don't even have to go to your main office every day.

Sorry, job's taken by Rod Blagojevich.

CBS2's Mike Flannery tracked the governor to see how he's conducting the State of Illinois' business. And we've got one question: If the governor's not governing, what's he doing?

"Exposing Blagojevich" tonight at 10, only on CBS2 News
Oof.
I've been hearing about this piece for weeks. Apparently, the station staked out the governor's home and monitored his work habits. We'll have to wait and see if the hype matches up to the substance, but I'm sure it will be a fun viewing.
I've asked the station to provide me with a live link to tonight's broadcast. So, if you're outside the Chicago area, check back tonight and you'll probably be able to watch it right here.
*** UPDATE *** I have the link ready to go and will post it later tonight, so check back.
* And then there's this…
A suburban man filed the first lawsuit against Gov. Rod Blagojevich's unilateral expansion of state-subsidized health care.

Richard Caro of Riverside charged in his complaint, which was Monday filed in Cook County, that Blagojevich's expansion of the state's FamilyCare program is unconstitutional because lawmakers never agreed to appropriate that spending.
50 Comments





















































































































































Sorry, comments for this post are now closed.