* As I told you earlier, we're shutting down until the middle of next week or so. The news feeds will still be up and running, of course, and InsiderzExchange will still be active, as will Illinoize. So keep on coming back.
I've told people before that this site has become a living, breathing thing. Every time you come back, something's different and new. A new post, new items in the news feed, new coments, a new ad at InsiderzExchange, or whatever. But every now and then I have to get away from it.
Have a pleasant break. I hope to as well.
* I dig the bagpipes…
Look out, it's rough and mean



- Posted by Rich Miller Comments Off


We ban, by law, a whole lot of things and activities in this state. So what one thing would you like to "unban"? Explain.
- Posted by Rich Miller 90 Comments


* Many thanks to Chicago Magazine for including me in their "Best of Chicago" editition, which is on newsstands now. Read the blurb by clicking here. I'm also quoted in their article about Jim Oberweis.
* AOL e-mail problems continue. I was able to send out the Capitol Fax this morning, but I haven't been able to send e-mail since then. I can't even log into the online version.
* "Out of office" bounceback e-mail's have increased exponentially in the past few days, and comments here are dropping like a rock. Since the readership is taking a break, I will too. Today is it for a while. So get your comments in while you can because Kevin and I are shutting down the shop until next Wednesday or Thursday - or until the governor makes another big, goofy splash.
- Posted by Rich Miller Comments Off


* I told you Monday that GOP gubernatorial hopeful Sen. Bill Brady had raised a pathetic $55,730 during the first six months of this year. Brady now has an excuse…
Brady said that with fellow Republicans involved in active campaigns in November, he didn't want to raise money that might compete with them. He said he'll wait until the 2010 election is closer to begin collecting campaign cash.

''We weren't going to do anything out of the ordinary,'' Brady said.
That's an unfortunate remark. One of the biggest knocks on Brady's 2006 bid was his lack of fundraising abilities.
And Mike Lawrence makes an excellent point in the article…
''It's a lot easier to build on a big fund than be scrambling for money during the campaign season itself,'' Lawrence said.
In other words: Get cracking.
It is still business as usual for Gov. Blagojevich, the only statewide officeholder taking campaign contributions from companies with state-paid contracts awarded by his office or agencies under his control.

Yesterday, the Blagojevich campaign committee filed campaign disclosure reports for the first half of 2008, and we have found dozens of contributions from people and businesses connected to state contracts. In a preliminary look through his report, we found 70 that appear, on their face, to be from businesses or employees of businesses that have FY09 contracts from agencies under his control worth more than $50,000. Those donations total $238,500. That's about 22% of his itemized individual donations, or 12.6% of all the contributions to his campaign.
* Quite the lede from the AP…
While Illinois legislators took action against the state's "pay to play" reputation, Gov. Rod Blagojevich took donation after donation from people who stood to gain financially from his administration.
* The Sun-Times editorializes…
We've just discovered another 220,000 reasons why Gov. Blagojevich should sign an ethics bill sitting on his desk that takes aim at pay-to-play politics in Illinois.

That's 220,000 dollars, to be precise.

That's how much Blagojevich raised in the first half of 2008 from companies that were granted major state contracts for this fiscal year, according to a rough analysis of new campaign finance reports by the Illinois Campaign for Political Reform. This estimate, which doesn't capture all donors, represents about 20 percent of the $1.1 million Blagojevich raised from individual donors.
* Anyway, let's end on a lighter note…
Some legislators also are interested in the position, including state Rep. Jack Franks, D-Woodstock and senators Christine Rodogno, R-Lemont, Bill Brady, R-Bloomington, and Mike Jacobs, D-East Moline.

"I'm mulling it over," said Jacobs, who believes voters are tired of Chicago politicians, but admitted he'd have to raise some serious money to run. "What I'm willing to do is work hard, roll up my sleeves and move Illinois forward. I don't want to see Illinois roll backward."
* Related…
* DuPage Dems blast GOP for taking cash from local businesses

* Candidates renounce some campaign cash

- Posted by Rich Miller 26 Comments


* Cokie and Steve Roberts praise governors…
In a welcome relief from the politics of blaming the other party for the inaction that infests Washington, the men and women who occupy the nation's statehouses are noticeably more interested in finding solutions, many of them wonderfully wonky, to the problems facing their citizens.
* As is typical for DC types, they visited a meeting of the National Governors Association and declared governors to be superior. Well, they really need to visit Illinois…
After eight years of helping homeless and drug-addicted mothers, A Safe Haven sits on the brink of oblivion. Eighty women and 40 children may be kicked out of their apartments beginning Thursday if lawmakers don't restore money taken away by Gov. Rod Blagojevich. […]

"This is the first time I've ever experienced anything like this. The cuts have been so drastic," said Sterling Gildersleeve, executive director of the Alsip facility, which may begin separating families as soon as Thursday. […]

Repeated calls to the governor's office for comment weren't returned.
The story concludes with a quote from a former addicted mother who was hired by the center…
"We're citizens, and we need help. It's like our lives (aren't) important."
Those lives aren't important. Not to the people who run Illinois, anyway.
* A rally yesterday attempted to draw attention to this particular issue…
More than a thousand demonstrators gathered at the James R. Thompson Center on Tuesday, calling for state lawmakers to override Gov. Rod Blagojevich's veto of $43 million in funding for alcohol and substance abuse recovery services. […]

Protesters hoped to get the attention of Senate President Emil Jones (D-Chicago), who is ultimately responsible for re-convening the Senate in Springfield and following the House's suit in casting an overriding vote.

Jones was not immediately available for comment.
The Blagojevich administration Tuesday continued to say little publicly about how it plans to deal with cuts to the state budget.
* Nobody wants to talk to the press, but they're still ginning up the hatred. Check out a couple of photos from yesterday's protest rally. Gee, I wonder who might've sponsored these guys?…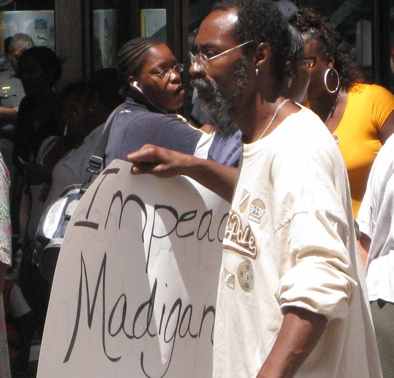 So helpful. Seriously. Way to go, guv.
* More about the cuts were in a letter from TASC Inc. Belleville….
The Senate can sit idle as 42,000 people are kicked out of care, as current waiting list of 7,500 is doubled and as public safety decreases. Or, the Senate can restore the state's budget for treatment, and avert the costly consequences to families, communities, and taxpayers.
Methinks they'll sit idle.
* Meanwhile, Gov. Blagojevich has never been to a state park in his entire life, and it shows…
A coalition of conservation and environmental groups called Tuesday for Gov. Rod Blagojevich to put off implementing $14 million in budget cuts for the Illinois Department of Natural Resources. […]

"We're calling on the governor not to make any cuts until after (the Nov. 4 election) and to keep the budget where it is right now," said John Gaudette of the Illinois Environmental Council. […]

"The Department of Natural Resources is already at a skeleton level," he said.
It's a hollow shell. We have a DNR in name only…
The cuts will bring the department's budget to $52 million, down from $108 million in 2004, Osmond said.
* Mothers and children are about to be kicked out of treatment centers, DNR is in meltdown mode, and this is all we have to show for the past month and a half…
Construction will start back up today on several local projects after state officials fixed a mix-up in the current budget.

Gov. Rod Blagojevich on Tuesday signed into law Senate Bill 1130, which lawmakers approved two weeks ago. It clarifies state budget language that his administration said had stalled 39 construction projects statewide.
Hooray for progress!!!
* Related…
*** UPDATE *** Senate President Emil Jones talked to some reporters today. Of course, nobody apparently asked him about the no-growth budget bills still sitting idly in his chamber…
"We have to have a balanced budget," Jones said. "I'm not going to get involved in playing silly games and giving false hopes to people when the money isn't there. I support many of the programs that cut. But we in the Senate also supported the revenue to support the budget. That's why we passed the revenue to support the budget in May. Now, if the House was genuinely sincere about passing those programs, then they in turn would pass the revenue to support it."

Jones compared the House's approval of the budget without enough revenue to support it to "check kiting."

"The House is good at check kiting. Send them a big check, knowing dog-gone well the check is going to bounce. And that's where we stand right now."

Jones also insisted the Senate's absence from Springfield to deal with the budget had nothing to do with having to confront the pay raise issue head-on if he returned. The Senate has two legislative session days left to reject a raise that would boost the salaries of lawmakers and many other state officials salaries by about 7.5 percent by next summer.
- Posted by Rich Miller 81 Comments


There was easily enough gas to make a round trip, but, hey, I'm in Missouri, I might as well take advantage of this cheap gas I'm always hearing about. Looky here, gas for $3.98 a gallon. I'll top off the tank and save a couple bucks.

Imagine my surprise when, later that night, we get back to Springfield and gas is selling for — $3.98 a gallon.
State Sen. John Millner, a Republican from Carol Stream, acknowledged Tuesday that the characterization of the NIU proton treatment center "could've been done differently."

"I want both centers to be built," Millner said. "I want to make sure both become very successful. And I'll do what I can to promote both centers."
New Mexico Gov. Bill Richardson is coming to Springfield to be the keynote speaker at a brunch Aug. 13 hosted by the Democratic County Chairmen's Association.
- Posted by Kevin Fanning 14 Comments


AOL has just informed me that their e-mail server is down. So I can't reply to your messages this morning. The tech support guy said it might even be a "day or two" before it's working again. Amazing.
Anyway, I am now hobbled. Not sure how long it will be. Sorry for not responding.
But, whatever. My brother is here and I need to get away from the computer. Kevin is in charge.
…Adding… Has a Capitol Fax Blog reader been "outed"? Check the 1:30 mark of this WGN TV video. (Thanks to WW for the tip. Quite the observant person.)
UPDATE: The e-mail problem appears to be fixed, but Kevin is still in charge. It's about time for a blog break.
- Posted by Rich Miller Comments Off


* One of my all-time favorite teachers was David Heminway. David was a literature professor at the University of Maryland in Munich. I had read some Dostoyevsky in high school, and he was teaching a Russian Lit class and convinced me during orientation to give it a go. I did and was blown away, not just with the books, but with the way he taught them.
The man was brilliant, gentle and decent. He would have students over occasionally to his apartment and we'd marvel at how it was literally filled with books, good wine and hearty conversation.
I took his Shakespeare class the next semester and became a lifelong devotee of the bard. Heminway was one of those few teachers who had the power to change my life and I will always be grateful.
David died recently, and here is his obituary…
DAMARISCOTTA (July 9): David Mason Heminway died peacefully at Cove's Edge in Damariscotta on July 4, 2008, after a long, courageous struggle with pulmonary fibrosis.

David was born April 19, 1927, the son of Edwin Harwood Heminway and Josephine Hawkes Pott of New York City, N.Y. He grew up in Tarrytown and Hastings-on-Hudson.

After his graduation from South Kent School in 1944, he joined the Army, training as a radio and Morse code operator. He was stationed in Munich, Germany in 1945-46. Graduating Phi Beta Kappa from Hobart College in 1952, he studied for his master's degree at Colombia. For the next several years, David alternated teaching at Harmon Hall in Maine and at the Peddie School in New Jersey with extended bicycle trips through Europe.

While writing poetry and short stories outside Florence, Italy, he met Elizabeth Lincoln Hilgenberg from Baltimore, Md.; they married in 1958. The couple lived in and around Florence where their two children, Olivia and Benjamin, were born.

David became part owner of the American Language Center in Florence as well as a teacher in the Gonzaga University program. His first three books of poetry were published during this period.

In 1966 David took an English post at the University of Maryland, Munich, a program for American students whose parents were stationed in Europe. He was an inspiring teacher who developed lasting friendships with many of his students.

In Munich he also produced and directed theater both at university and downtown venues and at JFK Centers, where he was invited to give a number of his own poetry readings.

Most holidays the family returned to the farmhouse they had bought in the Appenine foothills. Tragically, his son Ben died in an accident in 1979 while on a bike trip together from Munich to the Italian house. Eight years later, David and Betsy moved to Italy to live year round. There, David worked on a novel and wrote numerous poems. His fourth book, "It isn't Every Day," was published in 2001.

In 2003, David and Betsy moved to Damariscotta, a region they both had fallen in love with; they were not disappointed. David became an involved member of the Pemaquid Poets.

David's tall, lean frame, intense blue gaze, and beard made him a memorable figure. With his creative, questioning mind, his humor, and his talent with words, he was a friend, mentor and inspiration to many people. The young especially gravitated toward David's ebullient participation in life and living and responded to his original and insightful ideas and caring advice.

His involvements were far-ranging: poetry, theater, music, art, people and foremost, family. His enthusiasm for life never waned.

David is survived by his wife, Betsy; daughter, Olivia; son-in-law, Jethro Pettit; and grandchildren, Benjamin, Sophia Rose and Noah.
Now, that's a life.
* The question: Who was your favorite teacher? Why?
- Posted by Rich Miller 44 Comments


* I'm not saying that this won't happen, it's just that we've heard this pledge so many times before I kinda doubt anything will come of it…
State education officials launched an investigation Monday into dubious after-school programs following a Tribune story that exposed questionable spending and political patronage.

The chairman of the Illinois State Board of Education vowed to reclaim misspent money and ratchet up oversight of the grant program.

The board already has begun looking into the $20,000 grants awarded to three groups that employed ex-cons, a violation of the state contract.

"The Tribune story raised the bar for us, and we plan to make these grant awards a much more rigorous process," said Jesse Ruiz, chairman of the state Board of Education. "We have to go and try to retrieve funds if people are not doing what they promised us they'd do." […]

In the Sunday Tribune story, Hendon said the state board is responsible for policing the programs that got money. Ruiz took him up on that offer Monday.

"If the lawmakers are going to throw this into our lap," he said. "They will have to, hopefully, understand that some of these groups might not get the money."
Many, many kudos to the Tribune for this story.
* The big worry, however, is that Sam Zell's management will mean far fewer stories like this. The paper's top investigative reporter just quit in protest…
Maurice Possley, an investigative reporter for the Chicago Tribune whose reporting helped bring about the state's death penalty moratorium, is resigning from the newspaper.

Mr. Possley, who joined the Tribune in 1984, on Monday volunteered to be one of the staffers laid off in upcoming newsroom cuts the paper is making to balance falling advertising revenue with expenses. […]

The Tribune is trimming roughly 60 newsroom staffers in the first cuts to follow two rounds of voluntary buyouts in the past year.

Mr. Possley's decision was based on what he referred to as the "stunning . . . dismantling of our newspaper in such a short time," according to his note.
* Meanwhile, GateHouse continues to crumble. Its stock price is in the dumpster and some of its newspapers are being forced to share editorials. The Patriot Ledger just ran an editorial from the Rockford Register Star…
Beginning today, we will occasionally offer editorials from our other GateHouse publications on a variety of subjects that may or may not reflect our editorial view.
They sound so enthused.
* If you want another reason to be troubled by the slash and burn at the Trib and the tanking media in general, check out this lede…
One of the finalists to lead the office charged with ferreting out political corruption under Cook County Board President Todd Stroger is an attorney who led the county's defense in a landmark illegal patronage case.
Only in Illinois.
And only Illinoisans can cover and analyze it. Not some far-away editorial board in Massachusetts.
- Posted by Rich Miller 35 Comments


Money
Tuesday, Jul 22, 2008
* I told you yesterday that the governor had managed to shave a bunch of money off the debt he owes to Winston & Strawn…
The debt to Winston & Strawn has dropped from $965,352.04 in the last filing period to $750K in this filing period. But no money was reported as being paid to the firm this year. A campaign spokesperson said that the reduced amount was the result of negotiations with the firm. The guv's people have said for some time now that they've disputed some of the charges, and subscribers know another story about the law firm that I told them a couple of months ago.

The spokesman added that no separate legal fund has been set up by the governor.
* Joe Ryan at the Daily Herald asked a good follow-up question…
The last reported bill from Winston & Strawn is from October 2007, but campaign spokesman Doug Scofield said the firm continues to work for the campaign.

"They have been," he said. "There has just been no charges from them during this six-month reporting period."

Scofield said the amount of firm's work has been "similar" to that of the past.
If the work load has been "similar" to what the firm has done in the past, then the governor's campaign has apparently just not received a bill yet.
No report of new bills doesn't mean there won't be a bill soon.
* Meanwhile, the Tribune has a very good fundraising roundup today…
Atty. Gen. Lisa Madigan had $2.6 million after pulling in nearly $570,000 in donations during the first half of the year, while Comptroller Dan Hynes quietly raised nearly $740,000 and had almost $2.4 million in the bank. Treasurer Alexi Giannoulias raised nearly $660,000 and had about $1.3 million available along with nearly $2.3 million in previous family loans listed as debts.

Among possible Republican candidates for governor, Sen. Bill Brady of Bloomington, an unsuccessful contender in 2006, had $67,413 in cash on hand and debts, largely personal, of $685,750 after raising $55,730. DuPage County State's Atty. Joe Birkett, who lost for lieutenant governor two years ago, raised nearly $64,000 and spent $57,000, leaving $96,713 in his campaign fund.

In the legislature, House Speaker Michael Madigan of Chicago reported a combined total of more than $1.85 million in cash between his personal campaign fund and the state Democratic Party's committee he chairs. Rep. Tom Cross of Oswego, the Republican leader of the House, was expected to show $1.1 million in his own campaign fund, aides said. Another House GOP campaign fund held $111,779.

Democratic Senate President Emil Jones of Chicago listed more than $2 million in his personal and caucus campaign funds. Senate Republican leader Frank Watson of Greenville had more than $2.3 million in cash on hand in the campaign accounts he controls along with another $230,000 in investment funds.
* And expect more stories about this…
A preliminary review of the donors reveals several state contractors. The governor has yet to sign an ethics measure on his desk that would make it illegal for state contractors to donate to such campaigns.
* The Sun-Times looks at a local race…
In the hotly contested race for Cook County state's attorney, Democratic prosecutor Anita Alvarez brought in $1.1 million in cash and in-kind contributions, along with a $600,000 loan from her husband. She spent nearly $1 million of it on her hard-fought primary election, leaving her $127,000 cash on hand.

Her Republican opponent, Cook County Commissioner Tony Peraica, brought in about $73,000 and reported $44,000 cash on hand.
* The Reader claims that Anita Alvarez's bigtime fundraising is a bad thing, and that Tony Peraica's paltry take shows what a fine outstanding person he is…
Their success at fund-raising the last few months is similarly dissimilar, according to reports just filed with the state board of elections: she's raised gobs of money from a long list of insiders; he hasn't. She looks like she's going to have a party apparatus working for her; he couldn't find a party apparatus if he wanted to. She's taking money from some of the very people she criticized in the primary; he can only dream of such lucrative, uh, flexibility. She's—well, you get the point.
Warning: The comments over there are just ridiculously goofy. The Reader has the worst, nastiest most libelous and boorish commenters in all of Illinois. The paper ought to be ashamed of itself, but it refuses to do anything about the problem. Good luck with that.
* Related…
- Posted by Rich Miller 10 Comments


* Want a Better Life in Illinois? - Drive 33 miles.
* Week begins with more gun violence in Chicago
* Report: Overcrowding Correlates with Violence at Cook County Jail
* Atheist aims new weapon in his crusade
Sometimes it just took one phone call," Sherman said. "But now [my threats to take legal action] aren't just a bluff. I can back them up."

Why? Because last year, Sherman said, he inherited from his mother a sum that he characterizes as "a multimillion-dollar amount . . . more money than I can ever spend."
* City seeks ideas for new O'Hare terminal
* City may spend $2 million on O'Hare art exhibit
"Every penny that comes out of the airport's discretionary funds is less money available for necessary projects that keep the terminals, runways and facilities in [good] operating condition."
* AT&T refunds $1.5 million in Illinois settlement
* Illinois: AT&T agrees to refunds
Madigan's office said the phone company quietly made the refunds last October and November. The refunds amounted to about $40 for each AT&T customer across the state, a Madigan spokeswoman said.
* Department of Natural Resources launches Web site
* State pension plans adjust strategies

* Oberweis stresses diversification necessary to reduce oil costs
"It's really clear to me that we can bring the cost of energy down by encouraging more American-made energy," Oberweis said.
* Foster finds border security needs enhancement while on fact-finding mission
* Rep. Foster Travels To U.S.-Mexico Border
* Feds want to slap $10,000 fine on Aviation Dept.

- Posted by Kevin Fanning 7 Comments