* Something to keep in mind when you hear all this talk about "swing" or "undecided" voters…
(M)any of those who claim to be undecided are not. Some don't want to admit their preference. In their paper, "Swing Voters? Hah!" political scientists Adam Clymer and Ken Winneg amassed substantial data suggesting that very few undecided voters are truly indecisive. Examining the 2004 election, Clymer and Winneg found that even the most hard-core of undecided voters were fairly predictable.

They asked the 4% of their sample that claimed to be undecided to rate the two candidates in early October. When they went back to the same people after the election, more than 80% had in fact voted for whichever candidate they'd rated most highly a month earlier.
What this could mean is that pollsters who push their respondents the hardest to make a choice (which is generally the automated polls like the highly successful SurveyUSA) may be the most accurate at predicting the eventual results because the vast majority of undecideds really aren't undecided.
* Another point from the same piece…
Examining nine presidential elections, [James Campbell, a political scientist at the State University of New York at Buffalo] compared the size of the swing vote (defined here as voters with weak leanings before the heat of the campaign) with the size of the non-swing vote. Swing voters are known to be a minority of the population, but it turns out that they're not a particularly decisive minority. "In only one of the nine elections, the 1976 race between Gerald Ford and Jimmy Carter," writes Campbell, "did the swing vote majority override an opposite majority among non-swing voters."

In other words, in eight of the last nine elections, the winner could have lost swing voters but won the race. In a second test, which examined voters who were undecided at a later point in the race, Campbell found that the last campaign in which they were decisive was 1960.
…ADDING… From Marc Ambinder…
McCain advisers say they're saving their best material for the last ten days of the race, when, the campaign hopes, three quarters of the remaining undecided voters will make up their minds, and their minds will be concentrating on Barack Obama. When the urgency of the presidential election impresses itself, the hope is that these voters will swing back to the familiar, rather than the unknown.
They'd better have enough cash and message discipline to burn that in. So far, it doesn't look like they have either. But, whatever floats your boat, man.
* Here's an interesting point about how the so-called "Bradley Effect" could impact the undecided vote in the current presidential race…
The hype surrounding the Bradley Effect has evolved to where some political pundits believe in 2008 that Obama must win in the national pre-election polls by 6-9 points before he can be assured a victory.

That's absurd. There won't be a 6-9 point Bradley Effect — there can't be, since few national polls show a large enough amount of undecided voters and it's in the undecided column where racism supposedly hides.
Bottom line: Since all undecideds are not racists, any "Bradley Effect" will not impact the outcome, as current polls stand.
* Also, this same author, who polled for Los Angeles mayoral candidate Tom Bradley's Republican opponent in 1982, concludes that there really was no "Bradley Effect" in California…
Even though Tom Bradley had been slightly ahead in the polls in 1982, due to sampling error, it was statistically too close to call. For example, the daily Tarrance and Associates tracking polls for the Deukmejian campaign showed the following weekly summations (N=1000 each) during the month of October:

Week of: Oct.7th Oct. 14th Oct. 21st Oct. 28 Nov. 1

Bradley 49 45 46 45 45

Deukmejian 37 41 41 42 44

It is obvious that this election was closing fast
But what about exit polls from that election day which showed Bradley far ahead?
Bradley actually won on election day turnout, but lost the absentee vote so badly that Deukmejian pulled ahead to win.
…ADDING MORE… What about Ronald Reagan's big 1980 comeback? Not so much…
A post-election summary of polls by then-CBS News pollster Warren Mitofsky shows that at no point over the final two weeks did Carter have a lead bigger than three percentage points. There is a published Gallup poll not included in that report showing Carter up six among likely voters in a poll conducted Oct. 24 to 27. Whether six or the eight points cited today, Carter's advantage in Gallup polling was offset by similarly large Reagan leads in NBC-Associated Press or DMI (Reagan's pollsters) polls.

The bottom line is that there was no evident momentum for either candidate as the 1980 presidential election neared its completion. That is until Reagan's breakthrough debate performance.
* Illinois political history shows no signs of any Bradley Effect in any major political contests dating back to Harold Washington's 1983 mayoral victory. This year, though, it's the Rod & Todd Effect which most troubles Democrats…
Rep. Tom Cross said Illinois Republicans think they can clip the coattails of Barack Obama here in his own home state. They are reminding voters that should Obama move to the White House, several other local Democrats will stay behind to run things in Springfield and Chicago.

"Not only Governor Blagojevich, Speaker Madigan and Emil Jones have done things, Todd Stroger has done an awful job at Cook County government," Cross said. "But as you move down that ballot, you say to yourself, 'What? Why another Democrat in the Illinois General Assembly? It makes no sense.'"

Republican polling shows Obama running strongly in suburbs around Chicago. It also shows Gov. Blagojevich and Cook County Board President Todd Stroger are extraordinarily unpopular.
But Cross appeared to admit to CBS 2 that McCain's negative campaign against Obama wasn't helping his efforts to hold onto GOP seats here, and advised a retooling.
* The Obama Effect is what's keeping Illinois Republicans awake at night…
Suburban folks flooded polling places in Democratic strongholds including Orland Park, South Holland and Evanston. By 5 p.m., 7,616 suburban residents had cast ballots, county election officials said. That's nearly five times the record turnout on the first day of early voting — 1,591 early votes cast on Jan. 14 before the February primary.

In Chicago, voters cast nearly 11,735 ballots — nearly three times the record for first-day early voting. Monday's turnout was just short of the single-day early voting record of 11,971, which came on the last day of early voting before the February primary.

"Normally, we don't see a number like this until the last four days of early voting," Chicago elections board spokesman James Allen said.
* Obama is running TV and radio ads on Chicago network channels to boost his Indiana effort. That will undoubtedly run up his suburban vote. Whether the down-ballot candidates can attach themselves to his coattails is the big question, however…
"I don't think it's going to be quite the wipeout that maybe we feared a few months ago," said former Gov. Jim Edgar, a Republican.
Maybe, maybe not.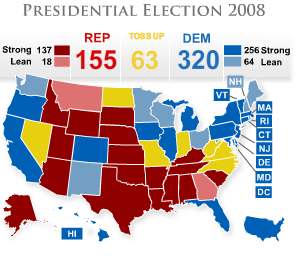 * Related…
* DuPage early voting busy despite holiday confusion

* Eager voters flock to the polls

* First Day Rivals Biggest Turnout Ever in Early Voting

* 2008 early voting history

* State Board's online voters guide up — see which candidates took advantage

* Obama Is Campaigning on Xbox 360
30 Comments

























































































Sorry, comments for this post are now closed.