[The following is a paid advertisement.]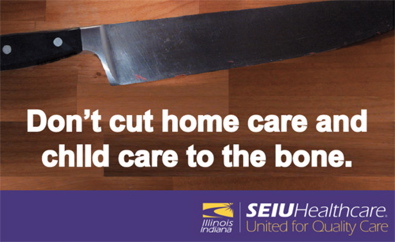 Springfield has had the same answer to budget deficits for years: cut the fat. But today, Illinois faces its biggest budget crisis ever. And the fat? It's all but gone.
The Governor's proposed budget includes dangerous cuts to the programs families, seniors and people with disabilities depend on:
• The Home Services Program - which provides home care for 33,000 people with disabilities - is facing a $26.5 million deficit that could mean serious cuts in care.
• The Community Care Program - which allows 51,000 seniors to receive home care - faces a $40 million deficit that will mean substantial cuts to services.
• The Child Care Assistance Program is facing a $50 million cut - threatening the care of 170,000 children. Illinois is slated to receive $74 million for child care through the federal stimulus package, but the funds cannot be used to fill budget holes. If the $50 million cut remains, Illinois will lose $74 million in stimulus funds while threatening the care of Illinois' children.
In tough times, the right answer isn't leaving seniors and people with disabilities on their own, or taking child care away from working parents when they need it most.
- Posted by Capitol Fax Blog Advertising Department


No Comments
Be the first to comment.
Sorry, comments for this post are now closed.