* Rod Blagojevich's brother Rob filed a motion yesterday for a separate trial. You can read the motion by clicking here.
Among the reasons his lawyers gave was that Rob's alleged involvement was "approximately 5% of the 84-month conspiracy." The "spill over" effect from evidence and testimony against his younger brother could also prevent the jury from "making a reliable judgment" on the case.
Rob's lawyers went on to object to the "the expense of having to sit through a lengthy trial" would be too burdensome. And they provided an estimate of the trial's length…
This trial will take approximately 5 months.
Five months? I hadn't seen that estimate before. The last I checked the early June trial was supposed to take three months. But if it lasts five months, that means it'll be wrapping up on election day. Not good at all for the Dems.
* And what does the ex-governor think about his brother fleeing from his side? WBEZ has a quote from Rod Blagojevich attorney Sheldon Sorosky…
"Uh, the governor does what he wants to do."
Indeed.
* In other Blagojevichian news, the Chicago Reader has posted a gallery of a "50 Aldermen/50 Artists" exhibit. Here's Dick Mell…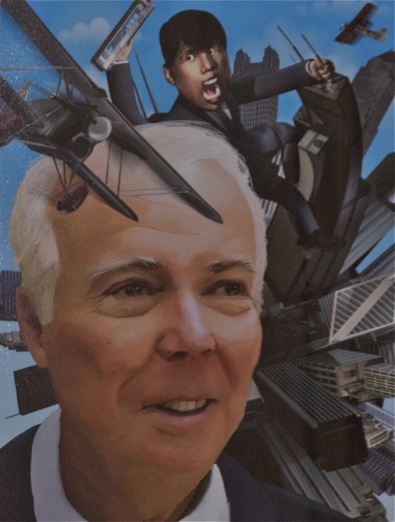 Caption, perhaps?
* Related…
* Our View: Blagojevich papers show shady side of state government

* Sun-Times: Go ahead, play all the tapes for Blago

* Blagojevich's brother seeks separate trial

* Blago's brother wants separate trial

* Rob Blagojevich seeks separate trials for himself, former Illinois governor

* Dawson: Just checking, but yes, Rod is really gone
16 Comments















































Sorry, comments for this post are now closed.