*** UPDATE - 12:35 pm *** Rep. Mell is speaking now. Listen or watch by clicking here.
Here's the video of Rep. Mell's remarks…
[ *** End of Update *** ]
* Rep. Deb Mell (D-Chicago) made a big announcement on Chicago Tonight last night…
State Rep. Deb Mell said she wants nothing more than to marry her partner of nearly six years in her home state of Illinois.

Mell — who six years ago turned to her father, Ald. Richard Mell, 33rd, to help her put a public face on families where a member is gay — plans to announce her engagement to Christin Baker on the House floor Wednesday.

"I want to spend the rest of my life with her, and I want to get married in Illinois," Mell, D-Chicago, said Tuesday during an interview on WTTW's " Chicago Tonight" news program. "I mean, we could go to Iowa, and Iowa's great … I went to school in Iowa. But you know what? It's not the state where I represent, and it's not the state where I grew up in."

Mell, 41, said she hopes her announcement will spark public discussion about gay marriage in Illinois. Mell is Patti Blagojevich's sister.
We'll try to get video of the announcement today.
* Carol Marin interviewed Mell last night and she filed this column about the interview…
"I have to go to Iowa," Mell said Tuesday, "a great state, but not where I grew up, not where my friends and family are."

What will she tell her colleagues?

"That you can't legislate who you love and can't punish people for it," she said. "That we are a regular couple, pay taxes, own a home, have a great belief in God."

Baker, national director of arts and humanities for YMCA USA, will also be on the House floor Wednesday. It will be her 35th birthday.

And, Mell said, "She will be wearing my Mom's ring."

Margaret Mell died in 2006, but not before telling her daughter "how much she liked Christin."
I wouldn't read the comments if I were you. Man, newspapers really need to get a handle on their idiotic commenters.
* Video…
* Meanwhile, the Paul Simon Institute has released more results of its poll of southern Illinoisans…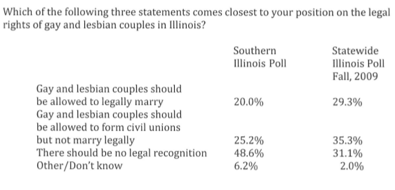 No surprise that southern Illinoisans are more conservative than the rest of the state. Another result…

Thoughts?
50 Comments





















































































































































Sorry, comments for this post are now closed.