* It's not often that you see two leading anti-violence advocates speak up against a new anti-violence initiative, but they've obviously just had enough of the budget games…
Two leading groups fighting violence against women and youth rapped Gov. Quinn Thursday for launching a $50 million anti-violence initiative when Illinois has become the biggest deadbeat state in the country by one new survey.

"We are dismayed and disheartened by the governor's decision to spend $50 million on a new initiative at a time when the state owes millions of dollars to agencies and organizations that are providing critical services and prevention programming in countless communities across the state," said Polly Poskin, executive director of the Illinois Coalition Against Sexual Assault.

Her organization, which distributes a mix of state and federal funding to 22 rape crisis centers across Illinois, has had its state funding cut 27 percent in the past two years and is owed more than $1.7 million because the state is five months behind in its bills. Because of the funding squeeze, six of those rape-crisis centers may not meet their payrolls by month's end, she said.

"We are confused by the ability to find dollars in our current budget crisis when our local agencies are still waiting to be paid for fiscal year 2010," said Vickie Smith, executive director of the Illinois Coalition Against Domestic Violence.
Governors love shiny, new programs. Too often, that comes at the expense of helping improve and fund existing services.
Here's the governor's state-paid video of the government press conference where he announced the initiative…
* And speaking of cash-flow problems…
Gov. Pat Quinn pledged Thursday that the state will "soon" come through with promised payments to the Chicago Transit Authority so the agency is not forced to raise fares.

The CTA agreed to cancel proposed fare hikes for this year and next after the state agreed to cover for two years the cost of a loan the Regional Transportation Authority took out to make ends meet. The state has been slow to produce those funds.

"No, they aren't going to raise fares," Quinn said at a groundbreaking ceremony for a Salvation Army community center in the West Pullman neighborhood. "We have an agreement that we have with the RTA, and they will get the funds necessary to make sure the fare freeze for this year and next year continues. We're in a tough economic time, and there aren't going to be any fare increases at the CTA."

Quinn said the transit agencies will get the funds "as soon as we possibly can."
I'll believe it when I see it.
* I told subscribers the other day about a recent poll by the Pew Center on the States. It fits well here, so let's discuss it. From Pew…
On the revenue side of the ledger, 70 percent of Illinoisans, like respondents in the other four states surveyed, say they would be willing to pay more in taxes to maintain the current level of support for elementary and secondary education, and nearly six in 10 say the same for health and human services.

But when given a choice of several options for raising new money for the state, respondents continue to shy away from broad-based tax increases. Sixty-six percent say they favor raising taxes on alcohol and cigarettes and 54 percent favor expanding gambling, while 60 percent favor raising corporate taxes. But these are not major sources of revenue for the state, so even if they were increased, they would not bridge the gap. And there are other obstacles to these options: For instance, increasing income taxes on businesses is complicated by restrictions in the state constitution.

Just 26 percent of Illinoisans say they favor an increase in the income tax, the main source of state revenue. When asked which option they would prefer if the state had to raise taxes on individuals to keep the same level of services, just 18 percent say they prefer an across-the-board income tax increase; another 18 percent select extending the sales tax to services, and 12 percent say they favor raising the sales tax on all purchases. Nearly half of respondents favor raising income taxes on the wealthy—but that would require a constitutional amendment in Illinois.
It's always "tax the other guy." Gaming expansion and higher corporate taxes would fit that mold.
* And check out these responses. Click the pic for a larger image…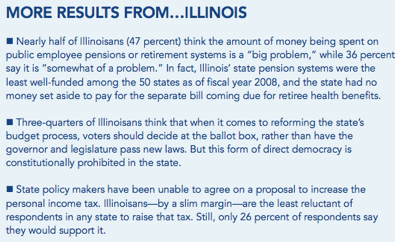 I have a feeling that if given the choice, Illinoisans might not do much better than the legislature when it comes to cutting services and raising revenues, especially when the TV ads started blaring. Your thoughts?
* And while everybody's talking about the capital bill, the public says they'd rather more money be spent on schools…
Ironically, transportation ranks low on the list of priorities for Illinois residents, according to the survey. In fact, only one in five Illinoisans says he or she would be willing to pay higher taxes to maintain transportation funding at current levels.

And given a choice among major areas of state spending—K-12 education, higher education, Medicaid and transportation— more than half of Illinois respondents choose transportation as the area they would least protect from spending cuts. Only 5 percent say it is the area they would most want to protect.
* They don't much care for borrowing, either, which is probably why Bill Brady has tried to tippy-toe around his $50 billion pension bond scheme…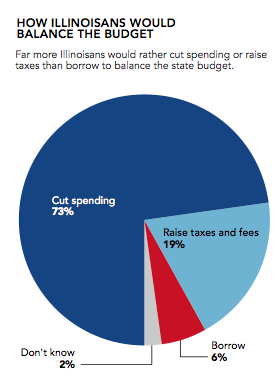 * About half are "very concerned" about spending cuts. As coverage grows, so will that number…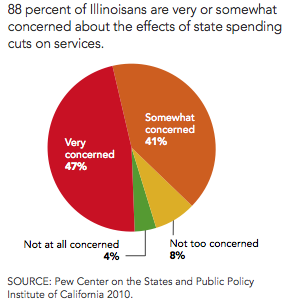 * These next two will give you an idea of how Illinois stacks up with the other polled states. Again, click the pics for larger images…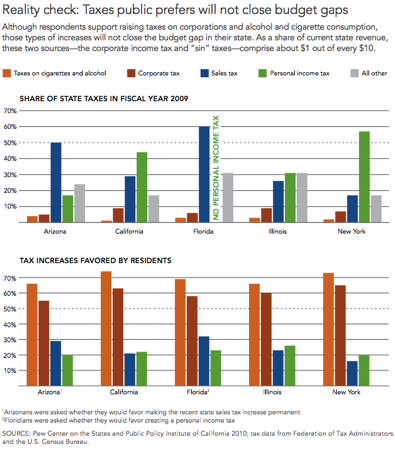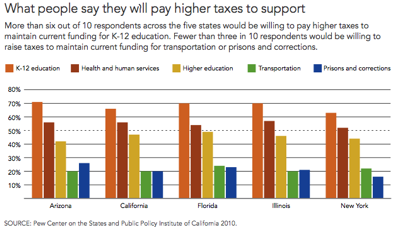 Discuss.
37 Comments














































































































Sorry, comments for this post are now closed.