* Watch the president's GOTV rally in Chicago tonight by clicking here. At six o'clock, the feed was already live.
* 6:05 pm - Mayor Daley is kicking things off. So, they're starting things now.
…Adding… From Lynn Sweet…
The Democratic National Committee on Saturday transfered money to a handful of state Democratic parties, with Illinois getting the largest chunk, $950,000, the Chicago Sun-Times has learned. The DNC is making the transfer as President Obama headlines a big rally at the University of Chicago this evening.
The full list of Democratic transfers is here.
…Adding More… Roundup…
* Sun-Times: Obama urges thousands at rally to get out and vote

* ABC7: Democrats rally as Obama makes final push

* Tribune: Obama rallies thousands of Democrats in Hyde Park

* NYT: Obama Campaigns to Keep a Democrat in His Former Senate Seat
*** UPDATE *** Lynn Sweet has the Obama speech transcript. Click here.
- Posted by Rich Miller Comments Off


* The DNC has early voting numbers…
So far, 298,113 Illinois voters have cast ballots including 174,739 Democrats (58.6% of those who have voted so far) and 83,166 Republicans (27.9%). (Note: Illinois does not have party registration, so Democrats are defined as those who have voted in a Democratic primary and Republicans are defined as those who have voted in a Republican primary.)

· Cook County is the most Democratic county in the state, and Cook County is voting at one of the highest rates of any county in the state. While only 38.5% of all registrants are from Cook County, 43.5% of all ballots cast so far are from Cook County.

· In fact, there are more Democratic primary voters from Cook County who have already voted than there are Republican primary voters who have already voted in the entire state of Illinois. This is despite the fact that Cook County makes up only 38.5% of registered voters and 43.5% of those who have voted so far.

· According to the latest DNC modeling analysis incorporating today's early vote returns, Giannoulias leads by more than 6 points among those who have already voted, and this lead has been growing since early voting began in Illinois two weeks ago.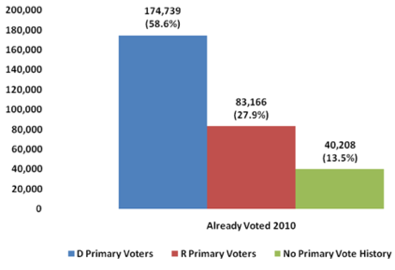 *** UPDATE 1 *** A couple of members of a top statewide GOP campaign just called to share their early voting and absentee numbers. They have 100,000 more voters identified than the DNC totals above, and they're showing an almost even split between Democrats and Republicans, with about the same number of independents. If true, that even split between the parties would be bad news for Democrats, who have always dominated stuff like this. They also show heavy voting in the collars and Downstate, which would also probably be bad news for the Dems this year.
*** UPDATE 2 *** The Illinois Manufacturers Association has run the numbers and found these statewide early voting and absentee [they just re-clarified] totals…
* Republican: 96,521

* Democratic: 160,103

* Independent: 90,460
Individual jurisdictional breakdowns, as well as breakdowns by state House districts are available for subscribers.
[ *** End Of Updates *** ]
* Go read all of this Tribune story on campaign cash right now…
An unprecedented influx of political cash — most of it from outside Illinois — is feeding an inescapable wave of television attack ads aimed at manipulating voters in the final weeks of high-stakes campaigns for U.S. Senate and governor.

The money makes up the bulk of more than $45 million spent since September on political advertising in Chicago's television market alone — enough to buy all the local commercial time in a typical month, according to advertising data reviewed by the Tribune.
* Gov. Pat Quinn has three closer ads. The first has been running for a few days. It's the "Gold Star" ad that Quinn aired in the last week of the Democratic primary. Refresh your memory…
* The second is a new version of the "You know me" ad that he ran in the primary. Watch…
It's tough to catch magic in a bottle twice, but we'll see. The latest round of internal GOP polling shows this race is very tight, campers.
* The third Quinn spot is a summation negative…
* Our old friend Simon Edelman created a Metro East closer for the Quinn Campaign. Boeing…
* Meanwhile, the Bill Brady campaign has a new Internet promo video that's really worth watching. Dancing Quinn Remix…
Heh.
* NBC Nightly News ran a story about negative ads last night and focused on Decatur…
* Republican congressional candidate Bobby Schilling has a heckuva closer…
* More videos…
* Bill Brady: Illinois has had a "bumpy road" with Pat Quinn

* Rich Whitney: How's That Working Out For You?

* Alexi Giannoulias: Religious leaders: Who is the real Mark Kirk?

* ILGOP: Michael "Jaws" Giorango - The Quest for a Loan

* Robin Kelly: The Robin I know: Sam Nylen

* Justice Kilbride: Sheriff Marketti Supports Tom Kilbride

* Justice Kilbride: Prosecutor Greg McHugh Supports Tom Kilbride

* Justice Kilbride: Retired Judges and Law Enforcement Support Tom Kilbride

* Bob Dold: "Let's Get To Work" Bus Tour

* Randy Hultgren: At the Aurora METRA Station

* Susana Mendoza: 42nd Ward Event at EPIC…Feet on the Street
- Posted by Rich Miller Comments Off