* More news from the pension game…
Interviews with legislative leaders, union officials and business leaders suggest that a vote [on the pension reform bill] will probably not take place this week. Pressure from organized labor, incumbents' nervousness about running for re-election in new districts, concern over inciting primary-election challenges and legislators' penchant for delay when facing politically treacherous issues are creating a strong headwind.

Ultimately, one person will decide whether to call the pension bill for a vote: Mr. Madigan. According to legislative and business leaders who have spoken to him, he has not revealed his plans. "This might be something he'd rather do in the spring, but he has not expressed that to me," said Mr. Cross, who is sponsoring the bill with Mr. Madigan. "He doesn't always explain to you what he's going to do."
Reading Speaker Madigan's mind ain't easy, but this time he's pretty clear, regardless of the spin…
Mr. Madigan's spokesman said the speaker would call Senate Bill 512 as soon as Mr. Cross signaled he was ready. Yet without confirmation from Mr. Madigan that he will have the 30 Democratic votes needed for passage, Mr. Cross is likely to wait.

"When our friends on the other side of the aisle are ready, we'll be there," Mr. Cross said. "I've been living this issue for so long. I'm ready to get it done."
SB 512 is Leader Cross' bill. Cross is the chief sponsor, so he can call the bill whenever he wants, and Madigan has repeatedly said that Cross has full control of the legislation. So the above report is way over-analyzed, to the point of obfuscation. Also, Madigan's people have told me that the Speaker has never promised Cross that he'd put 30 votes on the pension reform bill. Cross is stalling. Why? Either he doesn't have the 30 votes he says he has or he truly doesn't want to move a bill before it's ready, or both. I'm betting on both.
* Meanwhile, the Washington Post's editorial page looks at Illinois and other states' pension reforms…
But there's a catch… the [pension] reforms mainly apply to new hires, not to the existing state workforce. This was apparently a bridge too far, politically and also legally, because state constitutions and court decisions make it difficult to reduce current pensions. That the governors' new ideas apply mostly to future hires limits their short-term financial impact. […]

No one said that it would be easy to take on public-sector unions; nor are pensions the sole cause of state and local financial distress. The Democratic governors who have acted, even tentatively, deserve credit.

But the problem is so big that they will eventually have to do more. Sooner or later, state and local governments must further rein in benefits for current employees — so that the cost of providing for public servants tomorrow does not make it impossible to provide actual public services today.
* The state's pension reform law has been widely panned, particularly by the Tribune. But let's look at some real numbers, shall we? From the Commission on Government Forecasting and Accountability's most recent pension report…
• Under P.A. 96-0889 [the pension reform bill for new hires], State contribution for fiscal years 2010 – 2045 will be reduced by $71.1 billion as a result of a second tier of benefits for new hires.

• Under P.A. 96-0889, the projected accrued liability for the five State retirement systems combined in fiscal year 2045 is reduced significantly from $555.7 billion to $295.3 billion. […]

• [Under P.A. 96-0889], the projected unfunded liability for the five State retirement systems combined in fiscal year 2045 is reduced from $55,167.6 million to $29,532.1 million.
That's pretty significant. And look at the difference that bill made…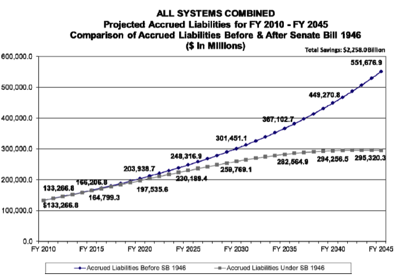 • Tier 1 active employees will decline in number until about FY 2018, when total active membership will be roughly equal between Tier 1 and Tier 2 members.
And…
Under P.A. 96-0889, the unfunded liability will increase for a number of years at a faster rate than it otherwise would have, until about FY 2035, when it is projected to decrease. This is because of the decreased accrued liability in FY 2045 which is attributable to a second tier of benefits for new hires. This decreased accrued liability means the State now must reach 90% of a lowered target, and thus contributions will decrease accordingly. While contributions will decrease, in the immediate future liabilities will accrue at much the same pace as they would have before the second tier of benefits went into place since most active employees will be "Tier 1" employees for the foreseeable future.
* Also from COGFA, this almost goes without saying…
As shown in chart below, the single largest driver of the increase in the unfunded liability has been insufficient employer contributions. Other factors contributing to the growth in the unfunded liability include investment losses when compared to the assumed rate of return, benefit increases, and changes in actuarial assumptions. The category "other factors" encompasses miscellaneous actuarial factors such as rates of termination, disability, and pre-and post-retirement mortality.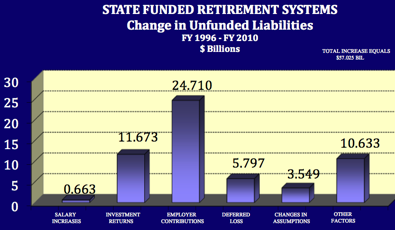 * Other important stuff that you should read…
* TRS report raises questions about timing of pension vote

* Ads about Illinois' pension battle are emotional and poignant, but are they true?

* Illinois pensions by the numbers

* State university chiefs lobby against pension reform bill: In the note, the school presidents and chancellors say their ability to recruit top staff would be hurt if the state shifts retirement costs to individual workers, rather than having taxpayers pick up the tab.
36 Comments











































































































Sorry, comments for this post are now closed.