* Republican congressional candidate Rodger Cook released his tax returns yesterday and challenged others in the race to follow suit. Jason Plummer, who adamantly refused to release his tax returns when he ran for lt. governor two years ago, is taking the refusenik line this time as well…
Plummer issued a statement in which he stated that voters "want to know where you get your money, where your money is invested, and what kind of financial relationships you have. They should want to know these things, it is tremendously important information."

But this information is obtained " through a legally required Federal Personal Financial Disclosure, not a tax return," Plummer wrote. " A tax return does not have all the details a PFD has, which is why I released my PFD before any other candidate."

In 2010, when he ran for lieutenant governor as the Republican nominee, Plummer resisted call to turn his tax returns. In a disclosure report filed late last year, Plummer listed personal assets of between nearly $3 million and $41 million.
Plummer's full press release is here. A press release supporting Cook is here…
"In Illinois, politicians work the system for power and gain. If you're going to run for office, you need to prove to the people of Illinois that you're clean. Show us that you haven't profited from the Illinois political class," stated Rodger Cook.

"The people of Illinois deserve the truth. If you don't have gold-standard ethics, you're part of business-as-usual. Rodger Cook is the latest and most prominent candidate in this election cycle to lead on this transformational ethics policy," said Adam Andrzejewski, former 2010 gubernatorial candidate
* In other news, We Ask America has Congressman Jesse Jackson, Jr. with a big lead over Democratic rival Debbie Halvorson. Click the pic for a larger image…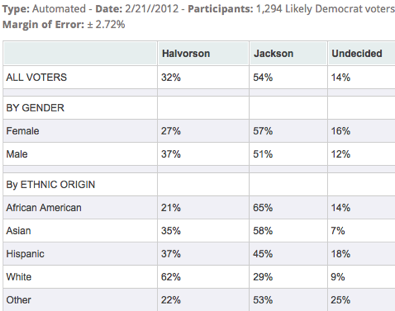 From the pollster…
Clearly, the voters of Illinois' 2nd Congressional District aren't buying into conventional wisdom. We've included the Ethnic Origin breakdowns to show there is a definite Minority/White split of opinion. Of course there's still time for Halvorson to reduce the gap, and if the 50+ percent of voters who are African American stay home on Primary Day (March 20), we may be in for a surprise.

But for now, Congressman Jackson appears ready to prove the naysayers wrong.
Discuss.
* Related…
* Cunningham is back on ballot in 11th district race: Jack Cunningham's name will appear on the ballot in the race for the Republican nomination in the 11th Congressional District. Cook County Circuit Court Associate Judge Susan Fox Gillis on Tuesday ordered that Cunningham's name appear on the March 20 election ballot, reversing the Illinois State Board of Elections, which had upheld objections to the nominating petitions of Cunningham and Diane Harris.

* I think Jason is the future': Shimkus endorses Plummer for 12th U.S. House seat
30 Comments

























































































Sorry, comments for this post are now closed.