* This conversation between the federal government's cooperating witness and Rep. Derrick Smith (D-Chicago) pretty much seals the deal. The witness is handing Smith $7,000 in a cash bribe that Smith "earned" by writing a letter of support for a daycare center grant…
During the meeting, CS-1 stated, "You thought I was bulls…' didn't you?" (CS-1 and SMITH laugh) CS-1 then stated (while counting the money), "One. Two. Three. Four. Five. Damn, stuck together. Six. Seven. (UI) Talk to you later."

SMITH then asked, "You don't want me to give you yours now?" CS-1 answered, "Holla' at you later, man. I get at you later man. I just want you to know I ain't playin' no games wich you, serious." SMITH said, "Alright, man." CS-1 stated, "Do what you gonna do to keep your word. Holla at you later man." SMITH said, "Alright. Get yours. When you want it?. . . When you want it?" CS-1 answered, "I'm gonna call you." SMITH said, "(UI) pick out ya' car first?" CS-1 said, "Yeah, I'm gonna get my car. . . but I got th, I, you know, your campaign now, you got to come on. Do what you gonna do man." SMITH said, "Man, we gonna. I (UI) sh*t." CS-1 said, "Do whatever you want me to have for the campaign, jus, just let me know." SMITH said, "I'm gonna get you your two man!" CS-1 said, "Alright." SMITH said, "You know what I'm talkin' 'bout. You know, and we said we gonna, we talk about it."
"I'm gonna get you your two man!" refers to Rep. Smith's promise to kick back $2,000 to the witness for his help in obtaining the bribe. The bribe was paid by the federal government, acting in the guise of a fictitious daycare center owner.
Oops.
So long, farewell.
* Smith was not exactly Mr. Clean before Secretary of State Jesse White had him appointed to the House…
Smith grew up in Cabrini Green with [Ald. Walter Burnett], who handpicked him to be 27th Ward Superintendent.

But Smith was fired from the $72,528-a-year job in 2005 amid allegations he used city equipment and personnel to do private landscaping work and improperly used state-financed Earnfare workers to lighten the load of city employees.

"In my job with the city of Chicago, I did nothing wrong," Smith has said through a spokesman.

At the time, Streets and Sanitation officials refused to explain why Smith had been fired. Smith served as a precinct captain in the 27th Ward Regular Democratic Organization run by Burnett and Committeeman White.

"It's painful. He's like a brother to me. If it was my brother, I'd feel the same way," Burnett said in 2005. "Anyone who loses their employment is painful to me. I know they've got families to feed. . . . Whatever happened, he has to deal with it with his lawyer."

Smith was employed in the secretary of state's office under White from December 2006 until March 2011, when White helped engineer his appointment to the House to replace Collins, who had moved to the Senate.
* The Chicago Tribune has unsurprisingly retracted its endorsement of Rep. Smith…
The case also confronts Democrats in Smith's mostly West Side district with an impossible choice. Come Tuesday, do they nominate a man charged with public corruption? Or do they nominate his challenger, Tom Swiss, who has shown considerable disrespect for them?

Right here we need to interject that, on March 7, this page endorsed Smith over Swiss. That's an endorsement we hereby retract. Federal prosecutors will have to prove Smith guilty beyond a reasonable doubt before he's declared guilty. Political endorsements don't have to meet that high burden. We aren't convicting or acquitting Smith; we're trying to guide voters in their choice of representation. Specifically, we're looking at every word of the government's 23-page criminal complaint and concluding that we do not want Derrick Smith in the Illinois House.

That said, we're also uncomfortable with the challenger. As we wrote March 7, "Say this for Tom Swiss, a former director of the Cook County Republican Party running as a Democrat: He's honest about what he thinks about his would-be constituents. He's targeting what he calls 'low-information voters.' One campaign billboard in this racially mixed district features his name and image — he's white — and another billboard features his name … and the image of a black construction worker."
The political complications here are enormous, to say the least.
* Here is that complete e-mail Swiss sent in May of last year about the "extremely low information voters"…
From: Tom Swiss
Sent: Tuesday, May 24, 2011 2:53 PM
Subject: RE: Re-Map

Jim,

I was thinking about running for State Representative because there is an excellent opportunity in Chicago.

After Sen. Ricky Hendon resigned, my State Rep., Anazette Collins, was selected to replace him. Subsequently, an unknown, Derrick Smith, was selected to fill the State Rep vacancy. He is a member of Jesse White/Walter Burnett's organization.

The boundaries of this district barely changed. The vote will be fragmented into many sections with Anazette Collin's daughter Angelique, Patricia Van Pelt-Watkins, and Smith all running with probably another 4-6 people. It is a very poor district with previous candidates only raising $40k to $100k. It would probably take a plurality of only 4,000 votes to win.

I would run as a Democrat. My political service company (Ogden & Fry) could provide artwork, yard signs, data, and robocalling at cost. My cost would be 1/3 would the other candidates would spend.

The people of the district are extremely low information voters. I would emphasize 3 paths to victory - branding (yard signs/door-to-door lit drop, get-out-the-vote (early and election day door to door activity), and hiring people's yards to place a yard sign for $5.

It would be an extremely aggressive campaign. It could possibly be the least expensive State Rep seat pick up for conservatives.

I have been analyzing the maps, D-2's, and opponents for 3 months. There is truly a very unique opportunity here, so I am seriously considering this race.

Let me know if this is something your team would be interested in knowing more about…Tom
* And here is Swiss' response to the Sun-Times about my reporting and about his billboard featuring a photo of an African-American…
When Rich Miller's Capitol Fax website wrote about Swiss' candidacy last year, Miller quoted an e-mail Swiss sent out saying many of the voters in the district were "extremely low-information voters."

Swiss said Thursday most voters in Illinois are "low information voters" as evidenced by Rod Blagojevich's two elections as governor.

"I kind of resent that — because of all the work I have done working with Africans [and the disadvantaged in America] — white journalists implying there is something racist in that," Swiss said.

The reason Swiss chose a black man in a white hard hat to put on his billboard is because as construction jobs come to the district, he wants to make sure they go to district residents, he said.
* But here is an e-mail sent by the President of Illinois Log Cabin Republicans about the Swiss campaign last October…
From: Caitlin Huxley
Sent: Wednesday, October 26, 2011 4:12 PM
To: Caitlin Huxley
Subject: Petition signature volunteers needed this weekend!

Chicago Republican Volunteers,

As Republicans, we have a problem. Democrats in Illinois run Plants for slots as Republican Committeemen, and all too often as the Republican Challenger against themselves. With a little funding, and slow republican turnout, they can assure they will not be challenged. This happens all too often, and has done damage to the party structure. In fact, not too long ago, Illinois was a Red State.

It's time to turn the tables and use their same tricks against them! This year we have a lifelong republican supporter running as a Democrat. Tom Swiss is fighting fire with fire & needs your help. this weekend we'll be doing a massive push to get him on the ballot. If you're available this Saturday and/or Sunday we could use your help to collect petition signatures. We need 1500, and with 5 to 10 volunteers we could easily reach that goal in 2 days.

Please email me back 7 let me know your availability.

Thank you,

Caitlin Huxley
Organizer
* And a photo of Rep. Smith leaving the federal courthouse. Caption?…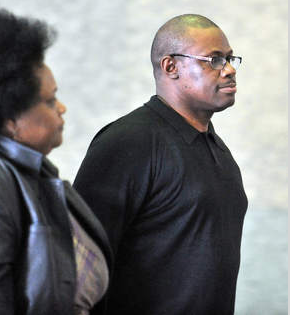 69 Comments














































































































































































































Sorry, comments for this post are now closed.