* This A-1 was filed last night by indicted former state Rep. Derrick Smith (D-Chicago)…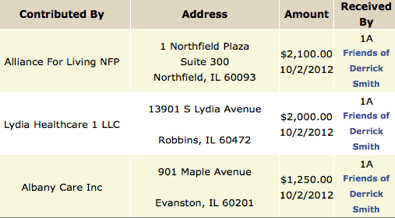 It isn't a huge amount of money, but it really takes a lot of stones to give that guy any campaign cash.
Sheesh.
* Meanwhile, Greg Hinz reports that Secretary of State Jesse White has convinced House Speaker Michael Madigan to make calls on behalf of Smith's opponent, Lance Tyson…
At issue is an endorsement rally scheduled for [yesterday] afternoon by Lance Tyson, who decided to run as a third-party candidate after Mr. Smith won renomination in March, despite facing federal corruption charges. Mr. Smith subsequently was expelled from the House, and local Democratic powers, headed by Secretary of State Jesse White, got behind Mr. Tyson. […]

Steve Brown, Mr. Madigan's longtime spokesman, told me that the speaker, at the request of Mr. White, has called various parties "and asked them to be for Tyson and attend the event." Mr. Brown wouldn't say if the speaker will open his war chest in the contest, but suggested it would be clear where the speaker stands, given the preceding comments.

So exactly who will show up? I've confirmed that a long list of officials, including U.S. Rep. Danny Davis, Cook County Commissioners John Fritchey and John Daley, and Aldermen Joe Moreno (1st), Emma Mitts (37th) and Michelle Smith (43rd) support Mr. Tyson. And I hear that a couple of deep-pocketed unions are preparing to jump into the contest.
*** UPDATE *** Congressman Danny Davis just called to say that he wasn't at that Tyson event, didn't know about the event and is neutral in the race.
[ *** End Of Update *** ]
* It turns out that Smith's reported benefactor Alliance for Living NFP is also a big contributor to the Speaker's campaign funds…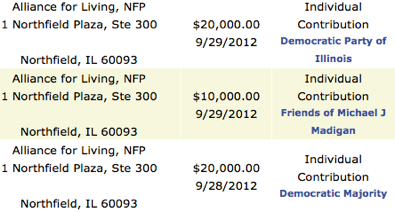 * As is Lydia Healthcare…

* As is Albany Care…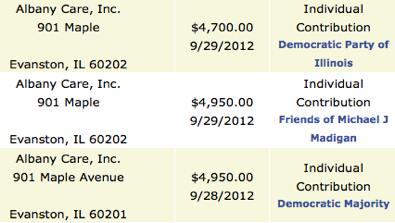 22 Comments

































































Sorry, comments for this post are now closed.