* We successfully "freeped" Public Policy Polling's website a couple weeks ago and convinced them to do an Illinois poll. I'm not sure how valuable the numbers are because it's so very early in the gubernatorial process, but let's get to it.
The poll was taken November 26-28 of 500 Illinois voters.
* Gov. Pat Quinn's job approval rating continues to be super dismal…

Quinn disagrees with voters, however…
"I think I'm doing a good job under the circumstances and want to continue."
* Except for Lisa Madigan, most people really don't know much about the other candidates tested here…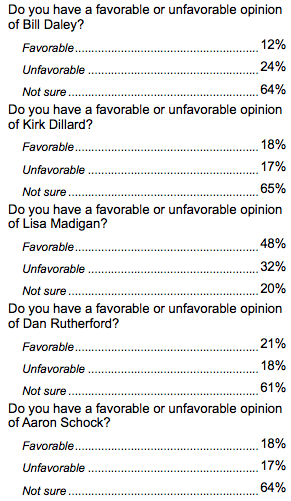 * Quinn only does well against Aaron Schock, who is a Downstate congressman and not yet very well known statewide…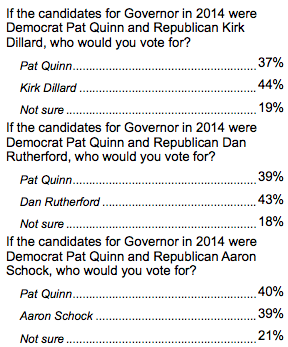 Keep in mind that Quinn was trailing Bill Brady for months before he finally won. Party love generally kicks in late.
* Same goes for Bill Daley…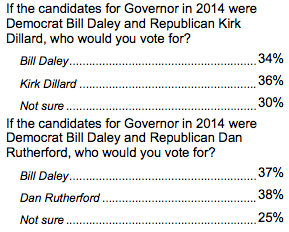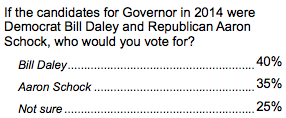 * Lisa Madigan is a different story, but she's not killing it like I thought she would…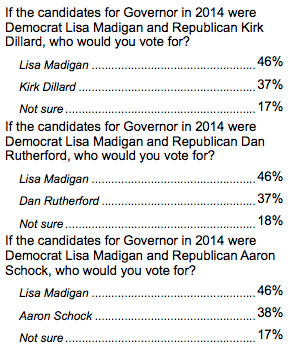 Madigan is barely outperforming the generic party ID test…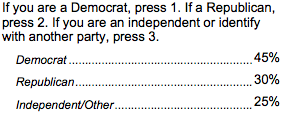 I've been saying for a while that I didn't think Attorney General Madigan would run for governor in 2014. But I had a long off the record talk with her on election night (she attended my Google party), and let's just say I'm no longer 100 percent sure about anything. She probably won't, but I can't say that for sure right now.
* PPP also polled for the primaries, but the sample sizes were so small that they have to be taken with a grain of salt. Of just 303 GOP primary voters…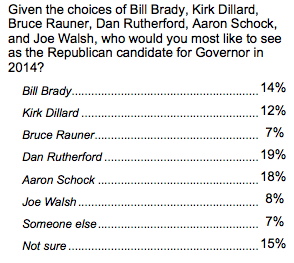 And…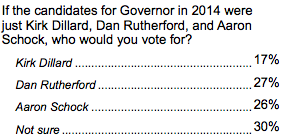 * But check out the Democratic poll of 319 primary voters. Quinn is in a world of trouble…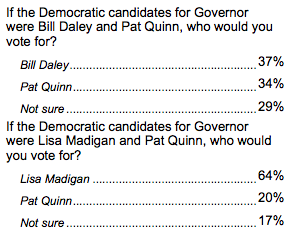 If Lisa runs, she could crush Quinn. But we already knew that.
* Links…
63 Comments




























































































































































































Sorry, comments for this post are now closed.