* From Crain's…
Commonwealth Edison Co. spent big — very big — to win passage last year of its controversial "smart grid" law. The act permits the electric utility to raise its rates annually via a formula as it pursues a 10-year, $2.6 billion grid modernization program featuring smart meters in every home and business.

ComEd may be back in Springfield, lobbying lawmakers to force state utility regulators to interpret the law more favorably to the utility and boost its revenue further.
* And the accompanying chart…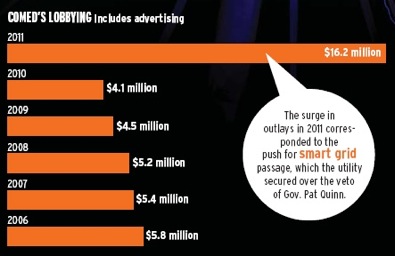 Ameren's expenses were $3.4 million.
Keep in mind that lobbying expenses are not directly financed by ratepayers.
* Related…
* Cable TV, satellite TV industries embroiled in fight over fees

* Illinois rings up $1M from video gambling in November
13 Comments






































Sorry, comments for this post are now closed.