* This happens a lot after major nationally publicized incidents involving guns, but the buying appears to be pretty intense…
Background checks for gun sales in Illinois have almost doubled since Friday's school shootings in Connecticut, according to data from the Illinois State Police.

Gun sellers say some buyers appear concerned about self-defense, but many already own guns and appear to be adding to their collections amid talk of tougher restrictions on gun ownership. Semiautomatic rifles like the AR-15 used in the school shootings last week in Connecticut are generating much of the interest, sellers said. Those guns are being mentioned as the mostly likely target of tougher laws.

More than 12,500 background checks were done in Illinois between Friday, when 28 people were killed at an elementary school in Newtown, Conn., and Tuesday, according to data provided by state police. In comparison, 6,870 checks were done during the same time a year earlier.

The state's Firearms Transfer Inquiry Program is processing about 2,500 requests a day, compared to about 1,370 a year ago.
* But this is what concerns me…
Sellers said in some cases, people are buying weapons they don't even know how to use. "It's all panic buying," Polhamus said.
My brother pointed this out to me the other day after he'd visited a few southern Illinois gun shops. A whole lot of amateurs who know little to nothing about guns are now stocking up.
* Meanwhile, a couple of pro-gun 2nd Congressional District candidates are retooling their gun messages…
State Sen. Toi Hutchinson, another candidate, has voted in favor of the NRA's position on various gun measures that have come before state lawmakers more than 90 percent of the time, earning an "A" rating from the organization this year. But Hutchinson told Roll Call this week that while she stands firm on the rights of hunters, she has always supported an assault weapons ban as well as a plan to outlaw high-capacity ammunition magazines. Yet another candidate with a top NRA rating, former Congresswoman Deborah Halvorson, said this week that she may be willing to consider an assault weapons ban.

Hutchinson did not respond to a request for comment. Halvorson could not be reached.
* From Project Vote Smart via Huffpo, here are the gun rankings for the Illinois delegation. The higher the rating, the more the person is for gun control. So, at "A+" rating means strong anti-gun positions…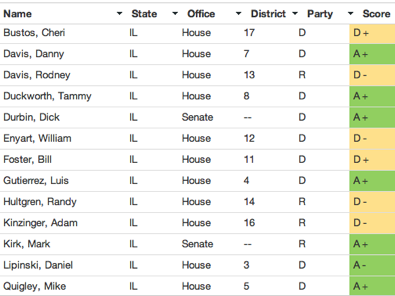 * Mother Jones took a look at Bill Clinton's assault weapons ban, which Rahm Emanuel helped pass…
The assault weapons ban proved of little value where it counted most: on the street. The legislation prohibited the manufacture, possession, transfer, and sale of assault weapons and high-capacity ammunition clips, yet it defined assault weapons in a manner that would allow gun manufacturers to skirt the ban without much trouble. It exempted 650 firearms and grandfathered in weapons and ammo clips produced or purchased before the enactment of the ban. "It was better to get what we got than nothing," the former Justice Department official says. And the measure's prohibition on high-capacity clips was probably its most effective provision. "Ultimately, the 1994 ban was almost meaningless because it was so defectively drafted," says Tom Diaz, a senior policy analyst at the Violence Policy Center, who worked for the House subcommittee on crime in 1994.

The law did little to affect gun violence. Prior to the ban, nervous gun owners and dealers stocked up on assault weapons and the high-capacity clips, and afterward gun manufacturers made cosmetic changes to semiautomatic weapons so these guns would not violate the new law. And the 1994 federal ban was passed with a built-in 2004 expiration date. When the time ran out, then-President George W. Bush did nothing to extend the law. During the 2008 presidential campaign, Obama called for reviving the assault weapons ban. But after he became president, his administration took no steps to do so. Guns were too hot (politically) to touch.

The .223 caliber Bushmaster AR-15 semiautomatic rifle reportedly used by Adam Lanza in the Newtown shootings was the sort of weapon gun control advocates had hoped to prohibit with the 1994 ban. Yet even though the state of Connecticut passed its own assault weapons ban, modeled on the 1994 federal law but with no sunset clause, this particular gun was legal in the state because Bushmaster had made a slight and insignificant change in its design to evade restrictions.
* More stuff…
* Rahm Emanuel Blasts NRA, Calls for New Gun Laws: "I fully expect the NRA to do exactly what they always do," Emanuel said at a press conference at Chicago City Hall, where he called for a ban on assault weapons of the kind used in the Newtown killings. "I expect the Washington gun lobby and the gun lobbies around to do exactly what they always do, which is to try to apply political pressure so you ignore the overwhelming public opinion."

* Mayors push for assault ban: More than 20 mayors and local leaders are backing the effort, and Emanuel was flanked by eight mayors on Thursday from several cities and towns, including Gary, Ind., another community plagued by gun violence. Diamond Mayor Teresa Kernc, who leads the village of roughly 2,500 people about 50 miles south of Chicago, is also backing the effort.

* List of mayors in Emanuel's new group

* Gun Violence Plays Heavily in Illinois Special: Finally, there's the large roster of Democrats seeking the seat, including two previously backed by the Illinois State Rifle Association. Given the unwieldy field, any one of the seven better-known candidates — including those two — could win the Feb. 26 primary. "It's going to make a difference in the Illinois delegation, certainly," said Richard Pearson, ISRA's executive director. "One 435th of a vote? We'll take it."

* More funerals in Newtown
59 Comments
















































































































































































Sorry, comments for this post are now closed.