* The ads attacking Congressman Aaron Schock over his vote for the "fiscal cliff" resolution are more widespread than first reported…
The ads have been running on Fox News stations on cable systems across the 18th Congressional District, said Steve Shearer, Schock's chief of staff. Similar radio ads have also been running in the district from the same sponsoring group — Jobs & Progress Fund.

An official of WICS-TV in Springfield said the group has purchased $34,300 worth of time combined on that Springfield broadcast station and its sister station in Champaign, WICD. Those ads started running Wednesday and are scheduled to continue through Jan. 26, said Jennifer Valenti, local sales manager at WICS. […]

In a radio ad being played in Springfield, a man and woman are talking about Schock. The man says that Schock "sided with the liberals and raised taxes."

"Unbelievable," the woman says.
* Schock's office has sent a letter to stations demanding that they stop running the ads…
The passage of H.R. 8 on January 1st cut taxes significantly. Indeed, the universally respected and non-partisan Congressional Joint Committee on Taxation and the Congressional Budget Office each scored H.R. 8 as nearly a four trillion dollar revenue decrease over the next decade. […]

Your station is hereby on notice that the Advertisement makes false statements intended to deliberately deceive Illinois voters and defame Congressman Schock's reputation. Based on the foregoing, we respectfully demand that your station immediately cease the airing of this false and misleading Advertisement.
*** UPDATE *** From Congressman Schock's office…
STARadio Quincy, parent company of QuincyJournal.com, has received a cease and desist letter from lawyers for Aaron Schock regarding the ad. STARadio Vice President and General Manager Mike Moyers says the company will comply and not accept a scheduled ad buy for next week.
[ *** End Of Update *** ]
* The more calls I make, the more I'm starting to think he might be serious this time around…
Sneed has learned former White House Chief of Staff Bill Daley has commissioned the prestigious polling firm of Anzalone Liszt, which does polling for President Barack Obama and Illinois Senate President John Cullerton, to determine his viability in a race for governor of Illinois.

"We are hoping he'll run, but the polls will tell all," said a top Dem source.

Sneed is told the results of the poll will be released soon, although a call to the Montgomery, Ala., firm would not officially confirm or deny Sneed's tip.
We'll see.
* Meanwhile…
Last fall's general election in Illinois saw $1.6 million in independent expenditures in targeted races for 15 House and 16 Senate seats, more than $900,000 of which was used negatively to oppose candidates, according to a January report by the Illinois Campaign for Political Reform.

The top five committees reporting the most independent expenditures, according to the report, were: JOBS PAC ($412,932), Personal PAC ($334,392), National Association of Realtors ($232,500), Liberty Principles PAC ($215,168), and GOPAC Illinois Legislative Fund ($186,524).

All told, those five committees spent the bulk of all independent expenditures while achieving success in only 12 of the 31 races they targeted. Out of all independent expenditures, the SuperPACs only had success in 19 of 77 races.

While independent expenditures only made up about 5.5% of the $29.4 million that candidates reported raising in the fall's targeted legislative races, David Morrison, deputy director of the Illinois Campaign for Political Reform, predicted a larger SuperPAC role in 2014 statewide elections.

"We have some experience with these but not at the state and local level," Morrison said at an Illinois Campaign Finance Reform Task Force hearing Thursday. "We expect to see significant SuperPAC involvement in the governor's race."
There will definitely be bigtime SuperPAC involvement in 2014. Bet on it.
* Here's the list of the top spenders in legislative races, according to ICPR's interim report…
The JOBS PAC $412,932
Personal PAC Independent Committee $334,392
National Association of REALTORS® Fund $232,500
Liberty Principles PAC $215,168
GOPAC Illinois Legislative Fund $186,524
For the Good of Illinois PAC $78,430
Republican State Leadership Committee- IE Com $74,799
Citizens for a Better Quincy $60,000
Illinois Immigrant Action PAC $22,378
Adam for IL Committee (Adam Andrzejewski) $20,000
* One of the biggest winners was Personal PAC…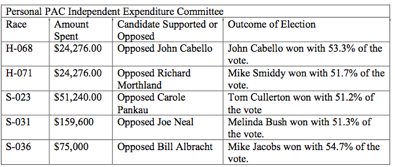 Illinois Immigrant Action PAC was another big winner…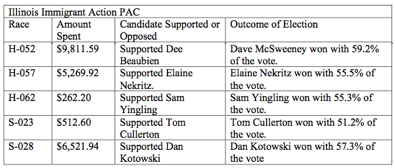 Liberty Principles PAC was a big loser…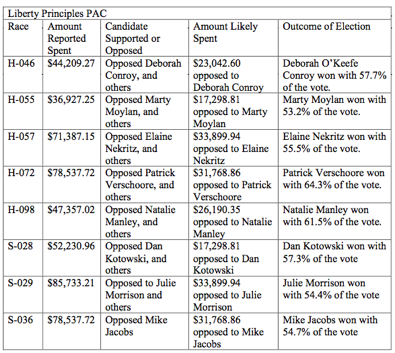 From the report…
Former Republican gubernatorial candidate Dan Proft filed the Statement of Organization for Liberty Principles with the State Board of Elections and also filed a statement of organization with the Federal Elections Commission. […]

Most of the receipts reported by the federal Liberty Principles PAC came from two donors: Richard Uihlein at $125,000 (of Uline Industries, his giving includes $50,000 received on March 20 and disclosed on April 12, $50,000 received on August 24 and disclosed on October 15, and $25,000 received on October 29 and disclosed on December 6) and real estate developer John Buck at $100,000 (received on June 29 and disclosed on July 12). All told, the federal PAC received $65,500 prior to Election Day that was not reported to the public until one month afterwards.
* And the Justice Department is suing the State Board of Elections over the 2nd Congressional District special primary…
The U.S. Department of Justice is suing the Illinois State Board of Elections, saying it hasn't allowed enough time for military personnel serving overseas to know who they can vote for in the special election to replace U.S. Rep Jesse Jackson.

By law, overseas U.S. voters were supposed to receive by Saturday absentee ballots that include the names of all qualified candidates' for the Second Congressional District primary, the federal lawsuit filed late Thursday says.

But snafus mean they aren't likely to receive the full printed ballots for at least another two weeks, it's alleged.

Though federal law requires that overseas voters receive their ballots 45 days before the Feb. 26 primary, state law gives candidates until Monday to challenge their rivals' nominating papers. Those challenges could take the state another two weeks to deal with, leaving overseas voters less than half the time they're supposed to have to vote, the lawsuit says.

In an attempt to get around the federal law, Gov. Pat Quinn signed a state amendment in December that required overseas voters be sent blank "write in" ballots by Saturday — but the Justice Department says that won't fly.

It wants a federal judge to intervene to ensure that overseas voters' rights are protected and that their votes are counted — though the lawsuit doesn't specify how that should happen or whether the primary should be delayed.
36 Comments











































































































Sorry, comments for this post are now closed.