* Greg Hinz…
I normally wouldn't write much about the retirement of a Springfield lobbyist. But I'm going to make an exception in the case of Dave Vite, who announced this morning that he's retiring on Dec. 31 after 36 years as president and CEO of the Illinois Retail Merchants Association.

He'll be succeeded by Rob Karr, IRMA's current executive vice president.

Mr. Vite is one of those guys who nicely maneuvered on both sides of the aisle in the Capitol. Earlier than most — and I'd put Illinois Manufacturers' Association chief Greg Baise in the same category — he realized that even business groups would have to move a little bit as the state steadily became more Democratic.

It worked. Even though IRMA's campaign war chest was a lot smaller than those of other groups.
* Some of the accolades in the press release announcing Vite's retirement…
"The retail community in Illinois has had no greater champion than David Vite over the past 36-years. His poise, intelligence and persistence made him that rare forceful, yet likeable advocate, whose effectiveness was incomparable. The retail community in Chicago is so important to our economy and IRMA will always have a voice in Chicago on these issues." - Chicago Mayor Rahm Emanuel

"IRMA has been a great partner with me in rolling back the sales tax hike. Dave Vite and his team are tireless advocates for retailers in Cook County. I'm proud to call Dave a friend and they are in good hands with Rob Karr and Tanya Triche." - Cook County Board President Toni Preckwinkle

"I wish to congratulate David Vite on his retirement. In the 30-years I've known him, David has always handled himself with the utmost professionalism demeanor and his knowledge and expertise is why IRMA has the high-quality reputation it has in this state. Without a doubt, IRMA will continue to be the voice for retailers in this state with Rob Karr leading the way. Our door will always be open to retailers because of IRMA." - House Speaker Michael J. Madigan

"I'm proud to call David Vite a good friend, ally and fierce campaigner. Retailers in this state have been fortunate to have Dave Vite as their advocate as he has built an industry model of how to do it right. We've worked with IRMA on countless issues at the capitol that have improved the business climate for retailers in this state. IRMA is a force to be reckoned with and that won't change when Rob Karr takes over next year." - Senate President John Cullerton

"We'll miss David Vite and his advocacy for retailers, but I wish him and his family the best in his much deserved retirement. IRMA is one of the most impactful organizations in the state and that won't change with Rob Karr leading them next year. I've been proud to work with them on so many critical issues in this state and I look forward to continued collaboration with IRMA in years to come." - Senate Republican Leader Christine Radogno

"David Vite has been a friend for a number of years and I congratulate him on his retirement. IRMA is one of the most vocal and active business groups in the state and they are a difference maker. Rob Karr's selection as President is the perfect choice as he's spent the past 20-years learning from the best. Retailers are lucky to have IRMA championing their issues in Springfield." - House Republican Leader Tom Cross
* And a photo of Vite sent in by one of his "friends"…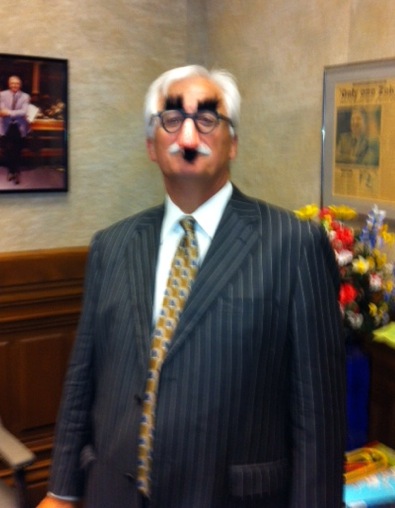 * The Question: Caption?
19 Comments
























































Sorry, comments for this post are now closed.