* The Champaign News-Gazette reports that former Montgomery County Republican Party Chairman Jim Allen apologized via text message to Republican congressional candidate Erika Harold for his hateful diatribe. Harold looked on the bright side…
The story broke as the former Miss America and Harvard Law School graduate was preparing for a meeting in Washington of the board of Prison Ministries Fellowship, she said.

Harold thinks the furor will end up benefiting her campaign.

"I view the episode as being one in which a lot of Republicans stopped to think about what are the values of our party and reflected that back to me in their messages of support," she said. "It was very encouraging to feel that support from people who had never met me, but once they read the email, they went on to our website and learned a little bit more about me and now want to stay engaged in the campaign in some capacity."
* Indeed, what are the values of the GOP, particularly the ultra-conservative, Downstate wing? Let's look at Allen's slightly redacted rant again…
Rodney Davis will win and the love child of the D.N.C. will be back in Sh*tcago by May of 2014 working for some law firm that needs to meet their quota for minority hires.

The truth is Nancy Pelosi and the DEMOCRAT party want this seat. So they called RINO Timmy Johnson to be their pack mule and get little queen to run.

Ann Callis gets a free ride through a primary and Rodney Davis has a battle.

The little queen touts her abstinence and she won the crown because she got bullied in school,,,boohoo..kids are cruel, life sucks and you move on..Now, miss queen is being used like a street walker and her pimps are the DEMOCRAT PARTY and RINO REPUBLICANS…These pimps want something they can't get,,, the seat held by a conservative REPUBLICAN Rodney Davis and Nancy Pelosi can't stand it..

Little Queenie and Nancy Pelosi have so much in common but the one thing that stands out the most.. both are FORMER QUEENS, their crowns are tarnished and time has run out on the both of them..
* I know it's impossible to just set aside Allen's stupendously harsh and disgusting language, but let's try to look at the meat of his argument, such as it is.
47th Ward's comment on the original story maintained that this is pretty standard base GOP messaging…
Let's see: Nancy Pelosi is out to get them. Check. Affirmative action gives benefits to "others" that "we" pay for. Check. There is a conspiracy of RINOs and Democrats that is hellbent on destroying conservatism in Illinois. Check.
47th missed a couple of things: The use of Chicago hatred to discredit an opponent and the far Right's opposition to anti-bullying legislation.
Fair or not?
…Adding… I also meant to point out that the same week Allen derisively called Harold a "little queen," John Kass referred to Attorney General Lisa Madigan as a "princess"…
All was right with the world. The sun was shining, the birds were singing, the peasants were shrieking their piteous cries of woe. The princess climbed down for breakfast with her father.

And just before a servant brought her a silver bowl of Lucky Charms, she asked Mike of Madiganistan a question:

"Daddy," she asked, "can I be governor now?"
Again, pretty mainstream conservative messaging…
"Dear Daddy…I mean Mr. Speaker. You got me this cool Attorney General job, and that was after you got me that neat state senate seat…Thanks for having all your union friends be real nice to me, they send me tons of campaign money at Christmas time, they must be rich!"
That was written by former state party chairman Pat Brady.
- Posted by Rich Miller 42 Comments


* From an AP story that is absolutely drenched in bias…
''There are investors who won't buy Illinois or bonds with Illinois labels at any price. They just see it as toxic,'' said Brian Battle, director at Performance Trust Capital Partners, a Chicago-based investment firm.
I'm sure there are some who won't buy, but every Illinois bond issue has been over-subscribed by a lot. Why? Because the state's low bond ratings give investors a premium return.
* More…
Take the $1.3 billion in bonds Illinois is expected to sell this week to improve highways, rebuild a 40-year-old elevated train line in Chicago and buy land for an airport. Battle estimates the state will pay more than $18 million in extra interest each year than states such as Virginia or Maryland, which have high credit ratings.

That's an additional $450 million over the 25-year life of a bond issue. In personal terms, it's $36 taken directly from the pockets of each of Illinois' nearly 13 million residents. And that's for just one bond sale.
Virginia and Maryland both have AAA credit ratings. Illinois hasn't had a AAA rating since 1983, so the comparison is not exactly fair. And after peaking in 2010, interest rates on comparitive Illinois bond premiums have actually come down.
* More…
In the past 50 years, just three states — California, Louisiana and Massachusetts — have had investment ratings as low as Illinois, but all have taken steps to correct it.
California's pension reform was almost solely focused on new hires. Illinois did that in 2010. There's no doubt that California is far better managed than Illinois, but the media constantly ignores the fact that Illinois beat Cali to the punch on prospective pension reform.
Massachusetts' pension system wasn't nearly as generous as ours. For instance, the state's 2011 pension reform plan actually increased some benefits, including…
Increases the base benefit on which a Cost of Living Adjustment is calculated from $12,000 to $13,000.
The state also reformed its health insurance plan for retirees, something Illinois has already done.
Louisiana's reforms are here. There was a "cash balance plan" for new hires as well.
* The bottom line is Illinois has a severe problem, both in its pension systems and the way they are perceived. That perception problem isn't helped by goofy stories like the AP's.
- Posted by Rich Miller 48 Comments


* The House Republicans point out that five new laws will take effect as of July 1st…
1. "Julie's Law" prohibiting court supervision from being granted to people caught driving more than 31 miles per hour above the posted speed limit.

2. Creation of the Sex Offender Evaluation and Treatment Disciplinary Board established under SB 3638 to assist the Department of Professional Regulation in the licensing of sex offender evaluators and treatment providers.

3. SB 3764 providing greater guidance as to the name of a debtor to be provided on financing statements.

4. Banning zinc air button batteries from being sold in Illinois under the state's Mercury-added Product Prohibition Act.

5. Continued funding of the Illinois Community Care Program for seniors as part of House Bill 206 which grants a $142 million supplemental appropriation to the program, as well as additional funds for group health insurance and old bills at the Department of Alcohol and Substance Abuse and Developmental Disability Community Services.
Thoughts?
- Posted by Rich Miller 13 Comments


* Zorn writes today about how young people aren't using e-mail, but links to several stories that seem to debunk the theory that e-mail is dead. So…
* The Question: How often do you check your e-mail account(s)? Take the poll and then explain your answer in comments, please…
survey services
* Supplemental Question: How do you typically check your e-mail? Take the poll and explain…
polls
- Posted by Rich Miller 31 Comments


* Gov. Pat Quinn's op-ed…
Dear Illinois taxpayers,

I've always been honest with you.

As I write to you today, it's been nearly two years since I made pension reform the top priority for Illinois. I've been fighting for it ever since.

I convened a pension working group in January 2012 and proposed a comprehensive pension reform plan three months later. I've worked across the aisle, called special sessions, set numerous deadlines and released several studies on the consequences of inaction on education and the economy.

Time and time again, I've met at length with legislators and leaders, and pressed them to vote for comprehensive pension reform.

Yet here we are today.

If I could resolve this by executive order, I would have done it long ago. But I cannot act alone.

The General Assembly must do its part and send me a bill that defuses the pension crisis.

Despite my best efforts, the speaker of the House and the Senate president failed to work together to put a bill on my desk. So last week I proposed a conference committee, a mechanism that historically has been used to break gridlock between the House and the Senate on contentious issues.

The good news is they agreed on this means to the end. But now, it's time for the heavy lifting.

I have set July 9 as the final deadline to come up with a comprehensive pension reform bill that both chambers can support. My staff will continue working around the clock to provide the research and fiscal analysis necessary for members of the committee to get this job done.

Let me be clear: I will veto any legislation that does not erase the pension debt and provide 100 percent funding for the systems. From day one, this fundamental principle has been at the core of every pension reform bill I have backed.

Illinois currently has the worst-funded pension systems in the nation. Any solution that does not turn that statistic around is simply not good enough.

You sent us to Springfield to solve problems — not to dilly-dally with partial solutions. Now, some in the General Assembly already are suggesting new excuses as to why they may not be able to make the July 9 deadline:

"We need more time to get the numbers right …"
"We need extra days to negotiate …"
"The problem took decades to create and cannot be solved overnight …"

Enough with the alibis. We've discussed, debated and negotiated pension reform to death. The numbers have been crunched and crunched again. And taxpayers have been bearing the cost for these excuses, delays and blown deadlines.

In fact, every time legislators have missed deadlines for pension reform, you have paid the price.

Following the General Assembly's failure to send me a bill by May 31, our credit rating was downgraded twice in one week — by both Moody's and Fitch — to its lowest point in Illinois' 195-year history.

The pension squeeze already has forced $2 billion in education cuts and $3 billion in social service cuts. The state of Illinois is currently on track to be spending more on public pensions than on schools, which denies our children their right to a quality education. Not to mention, Illinois' economic recovery is being held hostage by longstanding legislative inertia.

Fortunately, members of the conference committee are experienced and capable legislators. I expect them and the rest of the General Assembly to get their jobs done by July 9. The people of Illinois are counting on it.

And one more thing: I will continue to be relentless — pushing, prodding and forcing this issue until the General Assembly sends me a bill.

I also ask you to do your part. Contact your state legislators today. Call them, email them, tweet them now. Visit http://mylegislators.illinois.gov to find your legislators' names and contact information. Tell them to support a comprehensive bill that erases the pension debt and provides 100 percent funding for the pension systems. Tell them to get their job done by July 9.

I will continue fighting for you.

Sincerely,
Gov. Pat Quinn
Lots of rear covering and finger-pointing there.
Also, his demand that a bill be passed without an actuarial report is a bit on the weird side. I mean, you don't want to know if the new plan will work? Maybe he just wants them to pass a current bill, Madigan's SB1 for instance. That bill would satisfy his demand that the unfunded liability be erased entirely. If that's the case, he's dreaming.
Also, too, Quinn proposed $400 million in education cuts this year due to the pension crisis. The GA restored those cuts, which undercuts his logic here.
Discuss.
- Posted by Rich Miller 81 Comments


* This fundraising e-mail from Attorney General Lisa Madigan is prompting even more speculation, if that's possible, about what she's up to…
Dear [redacted],

Our state is facing challenging times. Turning around the state of our state will take smart, tough, and effective leadership.

As your attorney general, I have been able to successfully advance and impact change on a host of issues including the national foreclosure crisis, utility rates in Illinois, and protecting our children from sexual predators, internet dangers and unsafe products.

Under my management, the Office of Attorney General has been an engine for revenue. Last year alone, my office generated more than $1.1 billion in revenue using less than $31 million in general revenue funds. That's a return on taxpayer investment of more than 36 to 1. Since taking office in 2003, I've been able to recover more than $9 billion in badly needed funds for our state through litigation and collection efforts, with billions more brought back directly to consumers, including $1.8 billion in relief for Illinois homeowners from the national robo-signing settlement.

I've built strong relationships and reached consensus with members of the Illinois legislature – key leadership skills for a state that has a lot of work to do. Resolving issues in this state requires a willingness to sit down, negotiate and compromise with the General Assembly. Over the past ten years, my office has worked with legislators to pass nearly 100 bills on issues such as debtors' rights, greater protections for elderly residents and victims of crime, and securing healthcare for the uninsured.

Government work is challenging, but it's not rocket science either. It just takes someone willing to roll up her sleeves to get the job done; someone who can identify our problems, prioritize them, put together a plan to fix them, and then execute that plan. I've spent the last 10 years as attorney general doing just that.

With that in mind, I've been evaluating how best I can serve the people of Illinois. The impetus for my running for elected office has always been public service. I strongly believe that government has the power to do good when the right people come together for the right reasons. I am confident that I can continue to produce results on behalf of the people of Illinois, but I need your help to ensure I have the financial resources to do so.

Please consider making a contribution of $250, $100, $50 or even $25 by our finance deadline, this Friday, June 28th, to ensure that I have the necessary resources to continue to serve our state effectively.

You make the difference: I need your help to continue to fight the good fight. Please consider making a contribution today. With your support, I can keep pushing for progress.

In the weeks and months to come I look forward to pressing on – with your support – and keeping you posted on the results of my work and decision regarding my next steps.

Thank you for your consideration.

Very truly yours,

Lisa Madigan

P.S. To make a contribution today of $250, $100, $50 or $25, click here. Your contribution will have the most impact if received by the end of this week, Friday, June 28th.
* Meanwhile, it must be a slow news week. Sun-Times…
It's not scientific and it may not even be accurate, but an online poll gauging Attorney General Lisa Madigan's potential 2014 ambitions represented one of the most interesting nuggets of political news during a quiet day Monday at the state Capitol.

Rich Miller, a Chicago Sun-Times columnist and publisher of the Capitol Fax political newsletter, asked readers of his online blog to weigh in on whether the three-term attorney general would run in a Democratic gubernatorial primary against Gov. Pat Quinn and former White House Chief of Staff William Daley.

By mid-afternoon, a pretty one-sided answer prevailed: No.
Over 100 commenters weighed in, and almost 1500 people wound up voting 60-40 that she wouldn't run for governor. I'm not so sure that I agree with the vote. We'll see.
I was also asked to appear on a CLTV show last night to discuss our online poll. I declined. Oscar had his first intermediate puppy lesson at the same time as the show.
- Posted by Rich Miller 33 Comments


* Tomrrow is Brady's day…
Illinois state Sen. Bill Brady of Bloomington, the 2010 Republican nominee for governor, will formally launch another run at the office during a statewide tour Wednesday, he announced today.

The announcement, which has been expected, brings to five the number of formal candidacies for next year's race, with possibly two more in the wings — including incumbent Democratic Gov. Pat Quinn, who hasn't formally announced a re-election bid but is expected to. […]

Brady is the fourth announced Republican candidate, joining state Sen. Kirk Dillard, Chicago businessman Bruce Rauner and state Treasurer Dan Rutherford of Chenoa.

On the Democratic side, Bill Daley, former chief of staff to President Barack Obama and son and brother of Chicago's two former Daley mayors, is running. Democratic state Attorney General Lisa Madigan hasn't announced a campaign, but there is speculation she might.
* His announcement schedule…
State Senator Bill Brady, a Republican from Bloomington, will announce his candidacy for Governor in 2014 in Chicago, Springfield, Marion and Bloomington on Wednesday, June 26, 2013.

Following is the schedule:

WEDNESDAY, JUNE 26

10 a.m. Chicago
The Wit Hotel, Wilde I Room
201 N. State Street

12:30 p.m. Springfield
Abraham Lincoln Capital Airport
Knotts Conference Room (main terminal, second floor)
1200 Capital Airport Drive

3 p.m. Marion
Williamson County Airport
Main Terminal
10400 Terminal Drive

6 p.m. Bloomington
CJ's Restaurant
2901 E. Empire Street
* More…
"Illinois is facing serious challenges. We see them everyday… on the front page, at boarded-up businesses and around the kitchen table as families struggle with their household budgets. With the right leadership, Illinois can grow and prosper again. Nancy and I believe in Illinois, and we're not giving up on Illinois. And I'm going to be right there, sleeves rolled up, working for sounder communities, vibrant job growth and a stronger Illinois," Brady said in a statement emailed to supporters and the media.
* Except for now opposing mass puppy euthanasia, I wouldn't expect this…
Whether Brady intends to moderate his message this time around is sure to be among the questions he'll face as he kicks off his campaign Wednesday at events in Chicago, Springfield, Marion and Bloomington.
Discuss.
- Posted by Rich Miller 64 Comments


* Jim Nowlan prognosticates…
I predict Lisa Madigan will decide not to run, because of the complications of sharing power with her father, leaving Daley as Quinn's challenger.
* The Question: If you had to guess today, do you think Lisa Madigan will run for governor in 2014? Take the poll and then explain your answer in comments, please.
survey software
- Posted by Rich Miller 106 Comments


* GateHouse…
There's an unofficial club in state government whose robust membership may surprise many taxpayers, especially given the ongoing challenges of growing debt, pension obligations and budget cuts.

The "club" has 6,215 members, about 8 percent of the state's workforce, each of whom earned more than $100,000 last year.

Those employees earned about 17 percent of the total $4.5 billion payroll, according to an analysis of state records in 2012 provided by the state comptroller's office. The analysis did not include employees of state universities.

More than $780.6 million was paid to those 6,215 state employees. The group includes doctors, judges, nurses, police officers, investment managers and the state's chief executive, Gov. Pat Quinn, to name a few.

It's a growing club, with 1,131 new members in 2012. Nearly 2,000 additional state employees made $100,000 or more in 2012 than in 2010, when six-figure earners accounted for 5.5 percent of employees and 12.5 percent of the state's total payroll. There were 75,918 people employed by the state last year, about 4.5 percent fewer than 2011.
* A whole lot of cops are making some big bucks…
More than one-third of Illinois State Police employees earned more than $100,000 last year.

There were 1,052 employees — nearly 35 percent of the department — that earned over $100,000. This group earned more than $125.8 million in 2012, which accounted for 47 percent of the department's payroll.

The agency has the highest percentage of $100,000-plus workers of any large state department, except for judges and Supreme Court justices.

The average state police salary for all ranks and experience levels was $87,725.05 in 2012. A first-year trooper's base salary is $57,708 after completing the training academy and a six-month probation period. About 6 percent of those ranked trooper, first class received more than $100,000 because of overtime earnings.
* This makes sense, considering who lives in the suburbs…
DuPage County has the largest percentage of its state employee population earning more than $100,000. Nearly 13 percent of the state workers living in DuPage are members of the club. Will and McHenry are two other collar counties surrounding Chicago where at least 10 percent of its resident state workers made more than $100,000. […]

The 16 most southern counties in Illinois have 7,022 state employees, but 348 of them — less than 5 percent — make more than $100,000.
The number for Sangamon County is 9.79 percent.
* Interesting…
State Museum director Bonnie Styles made $137,928 in 2012. That's about $20,000 less than the head of Peoria's Lakeview Museum, Jim Richerson, made in the fiscal year that ended June 30, 2012.
* Related and a roundup…
* General Assembly's FY2014 Budget Shows Slight Deficit: The legislature's budget authorizes General Funds spending of $35.699 billion for the year that begins on July 1, 2013, the bond documents show. General Funds revenues are projected at $35.610 billion, resulting in an operating deficit of $89 million.

* Illinois lawmakers to take 12 unpaid furlough days

* Quinn zigzags on pension reform not helpful, lawmakers say: Quinn spokeswoman Brooke Anderson said she was surprised that anyone would criticize the governor's leadership role on the pension issue "with a straight face." "That is a ludicrous excuse from individuals who, instead of deflecting blame, should be focused on their jobs and sending the governor a bill," Anderson said. "I know it's a tough political vote to take for many, but it's past time that they act for the greater good of Illinois and stop making excuses."

* It's official: Tenaska coal plant is kaput: In the release, Dave Fiorelli, Tenaska president of development, said the company is turning away from coal-fired projects. "The current market is in need of natural gas-fueled and renewable electric generating facilities," he said.

* Sneed: Pol on perk patrol

* Finke: It's the final, final, final deadline. Really.

* Erickson: Capitol fire alarm left 'em wondering

* Hinz: Why it's long past time to fix state's tax system

* How Neil Bluhm's bet on Rivers Casino has paid off: "We'd prefer there to be no new competition and cannibalization, but if it's going to be so, it should be fair," Mr. Bluhm says. He wants the state to lower tax rates on casino owners and allow existing facilities to add more gambling positions.

* Casino's Technical Failure Causes Evacuation

* IDOT refines Circle Interchange plans: The Circle accommodates more than 400,000 vehicles daily, including about 33,000 trucks, according to IDOT. The outmoded design contributes to sudden lane changes and weaving patterns that cause an average of three crashes each day at the congested junction, traffic data show.

* The Last Mystery of the Financial Crisis - It's long been suspected that ratings agencies like Moody's and Standard & Poor's helped trigger the meltdown. A new trove of embarrassing documents shows how they did it
- Posted by Rich Miller 69 Comments


* Rep. Bost is coming up on 20 years in the House, so this move would make sense, both from a pension and a career standpoint…
When asked Wednesday if he was thinking about running against U.S. Rep. William Enyart of Belleville in the 2014 election, state Rep. Mike Bost of Murphysboro said, "I'm not saying no. But I'm not really making any announcement that I am yet." […]

Bost said he has not yet put together a formal committee.

"I'm working with some friends and talking with some people about some options that might be avail-able," Bost said. "You know you've got to at least look. So, that's where I'm at right now."

Bost, 52, was born and still lives in Murphysboro. He served in the Marine Corps from 1979 to 1982 and has been in the Illinois House since January 1995.
The best indication that Bost is leaning toward a congressional bid is that his name has all but dropped from contention for House Republican Leader.
* Another indication is that the NRCC is already polling his name…
The results showed that in the 10th District former Rep. Robert Dold, a Republican, led Democratic Rep. Brad Schneider 44 percent to 39 percent, with 17 percent of survey respondents undecided. The survey had a margin of error of 4.9 points.

For the 12th District, the results showed Republican state Rep. Mike Bost leads Democratic Rep. Bill Enyart 33 percent to 27 percent, with 40 percent undecided. The margin of error was 3.3 points.
I plan to poll both of those races very soon.
* And speaking of the race for House GOP Leader…
Minority House Leader Tom Cross is looking at a 2014 bid for Attorney General. The decision is a big one. If Cross runs for AG, he'll need to walk away from his House leadership position. A statement from his political office this weekend said much depends on a Democrat - Attorney General Lisa Madigan and whether or not she will run for re-election in 2014.

"[Cross] has been asked to consider running for Attorney General by Republican Leaders from across the state and he is listening to what they have to say and will evaluate his options should Lisa Madigan decide not to seek re-election," an email from political director Kevin Artl said. "But right now, he is devoting his time and energy towards recruiting candidates and raising funds in preparation for the 2014 House Republican campaign program." […]

Saturday, IR contributor Chris Robling suggested Urbana native Erika Harold run for AG. Other persons whose names have been circulated for the spot are State Rep. Jim Durkin (R-Westchester) and Lake County Sheriff Mark Curran.
* Right now, anyway, Rep. Durkin is running for HGOP Leader. His main opponent is Rep. Tim Schmitz, another suburbanite. Rep. Rich Brauer is also reportedly interested. I'll have more for subscribers later this week.
* Also, this…
State Rep. Wayne Rosenthal, R-Morrisonville, is hoping the organization of downstate Republican Illinois House members he leads can help improve the party's fortunes.

After election to his second two-year term in the House last fall, Rosenthal was elected chairman of the 29-member Downstate GOP Caucus.

In addition to being a voice for those mostly outside metropolitan Chicago (at least one Cook County representative, Tom Morrison of Palatine, is a member), the group this year created a political action committee. It's called Downstate GOP, and it raised about $40,000 in a spring event at Poe's Catering on the Hill, which is owned by Lance Poe, son of Rep. Raymond Poe, R-Springfield.

Another event will be hosted in August by Rep. Charles Meier, R-Okawville.

"The reason for it is to help support our downstate candidates," Rosenthal said. "All the races take a lot of money and a lot of support."
Keep your eye on that guy. He's becoming a major player.
- Posted by Rich Miller 15 Comments


* Years ago, I posted a photo of our infamous commenter "Bill." Actually, it was just the back of his head because Bill wanted to remain anonymous.
Well, Oswego Willy was in Springfield last week and I asked him to pose for a similar pic. He's wearing a t-shirt that he had made of Rep. Ann Williams' biting retort to freshman Rep. Scott Drury's tired refrain about how he's a former federal prosecutor…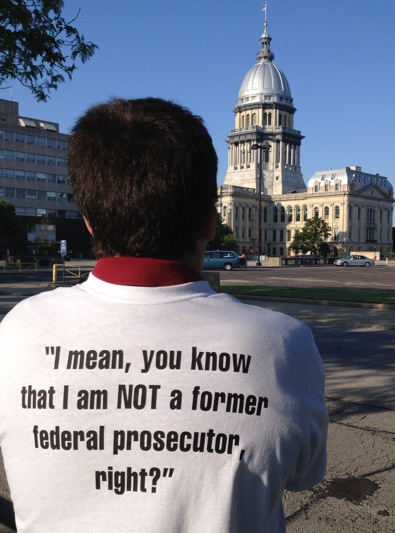 We had a great time. He ended up coming to my house for a couple of late night beers and he got to meet Oscar the Puppy. Unfortunately, I didn't take any photos of the two of them, but I had a blast.
* So, this one is for OW and his many, many fans…
A former campaign consultant and college friend is suing former congressional candidate Jason Plummer, R-Fairview Heights, claiming he has failed to pay her for her services.

Franny Decker, doing business as Decker Consulting Services, has named Plummer and his campaign committee, Plummer for Congress, as defendants in her lawsuit, claiming they owe her $51,700.

"Plaintiff has, on several occasions, requested defendants to pay for said services, or provide some basis of why the claimed amounts are not owed, but defendants have refused to pay plaintiff the sum due and owing for services rendered," the suit filed in Madison County Circuit Court alleges.

The suit alleges that Decker and her business were hired to raise funds for Plummer's run for the U.S. Congress in 2012.
"Plaintiff and defendant Jason Plummer were acquainted from their time in College Republicans at the University of Illinois," the suit states. […]

"Plaintiff was an effective fund-raiser for defendants and greatly exceeded the stated financial goal to be raised from PACs," the suit claims.

She was to be paid a monthly retainer, along with a commission on all PAC funds received. She also was supposed to receive certain expenses, costs and late fees.
Have at it.
- Posted by Rich Miller 81 Comments


* My weekly syndicated newspaper column…
I think a lot of people believed that if Bill Daley ran for governor his campaign would be as bland and vanilla as his public persona has been over the decades.

Instead, he's turned into the most fiery candidate in the race so far. Daley is even "out-angering" wealthy Republican financier Bruce Rauner, who has tried to position himself as the "We're not gonna take it any more!" choice for 2014.

He's attacked Gov. Pat Quinn's pathetic leadership, slammed the General Assembly for its ridiculous inaction and has made it clear that he's not afraid to go on the attack against the Madigan family by releasing unflattering poll results earlier this week which showed that the House speaker could harm his daughter's potential gubernatorial bid.

Daley has been selectively releasing responses to a poll taken in April for his campaign — back when few thought he would actually run. All of the responses released so far have dealt with Attorney General Lisa Madigan and her father, House Speaker Michael Madigan. None of the numbers released so far have showed any actual Daley strength.

For instance, Attorney General Madigan has a 54 percent favorable rating, according to a poll conducted by Anzalone Liszt Grove Research for Daley's campaign, and she leads Republican Treasurer Dan Rutherford 50-34 in an initial head-to-head matchup.

But after voters hear a statement about possible "major conflicts of interest" if both Madigan's are at the top of two branches of government, that support falls and she moves into a 41-41 tie with Rutherford. 53 percent say it's a "serious concern" that a Governor and a Speaker Madigan "will put too much power in one family's hands and break the system of checks and balances that is supposed to keep power in government separated." Another 17 percent say it's "somewhat of a concern," putting the total number at 70 percent.

According to the poll, 23 percent say they "like Lisa," but would have a "hard time" voting for her if her father continues as House speaker. Another 26 percent said they wouldn't vote for her regardless. That means a total of 49 percent are in the reticent/refusal category. I'll post the Daley polling memo at the blog later this morning.

The day after releasing those numbers, Daley's campaign leaked yet another result which won't go over well with the Madigan clan.

"If Lisa Madigan ran for governor," respondents were asked, "do you think her father Mike Madigan, speaker of the Illinois House of Representatives, should: Retire and not run for reelection as speaker; Run for reelection as speaker but commit to resign from office and retire if Lisa Madigan is elected governor; Continue to serve as speaker even if Lisa Madigan is elected governor?

According to the campaign, the poll found that 42 percent of likely general election voters said Speaker Madigan should retire if Lisa runs for governor. Another 22 percent said he should commit to resign if Lisa is elected. Twenty-five percent said he ought to continue to serve as speaker even if Lisa is elected governor. Twelve percent were undecided or refused to respond.

These poll numbers aren't designed to run Attorney General Madigan out of the race. She undoubtedly has her own polling data and has done some focus groups. She's fully aware that she'll be subjected to endless misogynistic "daddy" attacks, and that every deal her father has ever cut will be run through the filter of her candidacy.

Instead, the idea here is to frame the debate before the debate even begins. So far, there has been no real response from Team Lisa. The speaker's people bristle at every mention of a "conflict of interest" regarding her potential governorship and their constant refrain is to challenge reporters to define the term. The reporters don't seem to feel the need to do that because voters appear to already pretty much get it in their guts. This is an easy story to write and an easy story to understand, so the stories will continue unless she comes up with an effective response.

So far, the overriding media theme is that she'll either be completely controlled by her father or that the two of them will collude to rule the state unchecked. That's a tough mindset to break, as the polling clearly shows.
* In other Madigan-related news…
Attorney General Lisa Madigan spent her political career crusading for equal rights for gays and lesbians but now faces an ill-timed and potentially damaging backlash within that voting bloc for the role her father, House Speaker Michael Madigan, played in the collapse of same-sex marriage legislation.

That assessment by a top supporter of the Religious Freedom and Marriage Fairness Act comes at a troubling time for the three-term attorney general as she considers a primary campaign for governor in a 2014 race where gays and lesbians could account for up to 10 percent of the vote.
Rick Garcia is the person featured in the story. He has somewhat limited influence in the gay political community these days after years atop it.
More…
"Up until last month, there might have been a slight edge within the [LGBT] community for Lisa, frankly, because people really, really like her. But because there wasn't a vote and people are blaming the speaker, there's some residual that hurts her. It's not huge, but I think Gov. Quinn has the edge there, speaking now, early June," Garcia said.
* On a related note, AG Madigan sat down for an interview with Windy City Times. An excerpt…
WCT: Obviously, there has been a lot of anger over this, even at supportive representatives. Do you think that anger is fair, and how do you feel that some of that has been directed as you as the daughter of Speaker Madigan?

Lisa Madigan: I think anger is understandable. Everybody who was working toward passage of this bill was certainly disappointed, upset that it did not have the votes to pass at the end of session. So, I can understand anger. I think the useful way to channel that anger is into working harder and assuring ourselves that we do get commitments from representatives that we will vote for this bill when it is called. I don't think that anger for anger's sake is useful at the end of the day. But, again, I understand that there are a lot of people who are very disappointed, myself included, that the votes weren't there to pass it at the end of session.

WCT: Do you have any plans for Pride?

Lisa Madigan: We always go to the parade, so we'll be out at the parade.
It should be interesting to see the reaction she gets. That was a pretty darned softball interview by WCT, so positions may not be so hard.
* Sneed…
Is this another indication Illinois Attorney General Lisa Madigan plans to run for governor?

◆ Dem femme data: Lt. Gov. Sheila Simon showed up at a Dem pre-slating meeting at the Hotel Allegro Thursday to pitch her desire to run for Madigan's job.
Simon has made no bones about this, and is even broadly hinting to potential contributors that she has some sort of inside track on AG Madigan's thinking. I'm not so sure about that, but whatever.
- Posted by Rich Miller 25 Comments


* Sen. Dave Syverson (R-Rockford) isn't hopeful about fast action on the implementation of concealed carry…
Syverson said details of the training and application processes are unclear and ultimately will be determined by the Illinois State Police. It could take three to four months before there's solid information on registration and training classes.

"My guess is, with the state police who oppose this and a governor who opposes this, they're going to do things to try to put rules in place that will make it more difficult" to get a license, he said. "And that means we may have to come back with more legislation."
First, of course, it has to become law, but I don't disagree with Syverson's analysis.
* Meanwhile, we've been talking here for a while now about the likely prospects of Gov. Pat Quinn using the concealed carry bill to boost his Democratic primary bid. The Tribune has an article about the same topic…
Legislative leaders in both parties expect a scenario to unfold over the next couple of weeks that allows Quinn to save face and lawmakers to stick to what they voted for: The governor will veto or make changes to the bill and lawmakers then will override him and put the law on the books.

"I think he's going to veto or amendatorily veto the bill, requiring us to come back in the session to act on that veto," said Senate President John Cullerton, D-Chicago.

In addition, the gun bill's sponsor said House Speaker Michael Madigan on Wednesday went over the process for how to handle a Quinn veto or rewrite. "There was talk brought up that the speaker had heard that the governor is expected to file an amendatory veto or a veto," said Rep. Brandon Phelps, D-Harrisburg.

Lawmakers are being told to prepare to come back to Springfield on July 8. The significance of that date? It's the day before Quinn's suggested deadline for lawmakers to come up with a solution for the state's heavily underfunded pension funds. It's also the day before the federal court order to invalidate the state's ban on concealed carry is scheduled to take effect. […]

As the governor tries to figure out what to do on the gun bill, he has a couple of other options that are less confrontational. Quinn could negotiate small and technical changes with lawmakers and try to get them to go along. He also could sign it and ask legislators to pass a follow-up bill that would address minor changes, a move that does not risk putting the entire bill in jeopardy.
Keep in mind that "less confrontational" would mean "less publicity."
* Related…
* Senate Dems Call For Gov. Quinn's Verdict On Gun Bill: "If you intend to issue a veto or amendatory veto, we ask that you do it quickly. The General Assembly will need time to respond. Every day we get closer to the federal court's July 9 deadline. Time is of the essence," the letter said. "We urge you to act on this legislation now. The last thing we need is a public safety and constitutional crisis."

* Illinois State Rifle Association Invites Public To 'Test Drive' Concealed Carry Handguns

* Mayor drops out of Bloomberg's anti-gun coalition, says 'focus should not be against law-abiding citizens

* This Gun Radar Could Make Concealed Carry Obsolete

* GunFAIL XXIII
- Posted by Rich Miller 31 Comments


* It's summer, it's Friday and I woke up late, scanned the news stories for a long while and decided that my decision last night to take today off was the right one.
But before I close comments, have a look at this op-ed by Marc Joffe, the principal consultant at Public Sector Credit Solutions…
The ratio of debt to gross state product of Illinois is about 6 percent, and it has ratings in the single A range; Ontario, Canada, with a similar population and similar-sized economy, has a debt-to-gross-domestic-product ratio of 39 percent and ratings in the double A range. Something doesn't quite add up.
* This seem appropriate…
Don't you know that you can count me out

- Posted by Rich Miller Comments Off