* From the Twitters…
Dan Proft NOT running for governor. #twill

— Bill Cameron (@billjcameron) August 28, 2013
I'm not sure anyone ever really thought he was gonna run, but whatever.
…Adding… Illinois Review has a statement…
"I feel a bit odd making a statement about something I am not going to do. However, since I have been openly contemplating another run for Illinois governor, it is appropriate I make my decision known for clarity's sake and for the sake of generous supporters past and present. Therefore, after careful consideration and reflection I have decided that I will not be a candidate for governor in 2014. Instead, I will continue to work in support of selective Republican candidates for office at the local and state legislative levels. And I will continue to work from the platform I am fortunate to have at WLS radio in Chicago to do intellectual battle with the craven Illinois Ruling Class and to advance the flag for policies and personalities in furtherance of free minds and free markets."
* I received several text messages and phone calls about this automated poll last night…
Robo-calls in the 9th and 16th congresional districts, as well as parts of Lake County, hint that Congressman Adam Kinzinger (IL-16) could be considering a 2014 bid for Governor.

Tuesday night, Republicans in those Illinois districts began getting robo-calls that asked first about the four current Republican candidates seeking the nomination for Governor, then whether the person would support Kinzinger if he ran for Governor.

Given how relatively late in the GOP nomination process it is, there is little probability that Kinzinger will actually jump into the 2014 Governor's race, and it is difficult to determine who or what group is behind the calls and the questions.
The Illinois Review writer goes on to list a bunch of theories about what's going on, but I've made quite a few calls and don't think that Kinzinger is considering a run. I'm just not sure what's up.
* From Lee Newspapers…
"We are second-to-none when it comes to growing corn and soybeans in Illinois, and many other things," Gov. Pat Quinn said Tuesday.
* The Question: What "other things" is Illinois known for growing?
* Sun-Times…
Another new PAC that has ties to gubernatorial candidate and millionaire businessman Bruce Rauner emerged this week. Since Monday, Rauner, Jack Roeser and Richard Uihlein — all wealthy businessmen — have dumped $94,000 into the Reform PAC, according to a state campaign filing. Roeser is one of the most influential Republicans in the state.

"What they want to reform is anyone's guess, but it's an interesting gathering of people," David Morrison, Deputy Director of the Illinois Campaign for Political Reform said in a post on Tuesday.

This is the second committee with ties to Rauner that's outside of the candidate's straight-up election committee.
* Actually, the explanation is pretty simple. From the PAC's Board of Elections' page…
Purpose: To support Illinois Republican House candidates in the general election
* Freshman Rep. Dave McSweeney has been heavily involved in the PAC. From an August 24th e-mail…
I've helped raised $100,700 for a newly formed PAC called Reform PAC. The purpose of the PAC is help GOP State House candidates. The PAC will have minimal administrative expenses and will only invest in top tier winnable races. We're confident that the PAC can quickly raise an additional $90,000 so that the total raised in the short run will be over $200,000. […]

The reason that I helped raised money for this effort is that we want to increase the number of GOP House members. In an off-year election, we should be successful if we unite and all GOP House members focus on raising money and continuing to recruit good candidates.
With the House Republican Organization's finances in complete disarray, this is actually a good thing that Rauner and the others are doing. Not everything has to be a whack.
* Subscribers have known about this for a few days…
Illinois House Republicans are gathering to elect a new leader on Thursday following a summer of internal squabbling while the current caucus chief debated his political future.

The 1 p.m. meeting at Springfield's Statehouse Inn follows House Republican Leader Tom Cross' announcement last week that he would be stepping down from his post to run for treasurer. […]

According to House caucus rules, a majority of Republican members' votes — 24 — are needed to elect a new leader.
* Rep. Raymond Poe (R-Springfield) was not pleased with the meeting's timing and sent a letter to his colleagues blasting Rep. Jim Durkin. From the SJ-R…
"It sounds like even though some of my people can't be there, they are going to press ahead with their meeting on Thursday," Poe said Tuesday. "I don't' think they worried about if my people could be there or not, they'd just like to have it."

In a letter to House Republicans, Poe said the hasty election threatens a rift in the party. He said it was his understanding that Sept. 12 was selected by Cross because a majority of House Republicans said that was the most convenient time to meet. He also said changing the meeting date on such short notice will require the Republicans to suspend their internal rules for conducting caucus meetings if they want to vote on a new leader Thursday.

"I would suggest we not start our new caucus with this type of underhanded activity," Poe said in his letter. "One Michael Madigan is enough."
Ouch.
* And Poe isn't giving up…
"I have the assurance from the majority of our caucus that they will vote for me to be the next leader," Durkin wrote. "And it has been made very clear that our caucus wants to get this vote behind us as soon as possible."

A new leader needs 24 votes to get elected. Poe said he has 24 votes between solid commitments and "leaners." There are 47 House Republicans.

"I'm not convinced he'll have enough people there to win, either," Poe said. "I don't know what we do then."
Subscribers have the full letters from both men.
Stay tuned.
…Adding… I forgot to mention that Illinois Family Action has weighed in against Durkin…
Making him the minority leader for the Illinois House Republicans would undoubtedly elevate Representatives Ron Sandack (R-Westmont) and Ed Sullivan (R-Libertyville) into leadership positions. This is completely unacceptable. Both of these lawmakers are lobbying for him for this position. Both of these lawmakers are co-sponsors of SB 10 [gay marriage].

Another enormous blot on Durkin's record is that more than anyone else, he was responsible for the elevation of Pat Brady to the post of Illinois Republican National Committeeman and then Illinois Republican Party Chairman. When Brady came out publicly and strongly for homosexual "marriage" earlier this year, he did more damage to the Illinois GOP than anyone since former Governor George Ryan. Jim Durkin's cozy relationships with feckless politicians like Pat Brady and State Representatives Sandack and Sullivan have apparently caused him to reconsider his defense of true marriage.
A bit much, if you ask me.
* One of the components of the possible pension reform compromise that's under discussion would be to use money currently appropriated for pension bonds to make pension payments once those bonds are paid off. The Tribune editorial board doesn't like the idea…
The state sold a total of $17.2 billion in bonds to make payments into the pension funds in 2003, 2010 and 2011. The state will be done paying off some of the bonds by 2015. One huge bond sale — the $10 billion borrowed under Rod Blagojevich — will be retired in 2033, freeing up more money to pay down the pension system's liability.

That component — one of the linchpins of the draft proposal — worries us.

First, future money that would be set aside after the bonds are paid off is money that might better be spent elsewhere on education, Medicaid and services for the state's most vulnerable. Or — get this — tax relief. Instead, under this plan it would be spent propping up a system that will perpetuate overly generous benefits that taxpayers simply cannot afford.
* OK, but the Tribune has repeatedly and forcefully editorialized in favor of House Speaker Michael Michael Madigan's pension reform proposal, including this May 8th diatribe entitled "Knock yourselves out, Senators - But know that the fate of Madigan's bill will define you"…
Madigan's plan makes it easier to project savings because it is based on more predictable outcomes.
* From an April 30th SJ-R story about Speaker Madigan's pension plan…
Madigan's plan also calls for the state to use $1 billion a year now allocated to repaying pension bonds to paying down pension debt once the bonds are retired.
So, the Trib is now attempting to slay a proposal that it has long supported. Why? I dunno. But I think it's fair to suggest the same answer that the Tribune itself discussed on June 12th…
And there's plenty of suspicion that good buddies Madigan and Cullerton aren't really at impasse, they're just gaming everybody; failure, for some reason, suits them.
* Now, let's go back to the more recent editorial blasting the possible compromise plan…
Money from the state's main checking account that now pays down pension borrowing debts would be redirected once the debts are paid off. The money would be invested and, assuming an 8 percent return, eventually get pumped back into the pension system to reduce the liability.

Any investment adviser will tell you that expecting an 8 percent return is, um, an arguably fanciful projection. Yet the plan would work only if those steady returns materialize.
* From the Tribune Company's 2012 financial statement…
Effective Dec. 30, 2012, the Company began utilizing the Aon Hewitt AA-Only Bond Universe Yield Curve for discounting future benefit obligations and calculating interest cost. The Aon Hewitt yield curves represent yields on high quality (AA and above) corporate bonds that closely match the cash flows of the estimated payouts for the Company's benefit obligations. Prior to Dec. 30, 2012, the Company had utilized the Citigroup Pension Discount Curve for discounting future benefit obligations and calculating interest cost.

The Company used a building block approach to determine its current 7.5% assumption for the long-term expected rate of return on pension plan assets. This approach included a review of actual historical returns achieved and anticipated long-term performance of each asset class.
Emphasis added for obvious reasons.
Today Lard
Wednesday, Aug 28, 2013 - Posted by Rich Miller
* From a photo taken at yesterday's Du Quoin State Fair Republican Day and posted on 115th House District candidate Terri Bryant's Facebook page…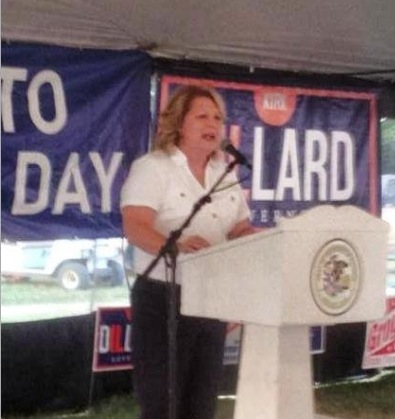 …Adding… Just so there's no confusion, I'm not trying to cast any aspersions at all on Ms. Bryant. It's just a funny picture.