* I told you earlier today that the Democratic Party of Illinois plans to meet later this month to decide whether to slate statewide candidates before the primary. This is from Bill Daley's campaign manager Tom Bowen…
"The Democratic Party of Illinois should allow its voters to hear more about the candidates for Governor and their choices for Lieutenant Governor before selecting a candidate for endorsement. A vote to not endorse allows this process to play itself out and let the people choose their nominee."
- Posted by Rich Miller 17 Comments


Joe Walsh for U.S. Senate 2014? While the title is just a teaser but the former Illinois congressman and current talk show host is talking about it. He spoke to about 60 people Tuesday night for the Chicago Young Republicans monthly business at the Hubbard inn.

Walsh brought up the U.S. Senate race. He said he Is giving "serious consideration" to running against Dick Durbin. Of course, he would have to win the GOP primary first.

On the other hand, last Saturday Walsh told Will County Tea Partiers he was focused on helping other candidates in 2014.
FYI, there are also rampant rumors about a possible Walsh primary bid against Congressman Adam Kinzinger.
*** UPDATE *** IR…
Within minutes of posting that former Congressman Joe Walsh told Chicago Young Republicans he's "seriously considering" a bid against Dick Durbin in 2014, sources told Illinois Review that Walsh associates are telling people he's taking a serious look at challenging Congressman Adam Kinzinger, and that Club for Growth is encouraging him.

"We won't confirm to whom we have or haven't spoken concerning a primary in the 16th CD," Club for Growth's Barney Keller told IR, "but we're certainly interested in talking to a pro-growth alternative to Kinzinger."

"Adam Kinzinger is one of the biggest RINOs in the U.S. House," Keller said, and listed several votes Kinzinger made in the past year that were opposite of the Club's positions. "He voted for the fiscal cliff, opposed the budget conservative Congress members supported. He was one of only ten Republicans that voted for a bill that was one of Nancy Pelosi's pet projects for her San Francisco district."
- Posted by Rich Miller 30 Comments


* Before leaving for vacation, we dropped Oscar the Puppy off at a "pet resort." It was a nice place, very clean. Oscar had a two-room suite and his own flat-screen TV. And the price was more than reasonable, so, I figured, what the heck.
The "resort" owners posted pics of Oscar on their Facebook page. Here he is tearing around the place like he does when he needs to blow off some energy…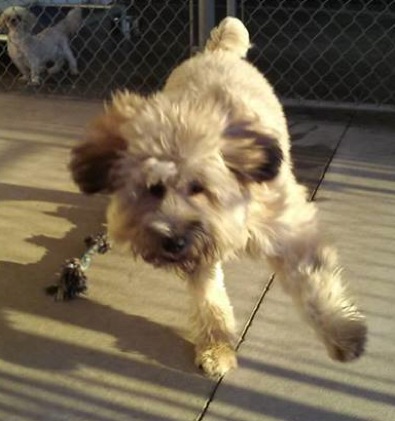 He made some new friends and played Frisbee…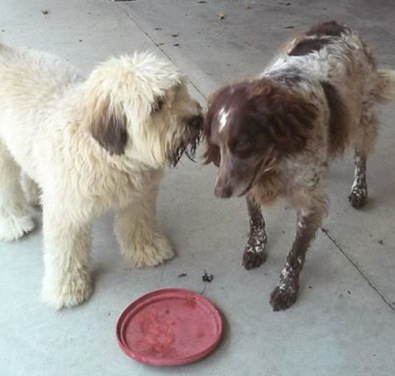 Some of the other dogs couldn't keep up with him, but this one turned out to be his bestest buddy…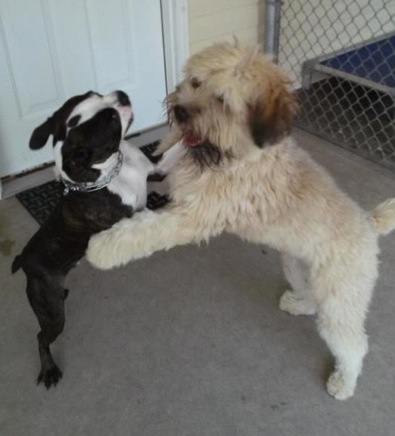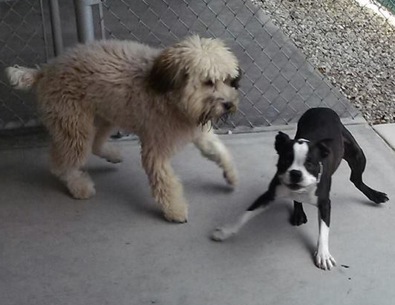 And then he got a haircut…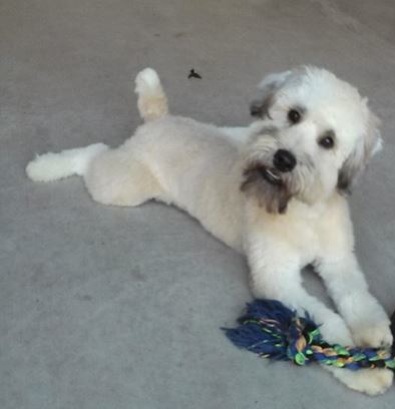 Yikes!!!
Man, that's short. He looks so different I wouldn't recognize him on the street.
Oh, well, it'll grow out.
Here's a pic I took on our way home…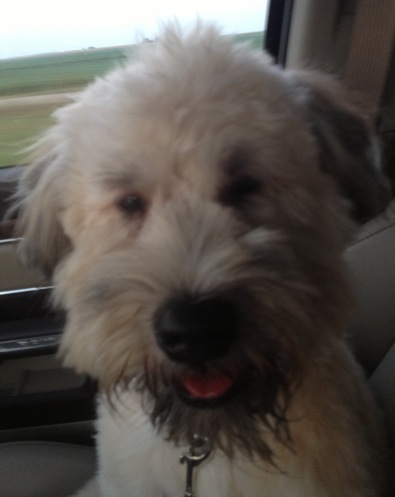 You might be able to see in his eyes how tired he was. He played very hard. But he's happy to be home. I'm happy he's home, too.
- Posted by Rich Miller 25 Comments


* Greg Hinz has an hilarious follow-up to the governor's announcement that I told you about earlier today…
Just a day after a big Illinois manufacturer announced that it's moving 400 jobs to Wisconsin from Lake County, Gov. Pat Quinn today tried to even up the public relations score by announcing that a well-known beverage company "is opening" its new U.S. headquarters on the Near West Side.

In fact, the U.S. headquarters of Mike's Hard Lemonade Co. opened here in April 2012 — a year and a half ago.

Mr. Quinn's office counters that the move and the 80 new jobs Mike's will have here are real and never had been announced as the company quietly filled out its executive team. So are the up to $1.86 million in payroll tax credits Mike's will get over the next decade, plus a $25,000 job-training grant.

But the timing of today's press-release announcement certainly is "convenient," Quinn spokeswoman Brooke Anderson conceded.
Oh, for crying out loud.
- Posted by Rich Miller 16 Comments


* Secretary of State Jesse White announced his reelection bid today…
One of the things that sets White apart is the promise he kept when he was asked years ago whether he would use the secretary of state's office as a stepping stone to run for governor.

"And I said I would run for this office and this office only," White said. "I'm true to my commitment. I always want my word to be good."
Um. From 2009…
Illinois Secretary of State Jesse White is seeking re-election for the last time.

The Democratic state officer said if re-elected to a fourth term in 2010, he will retire in 2014 and pursue only volunteer work.
Obviously, he changed his mind.
* White also admitted to a big mistake today…
White did acknowledge one mistake: his backing of Rep. Derrick Smith. White helped Smith get appointed to the Illinois House in 2011 only to see Smith be charged with bribery by federal authorities less than a year later. White said he "tried to set the record straight" by calling for Smith to step down and backing his challenger, but voters decided to re-elect Smith anyway, even after Smith was kicked out of the Illinois House.
No word yet on whether White will field a primary challenger against Rep. Smith.
* And he got a boost from MRE…
White launched his re-election bid at a downtown hotel where he was introduced by Mayor Rahm Emanuel, who noted that White supported his efforts to become mayor. Emanuel said he wasn't just backing White to return to the favor, but because of their "shared bond" of public service and White's "commitment to the next generation coming behind us." White is well known for the youth tumbling team that bears his name.

White will make another campaign stop today in Springfield. A Republican candidate has yet to surface, leading White to quip that "life is good."
- Posted by Rich Miller 13 Comments


* From a press release…
Democratic Party of Illinois Chairman Michael J. Madigan announced Thursday that the party's state central committee will meet Sunday, September 22 to discuss the slating of statewide candidates for next year's General Election.

"We plan to have a vital campaign in every region of the state and this meeting will give the candidates an opportunity to convey the strengths they bring to the ticket," Chairman Madigan said.

The meeting will take place on Sunday, September 22 at 2 p.m. in the Governor's Ballroom at the State House Inn, located at 101 East Adams Street in Springfield. Members of the public are encouraged to attend.

The democratic state central committee is composed of 38 members, one man and one woman elected from each congressional district. Each member will have a weighted vote in selecting the nominee that is equal to the number of Democratic ballots cast in their congressional district in the February 2, 2010 primary election.
DPI hasn't slated statewide candidates in a primary since Lisa Madigan first ran for attorney general. [ADDING: I was reminded by a commenter that DPI slated Paul Mangieri in 2006 for treasurer. He lost to Alexi Giannoulias.]
- Posted by Rich Miller 22 Comments


* This story has been getting some play…
It took more than four days for the Illinois Department of Corrections to capture escaped prisoner Jared Carter. The hunt involved more than 100 department employees, as well as helicopters, airplanes, and state police personnel. But there's one thing that was left out of the search due to Illinois state budget cuts: a prison canine unit.

To help slash his state's budget, Illinois Gov. Pat Quinn nixed five dog-handling jobs in the department last year, according to information obtained by The Quad-City Times. And, without handlers, that meant Gov. Quinn had to lay off the dogs.
Local police dogs were used in the search, which the Department of Corrections says worked out fine.
* But there were some items in Kurt Erickson's original story unrelated to the search for the escaped prisoner that stood out for me. For instance…
The unit was in place primarily to search cells for drugs and contraband, and to sniff out problems with visitors and vendors.
Without those dogs, the guards have to do the cell and visitor searches on their own, so contraband could get by them.
* And then there's this…
Along with having no dogs within the agency to search for fugitives, Shaer confirmed that one of the guard towers was not staffed when Carter walked off.

But, he said, Carter's departure spot could not be viewed from the tower anyway. "The tower being manned was not a factor," he added.
Oy.
*** UPDATE *** From AFSCME's Anders Lindall in comments…
Due to staff cuts, Tower One at Robinson is closed save for three approximately hourlong periods each day. Contrary to Shaer's claim, frontline employees at Robinson report that Tower One is located just 200 yards from where the escape occurred and has a direct line of sight over the area.

Perimeter security has also been reduced at Robinson due to lack of staff. A van that used to patrol the facility's perimeter 24-7 is now in use only from dusk to dawn, and even then not continuously as the van driver also performs other duties.

So at the time of this escape, the tower nearest the site was closed, there was no patrol outside the perimeter - and no canine unit to respond.

All this at a facility more than 200% overcrowded. Built for 600 inmates, Robinson had 1,209 at the department's last quarterly report to the General Assembly.
- Posted by Rich Miller 26 Comments


* From the Milwaukee Journal Sentinel...
An Illinois lighting company with 400 employees plans to move across the state line to Kenosha — the second manufacturer in a week to say it will leave northern Illinois for Wisconsin.

Kenall Manufacturing plans to relocate its headquarters and factory from Gurnee, Ill., to a 354,000-square-foot facility to be built near I-94 along Highway 158.
The company is getting over a million dollars in incentives…
One aspect of the various government incentives is ready: Kenosha County will provide $1 million from a special economic development fund authorized two years ago, County Executive Jim Kreuser said.

Another $250,000 from the fund was used recently to help woo Hanna Cylinders from Libertyville, Ill., to Kenosha County. That relocation, announced last week, will bring about 100 manufacturing jobs to Pleasant Prairie by the end of the year. Hanna, which makes hydraulic and pneumatic cylinders, will occupy a 105,000-square-foot plant in Lakeview Corporate Park.
* But the specific incentives are only part of the bigger picture…
Another key to luring companies such as Kenall to Wisconsin, he believes, is the virtual phasing out of the state corporate tax on income generated by manufacturing production. Enacted in 2011, the legislation will effectively cut the tax on production from 7.9% to 0.4% over the next few years, Battle said.

He said Kenall and other firms consider "the direction and velocity of the state's business climate" when making location decisions, and that the elimination of almost all of the tax on production earnings "clearly was in our favor."
* But the Hanna Cylinders move has a bright side…
(A) Chicago-based developer already has eyed the site along Route 176 for an industrial facility.

Bridge Development Partners LLC plans to invest $25 million to $30 million in two buildings with a mix of light assembly, manufacturing and warehousing uses.

The project marks the first speculative construction of its kind in Libertyville in several years.

Although the facility would be built without specific tenants in mind, the site could attract 200 to 300 jobs — a "realistic expectation," said Mark Christensen, a principal with the commercial real estate firm.
* And this is from a press release…
Governor Pat Quinn and Mike's Hard Lemonade Co. today announced that the premium malt beverage maker is opening its new U.S Headquarters in Illinois, creating 80 jobs. The office, located at Jackson and Jefferson Streets in Chicago's West Loop, is positioned to tap into the region's substantial marketing talent and consumer product expertise. The announcement is part of Governor Quinn's agenda to drive Illinois' economy forward and create jobs.

"Mike's chose to relocate to Illinois because of the state's central location, leading education institutions and its progressive business environment," Governor Quinn said. "The presence of a dynamic company like Mike's is the kind of business Illinois needs to advance our vision of becoming one of the most exciting and vibrant business corridors in the nation."
* Related…
* Chicago-area foreclosures down 59% from last August

* In Quest For Lower Taxes, How Far Is Too Far?

* Whole Foods coming to Englewood
- Posted by Rich Miller 48 Comments


* House Speaker Michael Madigan's press secretary Steve Brown reacting to Gov. Pat Quinn's angry denunciation of the pricey Statehouse renovations…
"It looks like the governor's a couple days late, possibly jet-lagged from his trip to Japan, because he took his usual Sunday morning press conference cheap shot and did it on a Tuesday afternoon."
Ouch.
* And not everybody is up in arms about the alleged scandal…
A spokeswoman for Senate Minority Leader Christine Radogno (R-Lemont), whose office is in the newly renovated wing, defended the expenditures and the project, in general.

"At this point in time, any spending on anything can be made to look extravagant," Radogno spokeswoman Patty Schuh said. "But this is part of a long-term, long-range maintenance and restoration plan for a historical building that has 200,000 people in it every year. The bulk of the project is the beyond-necessary mechanical fixes, ADA access and life-safety and fire code requirements."
* Meanwhile, there's more than a little doubt that the governor's "suspension" of funding for more Statehouse construction actually means anything…
"It's up to the governor whether to make that money available for bidding and construction purposes," Blanchette said. "And that's what he's doing, is holding up the release of funding for items that have already been placed in the budget by the General Assembly, until such time as things can be carefully examined."

But no money has actually been appropriated for the north wing yet. So is anything actually being halted?

"No, there's nothing to stop at this point," UIS Political Science Professor Kent Redfield said.

Redfield believes this was a purely political move by the governor.

"It's election season, and the state is having a lot of really bad fiscal problems," Redfield said. "And so this becomes an issue that you can be against it, and particularly since you can't have any impact on what's happened, then it's a pretty easy thing to take a public stand on it."
…Adding… I forgot to post this one…
Former White House Chief of Staff Bill Daley, who's also trying to win the Democratic nomination for governor, says Quinn is ultimately responsible.

"The problem with the governor's action is, he was asleep at the switch when all this funding was approved," says Daley's campaign manager, Tom Bowen. "So this action is typical of Gov. Quinn: too little, too late, reacting to a mistake that's already been made."
- Posted by Rich Miller 25 Comments


* 9:57 am - The Illinois Supreme Court has issued two gun-control rulings that are undoubtedly bringing great cheer to the NRA.
In the first, People v. Aguilar, a person was arrested in his own friend's Chicago yard because he was holding a pistol. The Supremes cited the Heller decision and the 7th US Circuit's recent landmark public carry decision (Moore v. Madigan) to knock down the arrest as unconstitutional…
if Heller means what it says, and "individual self-defense" is indeed "the central component" of the second amendment right to keep and bear arms (Heller, 554 U.S. at 599), then it would make little sense to restrict that right to the home, as "[c]onfrontations are not limited to the home." Moore, 702 F.3d at 935-36 […]

Of course, in concluding that the second amendment protects the right to possess and use a firearm for self-defense outside the home, we are in no way saying that such a right is unlimited or is not subject to meaningful regulation. See infra ¶¶ 26-27. That said, we cannot escape the reality that, in this case, we are dealing not with a reasonable regulation but with a comprehensive ban. Again, in the form presently before us, section 24-1.6(a)(1), (a)(3)(A) categorically prohibits the possession and use of an operable firearm for selfdefense outside the home. In other words, section 24-1.6(a)(1), (a)(3)(A) amounts to a wholesale statutory ban on the exercise of a personal right that is specifically named in and guaranteed by the United States Constitution, as construed by the United States Supreme Court. In no other context would we permit this, and we will not permit it here either
However, the defendant in the case was just 17 years old at the time of his arrest and the Supremes decided that the statute regarding age minimums was constitutional…
…for present purposes, we need only express our agreement with the obvious and undeniable conclusion that the possession of handguns by minors is conduct that falls outside the scope of the second amendment's protection
* The second case, Coram v. Illinois, involved a man who pled guilty to domestic battery in 1992 and paid a $100 fine. At the time, there was no prohibition against Coram possessing a firearm or receiving a FOID card. When he applied for a FOID in 2009, however, he was denied based on a 1996 federal law. The Supremes upheld his right to a FOID card. Read it here.
*** UPDATE *** From John Boch of GunsSaveLife.com in comments…
Our take on the decision: The IL Supreme Court has said today that until and unless the Illinois State Police begin issuing carry licenses, Illinois has a flat prohibition on carry of firearms outside the home and that, ladies and gentlemen, has just been recognized and determined to be in violation of the right to keep and bear arms as guaranteed by the second amendment to the United States Constitution.
- Posted by Rich Miller 30 Comments


* We discussed this quote from Sen. Kirk Dillard yesterday…
To improve education, Dillard said he would prevent Chicago schools from taking about $1 billion they currently take away from downstate schools.

"A child who lives in poverty in downstate should be equal to one in Chicago," he said.
Dillard was speaking to the Ford County Republicans when he made those comments. Ford County's population at the last Census was 14,081.
During the 2012-2013 school year, Chicago Public Schools administrators identified 18,669 CPS students as homeless.
* Meanwhile, David Ormsby has a post about Dillard's campaign reporting $169,300 in contributions last night…
The lion's share came in three checks of $52,600 each. The contributors were: Illinois Operating Engineers Local 150, Chicago Land Operators Joint Labor-Management PAC, and the Illinois Lunch Pail Republicans PAC.

The $169,300 brings Dillard's total fundraising from large contributions to $207,300 for the third quarter. Without that large infusion of cash before the third quarter fundraising ends in less than three weeks, Dillard's campaign would have looked dead-in-the-water by the time campaign finance reporting arrived on October 15.
But…
On September 6, the Lunch Pail reported a $52,600 contribution from the Washington, D.C.-based Engineers Political Education Committee PAC. And three-days later the Pail, which has raised or donated no other money recently, funneled the same amount to Dillard

It looks like the Engineers' money got laundered.
The Lunchpail Repubicans PAC is all but an arm of Local 150, which has a lot of members involved in road and bridge construction. So maybe we now know why Dillard said recently that he preferred a second gas tax to gaming expansion.
- Posted by Rich Miller 57 Comments


* I've been saying all along that the fall veto session was probably not the time that a gay marriage bill would pass…
Asked if organizers have added numbers to their "yes" count, [Illinois Unites for Marriage Campaign Manager John Kohlhepp] said, "I believe that we can say that we have."

But supporters face a tough fight. Those that have switched to the "yes" column have yet to make their stances public, leaving them room to back out. Additionally, the veto session falls before election filing deadlines, increasing chances that lawmakers fearful of primary challenges will balk at voting on controversial bills.

Rick Garcia, policy advisor for The Civil Rights Agenda, said that reality is making him cautious about forecasts for the fall.

"I'm making no predictions because after what happened in May, I'm gun shy about doing that," Garcia said.

And Garcia suggests another challenge— organizers have yet to secure even 60 votes, he said.
Besides the petition problem, an immediate effective date would require 71 votes, and they don't even have 60 yet.
* And the Windy City Times' roll call is more than a little optimistic. For instance…
Dist. 20, Michael McAuliffe (R): McAuliffe voted against civil unions in 2010 and has indicated he would do the same if marriage equality were brought to a vote. "I will not support the legalization of gay marriage in Illinois," he said in a Daily Herald candidate questionnaire. But sources indicate that McAuliffe may not be more open to a "yes" vote than others.

Dist. 41, Darlene Senger (R): Senger voted "no" on civil unions two years ago, but supporters hope that LGBT people and their allies will press her to vote yes, regardless.

Dist. 60, Rita Mayfield (D): Mayfield's stance has frustrated LGBT organizers and sponsors of the bill, but she remains a target. She said she wants to vote "yes," on the bill but will not. She says that her district does not support the measure and that she will vote "present" so as not to betray the will of her constituents. Mayfield's best friend is reportedly gay.
Senger could help herself in the fall congressional campaign with a "Yes" vote, but she is facing two conservatives in the primary, so I figure a pre-primary floor vote would likely produce a "No."
* And check out the House Democratic "targets"…
Dist. 21, Silvana Tabares (D): This journalist-turned-lawmaker is new to office. She was not endorsed by Equality Illinois last year, and sources suggest her vote has been hard to pin down.

Dist. 56, Michelle Mussman (D): Mussman stated on a Chicago Sun-Times questionnaire, "I would not support legislation permitting gay marriage. I would support legislation permitting civil unions." But a Windy City Times reader and 56th Dist. resident said she believes Mussman supports the bill now. Mussman has not returned requests for comment.

Dist. 77, Kathleen Willis (D): Willis' stance is not widely known, but Equality Illinois endorsed her Republican challenger Skip Saviano over her last year.

Dist. 79, Katherine Cloonen (D): The Daily Journal reported in October that Cloonen was against gay marriage.

Dist. 84, Stephanie A. Kifowit (D): Asked in Oswego Patch candidate questionnaire about same-sex marriage, Kifowit said she believes everyone should enjoy the same rights, but added, "I believe the intent behind Illinois' recently enacted civil unions law has done just that." She was not endorsed by Equality Illinois.

Dist. 85, Emily McAsey (D): McAsey stated in her Chicago Sun-Times candidate questionnaire that gay marriage did not appear to be a priority for voters and that her focus was on other things.

Dist. 96, Sue Scherer (D): According to the State Journal-Register, Scherer wants to give civil unions more time to "work through the system" before passing marriage.

Dist. 98, Natalie Manley (D): Manley's views on same-sex marriage have not been widely publicized, and she dodged the question on a Patch.com candidate questionnaire. Equality Illinois did not endorse her in 2012.
Tabares is listed because the 13th Ward's alderman will be leading her defense if she has to run in another primary. No decision had been made about what to do there the last time I checked.
On the others, it's a district by district thing, but Madigan's people don't want to have to spend money that they don't need to spend. An "OK" by the campaign shop on some of the less risky targets would go a very long way toward passing this bill.
* Related…
* Mark Brown: Legislators' foot dragging on same-sex marriage has life and death consequences
- Posted by Rich Miller 16 Comments


* Congressman Adam Kinzinger has a GOP primary opponent…
On Tuesday, David Hale, founder of the Rockford Tea Party, announced he is running in next March's GOP primary against Kinzinger, who has been in Congress since 2011.

Over the past week, Kinzinger has made a number of national TV appearances backing President Barack Obama's call for military action in Syria. The Air Force veteran said he has offered to help Obama make the case.

It was Kinzinger's position on Syria that prompted Hale to enter the race. […]

He founded the Rockford Tea Party in 2009 and helped organize the petition drive for the Winnebago County Board to pass a concealed carry ordinance, collecting 11,000 signatures. The board ultimately rejected the ordinance.

Amanda Norris, president of the Sauk Valley Tea Party, said she welcomed opponents of Kinzinger, whom she called a "real disappointment."

"He [Hale] is very passionate and strong-willed. Sometimes that works against you in the political sphere. He's on the right side of issues," Norris said.

As an incumbent with nearly $500,000 in his campaign coffers, Kinzinger is the favorite to win.

"The money is an advantage," Hale said. "I don't pretend that I'm a formidable candidate as far as publicity and money goes, When it comes to ideas and when it comes to how government works, I'm head and shoulders above Adam Kinzinger."
* Meanwhile, Secretary of State Jesse White is announcing his reelection tomorrow…
…there is no sign of a Republican challenger on the horizon.

Jayme Odom, executive director of the Illinois Republican Party, said new party chief Jack Dorgan is attempting to draft a candidate.

"The chairman is still talking to multiple people," Odom said Tuesday.

Republican observers say it's pretty obvious why no one is jockeying for the position.

"I think you have to admit it would be a tough one to win," state Sen. Kyle McCarter, R-Lebanon, said Tuesday.
Discuss.
- Posted by Rich Miller 16 Comments


* How did Barton Lorimor do while I was away?
…Adding… Please, make sure to consider the constraints he was under. He couldn't blog from work, which limited the time he could spend on the site. I originally asked him to just do one post a day to keep y'all occupied, but he clearly went above and beyond.
- Posted by Rich Miller 45 Comments


* The Illinois Policy Institute and the Better Government Association both have people who "cover" the Statehouse and have applied for seats in the House and Senate press boxes. So far, neither group has received an approval from the two chambers.
Why? Because the groups directly lobby the Legislature. If they were given permission to sit in the press box, then why not AFSCME, or AARP, or the Illinois Chamber? All of those groups (and many, many more) produce extensive reports on the General Assembly's doings.
* I've been thinking about doing a post on this for a while now. And a newspaper "column" by the BGA's Andy Shaw, which recently appeared in the Sun-Times, reminded me why I should…
Some of the other Springfield legislators who deserve a shout-out for working with us in the last session, even if they didn't always agree with our watchdog ways, include:

† Sen. Mike Jacobs, who acknowledged the importance of public safety and government accountability by sponsoring a bill to create a zero tolerance alcohol impairment policy for on-duty police officers;

† Sen. Dan Kotowski, who took on conflicts of interest by sponsoring a bill that tightened financial disclosure laws;

† Sen. Daniel Biss, who understood the need for accountability in the criminal justice system by sponsoring a bill requiring law enforcement officials to obtain a warrant to use information collected by drones;

† And the coalition of legislators — Sen. Kwame Raoul, Reps. Mike Zalewski and Scott Drury, and House Speaker Michael Madigan — who recognized the high cost of wrongful convictions, in financial and human terms, is an atrocity that can no longer be tolerated.
Look, it's nice to see a goo-goo group occasionally congratulate individual legislators for the work they do, even legislators who aren't exactly known as "reformers." Usually, all we see is angry broadbrush criticism from those folks.
But you can't register with the state, lobby for bills and then heap praise on your sponsors in a "column" and expect to get a seat in the press box. It doesn't work that way.
There's been some grumblings about a potential lawsuit, but the groups ought to stow their anger and just do what they do and quit trying to be something they clearly are not.
Maybe you disagree. If so, I'd love to hear it.
- Posted by Rich Miller 42 Comments


* From the Illinois Policy Institute's journalist in residence…
In the 1990s, Quinn pushed for a constitutional amendment to create term limits for legislators. But the Illinois Supreme Court threw out the proposal before it could go to the voters.

This past week, however, Quinn came out against a new plan to create term limits for lawmakers, a plan being pushed by Republican gubernatorial candidate Bruce Rauner.
That's artfully worded, but Quinn still favors term limits. The governor simply questioned whether there was a need for the rest of Rauner's proposal…
Rauner is circulating petitions to get the issues on the 2014 ballot. That includes making it harder to override a governor's veto by changing the number of votes needed from three-fifths to two-thirds. He also wants to limit legislators to eight years in office, cut the size of the Senate from 59 members to 41 and expand the House from 118 to 123.

Quinn told reporters Wednesday there's no need to change the three-fifths vote. […]

Quinn says it's unnecessary to increase the number of House members.
* Quinn is right about that. Nobody cares about those two issues. In reality, the two proposals were simply a way to get term limits onto the ballot. Eric Zorn doesn't think it'll work…
The power of citizens to initiate amendments to the state constitution via petition drive was limited by the framers only "to structural and procedural subjects contained" in Article IV, the one that deals with the legislature [the Illinois Supreme Court ruled in 1994]. […]

So would term limits change the structure of the legislature?

No, the majority ruled in 1994. Even with term limits, "The General Assembly would remain a bicameral legislature consisting of a House and Senate with a total of 177 members, and would maintain the same organization."

Would it change the procedures of the legislature?

Again, no. "The process by which the General Assembly adopts a law would remain unchanged" with the addition of term limits, said the majority opinion. […]

If, earlier this week when Rauner's proposal was formally unveiled, you wondered why it included this pair of off-the-radar-screen ideas, now you know: It's an effort to create a plausible reason for the Supreme Court to give the OK.

"These are three interrelated reforms," said Mike Schrimpf, a spokesman for Rauner and the term-limits effort. "Taken all together, they make the legislature more responsive to the citizens and they make elections more competitive."
But, so far anyway, Rauner is the only person offering up an actual plan. So being against a couple of smallish aspects of that plan means it can be spun by the pro-Rauner types (and the Illinois Policy Institute's honchos are with Rauner) as being "against term limits." So, advantage Rauner.
* Sen. Kirk Dillard took his opposition a step further…
When asked if term limits is a big issue in Illinois, Dillard said Rauner is "pulling a Pat Quinn." He says Rauner is pandering to the public on a popular issue.

As for himself, Dillard supports term limits for legislative leaders. He voted for a recall, which he believes sends a better message than term limits. That way, if people want to get rid of an official like Rod Blagojevich, they can get rid of him right away, rather than having to impeach or wait until the next election.

Dillard said the legislative leaders are the problem.
* OK, but this constitutional amendment is already being sold as a way to get rid of Madigan and break the stranglehold of Chicago's influence….
Rauner's got a video out to promote his term-limits issue.

It blasts "career politicians" who stay too long in office. And whose pictures roll by on the screen when this discussion is taking place? Senate President John Cullerton, ex-Gov. Rod Blagojevich and House Speaker Michael Madigan, all Chicago Democrats.
The video…
Dillard is on the "wrong" side of this issue, as far as the public is concerned, so he's gotta revert to name calling. Politically, anyway, this is, again, advantage Rauner.
- Posted by Rich Miller 27 Comments


* We're getting close to a dozen state legislators who've announced that they're not running for reelection or who have already resigned…
State Rep. Naomi Jakobsson, D-Urbana, announced Tuesday night that she will not run for a seventh term in 2014.

And Michael Richards, a Champaign County Board member who managed Jakobsson's last two campaigns, said he hopes to succeed her in the Illinois House. […]

Richards followed Jakobsson's email with his own, saying that Jakobsson had asked him to run for the seat representing the 103rd District, which includes almost all of Champaign and Urbana.

"Representative Jakobsson has asked me to run for state representative," said Richards, a county board member from Champaign and a legislative liaison to the Illinois Emergency Management Agency. "Whomever wins this seat will have big shoes to fill."
Other candidates in both parties are expected to announce as well.
There was a huge turnover in the first post remap election, but it appears that some legislators wanted to hold onto their respective seats for one more cycle before leaving.
- Posted by Rich Miller 25 Comments


* My weekly syndicated newspaper column…
After the Illinois House Republicans met late last month in Springfield to elect a new caucus leader, several members gathered at a local watering hole to toast their top dog, Rep. Jim Durkin, R-Western Springs.

Notably, several House Republicans who backed the candidacy of Rep. Raymond Poe, R-Springfield, showed up as well and heartily shared in the festivities.

And so, a leadership battle that for a while looked to be heading down a bitterly negative path ended with smiles all around.

Durkin managed to pull off the impossible.

After the failed 1991 ouster attempt of House GOP Leader Lee Daniels, 11 of the 13 coup plotters fled the House within 2 years, either for the Senate or for other jobs. They had no choice. Retribution was in the air.

When Daniels announced he would be stepping aside 10 years later, a months-long feud erupted between Reps. Tom Cross and Art Tenhouse, with the downstater Tenhouse coming out on the losing end.

The fight got personal and emotional, and lots of members were put in highly uncomfortable positions.

The memories of those fights are strong with those who were around back then, and veterans on both sides have tried to help steer this battle away from the abyss ever since Cross announced that he would be stepping aside and running for state treasurer.

Durkin had a reputation among some of his fellow House Republicans as being aloof and even kind of a jerk – his former Cook County prosecutor tendencies have never completely left him. But Durkin patiently traveled the state, meeting with anybody who would sit down with him, and eventually managed to assuage those fears. As a result, he walked into the caucus meeting with far more than the 24 votes he needed to win.

Poe gave what many members said was the speech of his life during the meeting. Poe passionately argued for peace and unity while putting Durkin's name into nomination. Durkin was elected by acclamation.

Durkin had been a member of Tom Cross' leadership team, but he's much better known as being policy oriented. He's also politically ambitious. He lost a U.S. Senate race in 2002 to Dick Durbin and chaired both of John McCain's Illinois presidential campaigns.

Durkin was gearing up for an attorney general bid when Cross blindsided him with his own desire for the office. Durkin almost immediately switched gears and focused on the leadership job, which helped box Cross out and forced him to find another job after Lisa Madigan decided to stay put.

Durkin and his team have promised there will be no retribution. There's a desperate need for unity in that caucus, and pretty much everybody gets it.

If he can suppress those prosecutorial attitude issues, work harder than he ever has, and stay focused and calm while Madigan rattles his cage, Durkin has what it takes to be an effective leader.

Time will tell, but, so far, this looks like a good move by the House GOP.
- Posted by Rich Miller 24 Comments


* AP…
Gov. Pat Quinn has suspended funding for future renovations at the Capitol, a pricey project that's already caused embarrassment for financially-shaky Illinois and raised questions about how it was allowed.

The Chicago Democrat told reporters Tuesday that he's instructed his budget director to hold up appropriations for renovations that are yet to be done.

The state has already spent much of the appropriated $50 million for the west wing. That restoration of the Capitol has already drawn criticism along with finger-pointing. Sparking the outrage has been copper-plated wooden doors costing nearly $670,000 and more than $323,000 for chandeliers.

Quinn blamed Capitol architect J. Richard Alsop III and says he needs to be "reigned in" by the commission he reports to.
* Sun-Times…
While Quinn's Capital Development Board released funds for the nearly finished phase of Capitol construction, the governor said the state is on the hook for paying for work already completed since construction contracts have already been signed.

"If there are contractors who'd already completed work, we'd have legal obligations to pay those vouchers, or we'd wind up in the Court of Claims. But anything further or additional or what they're planning for the next wing, I think, should be totally held up until we get this architect under control," the governor said.

Controversy over the renovation work bubbled up in August when the Sun-Times detailed the project in a front page story and intensified earlier this month when Alsop confirmed that historically-accurate copper-clad doors for three entrances in the Capitol's west wing cost more than $669,000 — the same price as a luxury executive home in the northwest suburbs.

On Sunday, the Chicago Sun-Times followed up with a report on a pair of maiden sculptures that each cost more than $78,000 and four 300-pound chandeliers hung in one senator's office that cost another $323,000.
* Tribune…
Quinn's move is largely symbolic. Most of the $50 million earmarked for rehabilitation work on the west wing of the Statehouse, including sets of copper-plated doors costing nearly $700,000, already has been spent. The governor's action could prevent shifting other money for planned work on other sections of the building. […]

Quinn maintained that his office does not have the ability to approve or block particular "ingredients" of the renovation. Those decisions, he said, are made by a panel that oversees the Capitol architect, a group appointed by the four Democratic and Republican legislative leaders. Quinn said the group needs to rein in the architect, J. Richard Alsop III. […]

There's no money set aside for overhauling the Capitol's north and east wings, but Quinn fears a pot of $250 million involving the Statehouse grounds could be shifted by a panel of lawmakers to finish the project.
So, by reading most of the coverage you'd think all spending was halted. But from the Tribune story, maybe not.
* Quinn made his symbolic move in anticipation of an attack from Bill Daley…
Daley said Quinn should have prevented the expenditure of nearly $670,000 for three sets of copper-plated double doors, $160,000 for sculptures replicating statues that were never in the original capitol building, and $323,000 for four chandeliers.

He said those costs are significant, even if a tiny fraction of the overall cost.

"Some people may scoff at it and say, 'Well, $700,000 out of $50 million, or whatever the renovation is, big deal.' You know, the average person says that is a big deal," Daley said. "And until we're sensitive to them, we're just going to roll over and say, 'Well, what the heck, it's going to last 100 years these doors, and they're beautiful, and they're copper, and how could you be against them?' That's crazy."

Daley said people are just numb to continuing expenditures by government officials spending other people's money.
Voters can get their minds around $700,000 doors pretty easily, so this was an easy shot by Daley. But Quinn really couldn't have stopped those doors from being installed.
* Republican Sen. Kirk Dillard, also a gubernatorial candidate, jumped into the fray…
Illinois Republican gubernatorial candidate Kirk Dillard and his running mate State Representative Jil Tracy announced Tuesday they will introduce joint resolutions calling on the Illinois Auditor General to investigate expenditures of the Illinois State Capitol West Wing renovations and whether the expenditures were appropriate. This comes after news reports, including one on WMBD TV and Fox 43 that about $700,000 was spent on three pairs of new doors. Tracy says taxpayers need to know their tax dollars are spent wisely.
* Ironically, Dillard was recently endorsed by former Gov. Jim Thompson, who made it obvious that he doesn't think much of the political fallout…
"Where were they supposed to buy the doors, and maidens and chandeliers?" he asked. "Walmart, Lowe's?"

"The Capitol," he said, "is the most significant building in the state of Illinois. . . . All they're doing with the doors and the maidens is putting the Capitol back to what it was when it was constructed. . . . These items are part of a $50 million capital expenditure…as part of a health and safety renovation. . . . These are capital funds, not operating funds. They can't be used for services, for example, for senior citizens or developmentally disabled young people."

Thompson characterized the six-figure price tags as "not only historically correct," but also, in the long run, a "bargain," because "the chandeliers and the maidens and the doors will last over one hundred years." He added, hyperbolically, "In every other state in the union, [public officials] go to great lengths to retain authenticity."

I asked him if he was surprised that politicians, including Gov. Pat Quinn and the republican candidate striving to take Quinn's job, State Treasurer Dan Rutherford, are publicly denouncing the expenditures. "No it's typical," he said in a weary tone. "The press writes these stories front page, . . . politicians react. I've seen it all before."
- Posted by Rich Miller 56 Comments


Posted by Barton Lorimor (@bartonlorimor)
* One of the major credit rating firms has declared Illinois is no longer in a recession, and has started to recover…
"The housing market is picking up in Chicago," Cochrane says. "The large service- and finance-based economy in Chicago also seems to be picking a little bit, and hiring is improving."

Much of the improvement in Illinois' economy is pegged to Chicagoland, but he says Downstate manufacturers could also soon see an improvement in exports overseas.
* Only the Decatur metropolitan area remains in a recession. Earlier this year, Decatur became the Illinois metro with the highest unemployment rate. It has an unemployment rate of over 13 percent, and one of the area's larger employers has been looking to move for quite a while. Moody's analysis says Decatur has affordable housing, but that there has been a slowdown in home sales and the availability of high paying jobs.
Nationally, the "Great Recession" ended in June 2009. Alabama and Wisconsin were the other states taken off of the watch list. Other states, like Delaware, remain…
Delaware remains at risk because of slow growth in the drivers of its economy, including banking, credit cards, pharmaceutical, chemical and business services, he said. Delaware, however, has taken issue with Moody's assessment. "We believe Delaware's future is more promising than Moody's report would indicate," says state Finance Secretary Tom Cook. He says employment will pick up this year as Bank of America has promised 500 new jobs over the next three years and Capital One has promised to hire 500 employees there by year's end.
- Posted by Barton Lorimor 30 Comments


Posted by Barton Lorimor (@bartonlorimor)
* CMS director Malcolm Weems testified last week before the Procurement Policy Board in response to a Lee Enterprises story that included figures showing emergency no-bid purchases are way up.
From his remarks…
Of the 346 referenced emergencies for FY13, 164 were either extensions of existing contracts or below the small purchase threshold. if these two definitional changes were not made relative to the numbers prior to SB51, the actual count of emergencies would be 182 and would equate to FY11 numbers. The attention on this has not been an apple-to-apple comparison, and a constructive conversation on this topic needs to be effective.
From the Senate Bill Weems references…
a) Conditions for use. In accordance with standards set by rule, a purchasing agency may make emergency procurements without competitive sealed bidding or prior notice when there exists a threat to public health or public safety, or when immediate expenditure is necessary for repairs to State property in order to protect against further loss of or damage to State property, to prevent or minimize serious disruption in critical State services that affect health, safety, or collection of substantial State revenues, or to ensure the integrity of State records; provided, however, that the term of the emergency purchase shall be limited to the time reasonably needed for a competitive procurement, not to exceed 90 days. A contract may be extended beyond 90 days if the chief procurement officer determines additional time is necessary and that the contract scope and duration are limited to the emergency. Prior to execution of the extension, the chief procurement officer must hold a public hearing and provide written justification for all emergency contracts. Members of the public may present testimony. Emergency procurements shall be made with as much competition as is practicable under the circumstances. A written description of the basis for the emergency and reasons for the selection of the particular contractor shall be included in the contract file.

(b) Notice. Notice of all emergency procurements shall be provided to the Procurement Policy Board and published in the online electronic Bulletin no later than 3 business days after the contract is awarded. Notice of intent to extend an emergency contract shall be provided to the Procurement Policy Board and published in the online electronic Bulletin at least 14 days before the public hearing. Notice shall include at least a description of the need for the emergency purchase, the contractor, and if applicable, the date, time, and location of the public hearing. A copy of this notice and all documents provided at the hearing shall be included in the subsequent Procurement Bulletin.
As you can see, these changes in the statute do not expand on what qualifies as an emergency purchase. Rather, the changes involve how those contracts can be extended. The Governor's Office says that is why the number appears to be so much higher.
Thoughts?
- Posted by Barton Lorimor 14 Comments


Posted by Barton Lorimor (@bartonlorimor)
* Rep. Brad Halbrook, Republican of Charleston, said yesterday he would not seek re-election to his seat. Halbrook was appointed in April 2012 after Roger Eddy left to take the helm of the Illinois Association of School Boards.
From our friends at BlueRoomStream…
Rep. Halbrook states he wants to spend more time with his family, including his 78-year-old father.

— Blueroomstream (@Blueroomstream) September 9, 2013
The announcement comes just days after Coles County Sheriff Darrell Cox said he plans to challenge Halbrook in the March GOP primary.

Halbrook, however, said Cox's plans had nothing to do with his decision.
* Related…
* BREEN LAUNCHES INCUMBENT CHALLENGE IN 48TH HOUSE DISTRICT

* WOZNIAK CRITICIZES $50 MILLION CAPITOL RENOVATION AS "WHOLLY INAPPROPRIATE"
- Posted by Barton Lorimor 41 Comments


Posted by Barton Lorimor (@bartonlorimor)
Riverboat casinos in Illinois want to remain open for business around the clock.

The Illinois Casino Gaming Association is asking state regulators for the OK to operate 24 hours a day. Currently, no casinos are open more than 22 hours.

The Illinois Gaming Board has scheduled a public hearing for Sept. 19 in Chicago to consider the request.
QUESTION: Do you support the Gaming Association's request? Explain your answer in comments.
- Posted by Barton Lorimor 30 Comments


Posted by Barton Lorimor (@bartonlorimor)
Me again. I know. You were expecting Rich. I was, too. He's coming in later today than I thought. Apparently production of the soon-to-be released low-budget thriller "Godzilla v. Mothra v. Oscar" took longer than anticipated. We will go ahead and get things started…
* Mitchell: Former homeless man to be freed from prison in 2002 rape case: On Tuesday, Anita Alvarez will announce that the Chatman case is one of two cases that the State's Attorney's Conviction Integrity Unit will be dismissing Tuesday morning. The dismissal will pave the way for the 58-year-old man to be released from Dixon Correctional Center as early as Tuesday. Alvarez's office would not provide specific details about why the Chatman case was being dismissed, but a spokesman confirmed that Alvarez will hold a news conference at 26th and California on Tuesday morning to announce the dismissals.

* Theresa Chatman never stopped believing in her brother

* Stroger aide goes on trial over alleged contractor kickbacks: Federal prosecutors alleged that Mullins used his position as a trusted member of Stroger's staff to help himself, pocketing nearly $35,000 in kickbacks over a two-year period in return for steering county contracts to acquaintances. The so-called "24-9″ contracts — each worth less than $25,000 so they didn't need County Board approval — were to promote awareness of the 2010 U.S. census, help residents affected by floods in 2008 and increase energy efficiency. But little or no work was done after the contracts were awarded, prosecutors alleged.

* Stroger pal depicted as sweet 7-year-old as trial opens in kickback scheme

* Prosecutors say Crundwell's sentence warranted

* IDOT helicopter crashes, nobody hurt: Miller said the helicopter was not operational and en route to Nevada for maintenance at the request of the Illinois Emergency Management Agency.

* IGPA Economist David Merriman appointed to Governor's Council of Economic Advisors

* Foreign firms employ more than 350,000 in Illinois

* Topinka says Illinois' financial situation driving business to surrounding states: "Why would any business executive seriously consider coming to Illinois, knowing that they would wind up inheriting these problems and having to help pay for them," Topinka said. "It's hard enough for a business to start up, and (Illinois government problems are) a lot of extra baggage for an aspiring company to take on," she said.

* City Council Committee Approves Rewrite Of Gun Laws: The ordinance headed for a full City Council vote Wednesday brings City gun laws in line with the state's law allowing carrying of concealed weapons.

* Ban on guns in Chicago restaurants that serve booze advances

* Chicago aldermen recommend repealing city gun registry: Although Ald. Ed Burke, 14th, the architect of many of the city's gun control measures, and several of his colleagues accepted the changes like a dose of bad medicine, Todd Vandermyde, an Illinois lobbyist for the National Rifle Association, called them "a start."

* Alderman complains, CTA vows to work on access to new Wal-Mart

* How to Use Ventra: A Guide for Getting a Card and Transferring Fares

* Preckwinkle won't have Metra pick this week–but black expected to get nod

* Mayor Rahm Emanuel: Why I said 'no' to the Midway deal: There are five things we learned over the past six months that should guide any future public-private partnerships: first, a group of outside experts should be impaneled at the start of the process to monitor each step; second, there must be a minimum 30-day review by the City Council before the project is voted upon; third, there should be a clear set of standards so the public can judge a potential partnership when it is presented; fourth, the funds should be invested in infrastructure rather than used as a plug for short-term budget holes; fifth, a true public-private partnership requires that taxpayers maintain control of the asset and share in management decisions and financial profit.

* Tribune: Diverted from Midway

* Tollway: Get ready for widening I-90 from Elgin to the Kennedy

* CPS to count enrollment this year on 10th day, not 20th

* Brown: Senate needs to get the lead out and confirm Fardon

* (Quad City) Airport awarded $1.3 million for improvements

* Rockford aldermen debate time and transparency

* Newcomb owner says he has no insurance; (Quincy) likely to lose $1 million for unpaid loan, demolition

* Lack of rain fall could affect central Illinois corn crop

* Website accusations spur phone calls to Woodford County Jail

* FOIA hot topic at District 150 board meeting

* (McLean) County auditor, officials dispute paying bills: McLean County State's Attorney Jason Chambers and county Emergency Management Agency Director Curt Hawk each asked the committee last week to approve bills that Auditor Michelle Anderson deemed insufficient for payment. The committee sided with Hawk and Chambers, sending the disputed bills to the full County Board for approval. In July, Hawk asked for reimbursement of $740 in travel and hotels for a conference in southern Illinois. He said the auditor objected to a hotel stay in Metropolis the night before the conference.

* Police, fire chiefs in Collinsville get new contracts

* ISU President Flanagan: No major policy changes in first 6 months

* Cheng touts reasons to have hope at SIU
- Posted by Barton Lorimor 25 Comments