* This is a partial image of a flier handed out at last night's Republican gubernatorial forum in Will County by Sen. Kirk Dillard's supporters…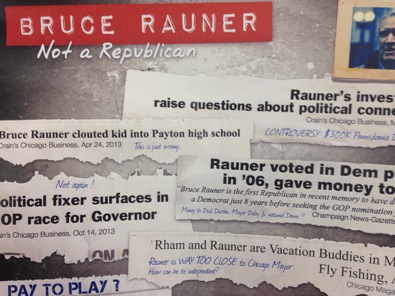 Too bad he doesn't have any money to mail that thing. But, as some commenters note below, he would first need to fix the "Rham" typo. Sheesh.
* Rauner wasn't there to see it, though…
Tuesday was the first of several forums planned in advance of the GOP primary for Illinois governor.

Three of the candidates, state Sen. Bill Brady, state Treasurer Dan Rutherford and state Sen. Kirk Dillard attended the Will County Tea Party forum in Plainfield, but the front-runner — Bruce Rauner — was a no-show.

An empty chair was placed on stage for Rauner, who asked that a surrogate read an opening statement for him, a request that was denied.
*** UPDATE *** Dillard has first-hand knowledge of being labeled as "not a Republican." Remember this 2010 ad?…
34 Comments





































































































Sorry, comments for this post are now closed.