* From a Daily Herald story originally entitled "Suburbs would pay more under graduated income tax"…
A growing campaign for a graduated income tax in Illinois could push more of the total tax burden onto some areas of the suburbs, where median incomes far outpace state averages, critics say. […]

The suburbs' higher incomes suggest a graduated tax, whatever it eventually looked like, could be a battleground issue locally. […]

The median annual household income in most suburban counties is higher than the Illinois average of $56,853, census data from 2008 to 2012 shows.

The median household income is $78,538 in DuPage County, $68,674 in Kane County, $83,835 in Kendall County, $79,085 in Lake County, $77,325 in McHenry County and $76,352 in Will County.

In Cook County including Chicago, the median household income is $54,648. However, it's higher in most suburban Cook County towns, like a median of $71,306 in Streamwood and $81,105 in Hoffman Estates, for example.
* OK, the first thing you really need to understand about a graduated tax is that once you reach a higher tax threshold your increased tax rate does not apply to your full income. It applies only to the income above your new rate level. So, for instance, here are rates that Rep. Naomi Jakobsson has suggested, via the Illinois Policy Institute…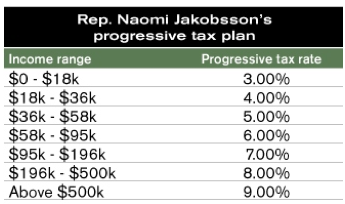 A person making $60K under Jakobsson's plan would not be paying 6 percent on that entire 60 grand. That person would be paying six percent only on $2,000, and etc. down the line.
* The folks at A Better Illinois, which is advocating for a graduated Illinois tax and is backed by organized labor, among others, put together actual tax rates for all those suburban counties in the Daily Herald article and compared them to today's current income tax rate. I've adjusted the headings a bit to make it more clear that these are Jakobsson's proposed rates.
Again, this chart compares the current income tax rate of 5 percent to what the actual rate would be for median income in the suburbs if Rep. Jakobsson's rates were enacted…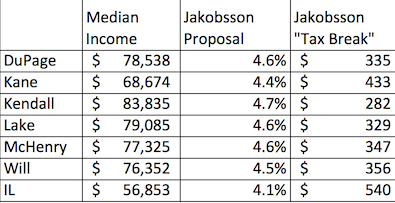 You can check their math by clicking here.
* So, under this particular proposal, people earning around the median income would be paying less than they are now, not more.
Then again, if the income tax is allowed to expire on schedule and the graduated tax was implemented down the road, there would most definitely be a tax hike for median earners, but not as high as they're paying today.
* It should also be noted that the group doesn't actually support Rep. Jakobsson's tax rate plan, calling it "less progressive than what's most likely to be attached to a Fair Tax."
47 Comments












































































































































Sorry, comments for this post are now closed.