* Click the pic to see a larger version of a new flier sent out in defense of Rep. Ron Sandack, who is in the fight of his life against GOP primary challenge Keith Matune…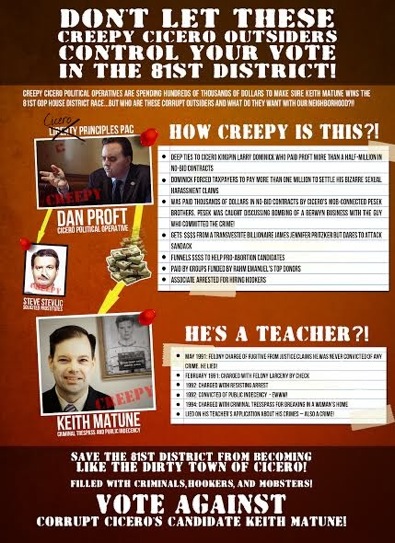 Hat tip: Illinois Truth Team, which appears to be a HGOP-related creation.
* Meanwhile, Carol Marin wrote a column bashing Dan Proft for allegedly sending out a mailer blasting Sandack that featured two men kissing. Click here to see the mailer. But Proft didn't send that mailer. It was sent by the Illinois Family Action PAC. Marin promptly apologized in a rewritten column, but added this…
Proft argues there is no excuse for my error. He is correct. There is not.

That said, there was more to the original column, and let's consider that. In my view, some of the mailers sent by Proft's own PAC, Liberty Principles, appear homophobic.

That includes a mailer against Sandack that shows Mayor Rahm Emanuel in a leotard and a line reading, "Now we know where Ron Sandack learned how to dance."

Proft, in a followup email to me, writes, "I do not believe that Rahm is gay."

Another image on a Proft mailer shows a photo of Sandack in the foregound and a gay activist in the background with the headline, "Strange Bedfellows."

Proft argues I misinterpret that as well, saying the mailer "chronicled (the gay activist's) radical activism, house being raided by the FBI . . . comparison of Scott Walker to Mubarak and the like."

Proft adds in his email to me, "You want to make the race about gay marriage. I do not. . . . To accuse me of gay bashing is little more than conservative bashing." Noting that he has supported two candidates who endorsed either civil unions or same-sex marriage, Proft maintains it is economic policy principles that guide his commitment to a candidate.

"I'm a gay basher?" he writes. "Utter and complete bulljive."
Subscribers know much more about this race, including details of a blistering new anti-Matune TV ad.
62 Comments

























































































































































































Sorry, comments for this post are now closed.