* Click the mailer for a larger image and pay special attention to the politicians pictured around the targeted candidate's head…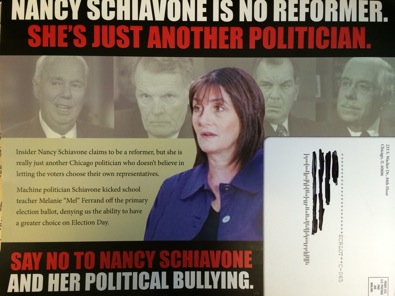 * Nancy Schiavone is running in a crowded Democratic primary field and is attempting to unseat appointed state Rep. Jaime Andrade (D-Chicago).
Dick Mell engineered his former aide Andrade's appointment to the House. Rep. Andrade was slated by Joe Berrios' Cook County Democratic Party. Andrade is backed to the hilt by House Speaker Michael Madigan.
So, to have photos of those three guys (plus Daley for good measure) on a mailer and make it look like Schiavone is the "machine" candidate is so ludicrous it's almost hilarious.
But, hey, whatever works, I suppose.
* Also, the mailer was paid for by the Alliance of Illinois Taxpayers NFP, which received some contributions last month from an Operating Engineers local.
It's probably no coincidence that Local 399 has made several contributions to House Democratic candidates this year.
19 Comments
























































Sorry, comments for this post are now closed.