* The reaction to House Speaker Michael Madigan's proposal to add a three percent surcharge to annual incomes over a million dollars kicked up some dust. Bruce Rauner's campaign…
Chip Englander, campaign manager for Bruce Rauner, issued the following statement regarding the tax proposal announced by House Speaker Mike Madigan:

"Bruce is happy to pay more to support education - in fact he's been doing that personally for decades, but he doesn't support what looks like a first step towards empowering Mike Madigan and Pat Quinn to raise taxes on the middle class, small businesses and family farms. The last time they raised taxes, they hit every Illinoisan with a 67% increase, and they still turned around and cut funding for education. We need to grow our economy and create jobs, so we can fund education at levels far above what we've seen under Pat Quinn. We need to take a look at our entire tax system to make Illinois more competitive and lower the tax burden on the people of Illinois."
* House Republican Leader Jim Durkin…
"The race for Governor has started and today made its way into the Illinois House. Why wasn't this proposal introduced last month or last week? The timing is obvious. Families and business are fleeing the state, this proposal will only perpetuate this human tragedy.

"Three and a half years ago, the House Democrats passed a 67% income tax increase on Illinois families and business all under the guise to pay our bills.

"That never happened. The Democrats running this state can no longer be trusted.

"This proposal will not grow our economy and will not put Illinoisans back to work."
* American's for Prosperity Illinois…
Americans for Prosperity's Illinois State Director issued the following statement in reaction to Speaker Madigan's proposal to amend the Illinois Constitution to impose a new tax on millionaires:

"With the second highest unemployment rate in the nation, one would think the Democrat leaders of Illinois would want to grow jobs for our families. Unfortunately, yet again they choose to pursue policies that will push more jobs out of the Land of Lincoln by punishing job creators.

This new tax is designed to further polarize the state in a bid for short-term political gain, while diverting attention from the majority's intention to go back on its commitment to keep the 67% tax hike permanent."

NOTE: The chart provided to media by the Speaker's Office comparing the tax rate in neighboring states for incomes over $1 million assumes a 5% tax rate, not the 3.75% tax rate scheduled for 2015.
* The chart…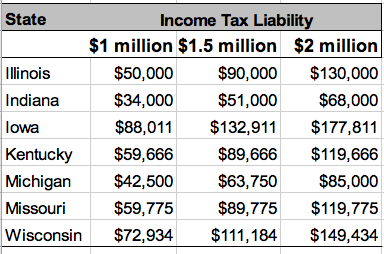 So, yeah, if the scheduled 2015 rates are used, the overall burden would be significantly less here.
91 Comments
















































































































































































































































































Sorry, comments for this post are now closed.