* From WUIS…
The Quinn campaign is criticizing Rauner for not doing enough to denounce Cellini, but when reporters asked him about it in the Capitol, Quinn said: "Well I don't want to get into politics here."

And then went on to talk for more than a minute, saying of Cellini, "he's now a convicted felon and I certainly don't want to have anything to do with him personally and I think anybody who aspires to this office should say clear of him, and make that crystal clear to the people of Illinois."

But leading up to the 2006 election, then Lt. Gov Quinn stood by Blagojevich, even though media reports had catalogued many allegations of corruption.

A reporter asked Quinn why the Rauner/Cellini situation is any different from his support of Blagojevich.

Again, Quinn said "I'm not going to get into any politics."

And this time, he meant it.
* The Bruce Rauner campaign sent along this Quinn quote…
Quinn on Blagojevich: "He's always been a person who's honest and one of integrity…I have confidence the governor does the right thing all the time." (Daily Herald, 9/15/06)
* And this statement…
"Pat Quinn knew about Rod Blagojevich's corrupt dealings and vouched for him anyway, calling Blago 'honest' and 'ethical' and someone who 'always does the right thing,'" Rauner Campaign Spokesman Mike Schrimpf said. "This is the biggest lie yet from Quinnocchio."
* And this photo…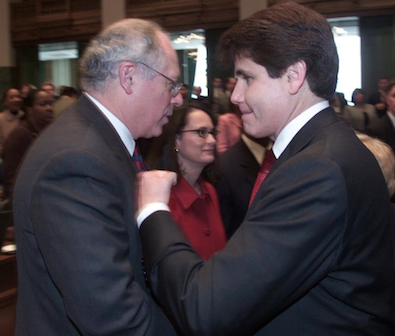 Heh.
* The Question: Caption?
67 Comments








































































































































































































Sorry, comments for this post are now closed.