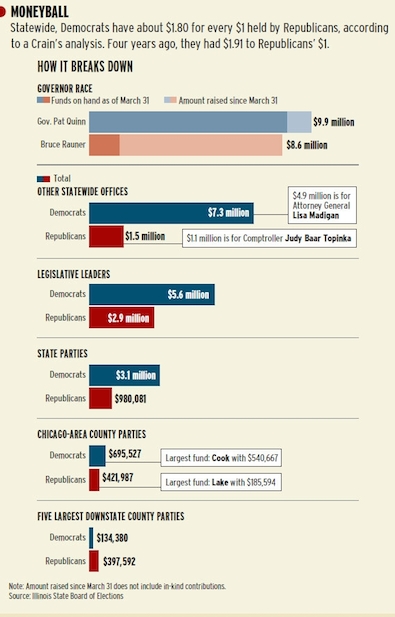 * From the story…
The party led by a wealthy financier is starting the summer campaign season at a nearly 2-to-1 fundraising disadvantage.

Fueled by unlimited contributions in the governor's race, Democrats and Republicans combined have about twice as much money as they had four years ago, according to a Crain's analysis of financial reports by almost four dozen key political organizations and candidates. But as the party in power, Democrats now have about $26.9 million, or almost double Republicans' cash.

GOP gubernatorial candidate Bruce Rauner has roughly $8.5 million on hand, thanks to a recent $2.5 million donation from hedge-fund executive Ken Griffin, but still trails Gov. Pat Quinn, with almost $10 million. Fundraising caps on that race were removed because of the nearly $6.6 million Mr. Rauner has given to his own campaign, much of which was spent during the primary.

Factor out that race, and Democratic candidates and political organizations statewide have $2.72 on hand for every $1 held by Republicans, Crain's finds.
Yeah, but Rauner recently gave the state GOP $500,000 and more is surely on the way.
…Adding… As YDD notes in comments, it's highly doubtful that Lisa Madigan will be spending much of her own cash horde. Some of that Dem "advantage" is not really an advantage.
32 Comments































































































Sorry, comments for this post are now closed.