* Sun-Times…
Newly released emails from Gov. Pat Quinn's office show politics appeared to trump credentials when deciding how big a serving some nonprofits should get from his now-tarnished $54.5 million Neighborhood Recovery Initiative anti-violence grant program.
* The e-mail exchange…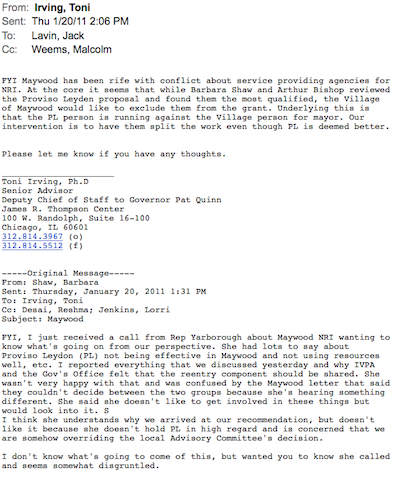 * Back to the story…
Quinn's administration put Maywood in charge of divvying up $2 million in NRI money for that western suburb in 2011 and 2012. A month into the program, Proviso Leyden had been shut out of funding by the village, prompting a December 2010 complaint to the administration by the organization.

Proviso Leyden eventually wound up receiving $117,715 of the Maywood allotment for re-entry work under NRI.

Maywood allotted a larger, $255,724 chunk of NRI re-entry funds to another nonprofit, Vision of Restoration.

Vision of Restoration's founder, Marvin E. Wiley, donated $250 to Henderson Yarbrough's campaign fund and board member Richard Boykin gave a total of $5,000 to political funds of Karen and Henderson Yarbrough. Boykin is a former chief of staff to U.S. Rep. Danny Davis, D-Ill., and he ran successfully last spring for the Cook County board with Karen Yarbrough's backing.
* From the Illinois Republican Party…
ICYMI: Secret emails trip up Quinn as guv cancels planned Q & A

This morning, the Chicago Sun-Times broke a major front page story revealing emails that show Quinn's top aides used political calculations to make NRI anti-violence funding decisions.

Shortly thereafter, the Governor alerted the media he would no longer take questions at a public event scheduled for 12pm today at Harker Pumping Station, 5300 W. 105th Street in Oak Lawn.
Quinn did indeed cancel his Q&A.
70 Comments

















































































































































































































Sorry, comments for this post are now closed.