* The front page of the Sunday Sun-Times…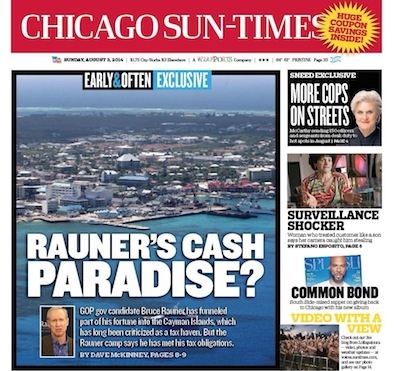 * From the story…
Multimillionaire Republican Bruce Rauner has channeled at least part of his fortune into the Cayman Islands, a Caribbean paradise long criticized as a tax haven for American investors, the Chicago Sun-Times has confirmed.

A Rauner spokesman insisted that the former private equity investor has met his legal tax obligations and properly disclosed to the federal government information regarding at least five investments by him or his firm in a country that has no income tax and a financial system cloaked in secrecy.

Rauner's campaign has refused so far to release a full set of his most recent tax returns to corroborate that and perhaps show the extent and value of those investments in offshore companies. No one has suggested Rauner has done anything illegal. In fact, offshore investments among the wealthy have been a common practice in recent years.

For Rauner, consistently leading Gov. Pat Quinn in mid-summer polling, it's the same political issue that President Barack Obama used to his advantage against uber-rich Republican Mitt Romney in the 2012 presidential campaign.
Three of the five Cayman investments were done through GTCR, Rauner's former firm…
"Bruce's personal tax rate and state tax obligations are not impacted by where the GTCR subsidiary funds are located" [said campaign spokesman Mike Schrimpf].
The other two…
A fourth Cayman Islands-linked investment was The Overlook Partners Fund LP, from which Rauner disclosed receiving a capital gain of at least $5,000 in 2012 on his state economic-interest statement. The Overlook Partners Fund is a non-GTCR-related investment fund for which Rauner's personal funds were used, his campaign said.

On his economic-interest statement, Rauner also declared having at least $5,000 worth of stock holdings or deriving $1,200 or more in dividends from a fifth Cayman Islands-based entity, HSBC Holdings PLC. A campaign aide said that investment belongs to Rauner's family foundation.
One other point from the story…
In addition to their tax advantages, Cayman Islands investments typically aren't accessible to most Americans because they can require minimum $500,000 or $1 million deposits, [ Richard L. Kaplan, a University of Illinois law professor] said.
* From the Quinn campaign…
"Republican billionaire Bruce Rauner doesn't just use exotic methods to dodge taxes - he even uses exotic, offshore locations.

"Who ever heard of a candidate for Governor of Illinois stashing millions of dollars in the Cayman Islands to avoid paying Illinois and U.S. taxes?

"Whether Mr. Rauner's tax dodge is legal is beside the point. It's wrong.

"Mr. Rauner has a duty to disclose how much of his fortune he has hidden in the Cayman Islands and explain why he chose to send his wealth to a notorious tax haven that is shrouded in secrecy and available only to corporations and the uber-wealthy.

"These revelations also demand new scrutiny of his finances. Not only must Mr. Rauner reveal his full tax information - he must reveal whether he has any other foreign investments and just with whom he is investing overseas."

Rauner is running millions of dollars in negative attack ads that are financed by money he obtained by jumping through elite loopholes to avoid taxes.

Sheltering his money in the Cayman Islands to avoid taxes isn't the first time that Rauner has been caught gaming the system to enrich himself while the rest of us play by a different set of rules. In July, the Chicago Tribune reported that Rauner used elite tax strategies to avoid Social Security and Medicare taxes in previous years and drastically lower his own tax burden. For more information, visit www.RealRauner.com.
* The DGA has eight questions…
1. Why did Bruce Rauner park his money there if not to game the system for his own financial benefit?

2. How much money does Bruce Rauner have in the Cayman Islands?

3. What kind of tax obligations did Bruce Rauner dodge or withhold from Illinois and the United States by sheltering cash overseas?

4. Why won't he release his complete income tax records with schedules for full transparency and disclosure?

5. What other types of investments or financial interests is Bruce Rauner hiding?

6. Will Bruce Rauner fully disclose the amounts, the locations, and the partners of his foreign investments or holdings?

7. Does Rauner have foreign business partners that do business with the state of Illinois?

8. Would these wealthy foreign investors stand to benefit if Rauner were elected governor of the state?
* And from the Quinn campaign this morning…
Following new revelations that Bruce Rauner has been stashing millions of dollars in the Cayman Islands to avoid U.S. and Illinois taxes, Democratic nominee for Lt. Governor Paul Vallas will discuss why it is more important than ever that Rauner disclose his full tax records.

WHEN: 10 a.m.

WHERE: 12th Street Beach – Northerly Island
208 Comments















































































































































































































































































































































































































































































































































































































































Sorry, comments for this post are now closed.