* A November 26, 2013 Tribune report on Bruce Rauner's ranch on the Wyoming-Montana border…
Some of the Western sites are working farms, his campaign has said, where Rauner grows barley for a beer producer along with other crops. Rauner has dismissed some of the Western properties as little more than double-wides and old cabins.

"They're falling down," he told the Tribune. "It's a good place to burn a steak and have a beer."
* From today's Tribune…
Sitting between two snowcapped mountain ranges, with the Yellowstone River running through wide expanses of ranchland, Bruce Rauner's spread in Montana lies in the middle of one of the most awe-inspiring spots in the American West.

While the Republican nominee for governor owns opulent properties in several locations across the country — from the Florida Keys to Manhattan — it is the tens of thousands of acres he owns in southern Montana and northern Wyoming that most sharply define his persona as a savvy investor who knows his way around bird guns and fly tackle.

Land records show that Rauner owns land in five Montana counties and in northern Wyoming, totaling about 23,000 acres. But friends and acquaintances say he spends most of his time on the property he has assembled south of Livingston, in an area called Paradise Valley at the northern entrance to Yellowstone National Park.

His 6,000-square-foot home on the banks of the Yellowstone River, widely regarded as one of the greatest trout-fishing rivers in the world, is a showpiece property where he has entertained Mayor Rahm Emanuel and other friends from Chicago.
Yep, burn a steak and have a beer amidst falling down rubble. The very definition of roughing it, in a gorgeous, 6,000 square foot ranch mansion.
* From a November 25, 2013 Tribune story…
[Rauner's house] has five bedrooms and four baths and is currently valued by the Park County, Mont., assessor at $2.2 million.
The front gate to the shack…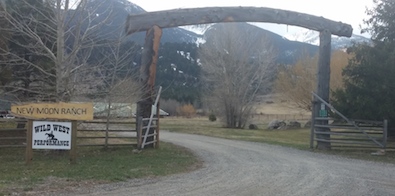 * Ah, but there's much more to this ranch topic. From a July 02, 2014 Tribune story…
Rauner's tax returns report a payment of $15,777 of self-employment tax in 2012 but no payments in 2010 or 2011. He said he and his wife didn't owe the tax in those two years because it is applied to only certain types of income — in his case the category that showed multimillion-dollar losses in regular business income. […]

Asked to explain those losses, Rauner said he couldn't recall details but speculated that a portion was likely connected with large ranching operations he owns in Montana and Wyoming. "Some of it's farm and ranch income or losses," he said. "That goes up and down year to year. Some of it's operating losses from other investments that I have made."
That shack pays some real dividends. Burn a steak, drink a beer, cut your tax payments.
* From today's Sun-Times…
Republican gubernatorial candidate Bruce Rauner has headed to his opulent, 6,000-square-foot, $2.2 million ranch in Montana, where he will spend time away from the stump in Illinois.

The news comes after Rauner has faced questions about investments he holds in the Cayman Islands, following a Sunday Sun-Times story revealing the investments. That disclosure reignited calls for the multi-millionaire to release his 2013 tax records. Rauner has filed for an extension and his campaign said he would release them by October 15.
61 Comments






















































































































































































Sorry, comments for this post are now closed.